Restaurants in Town 'n' Country
---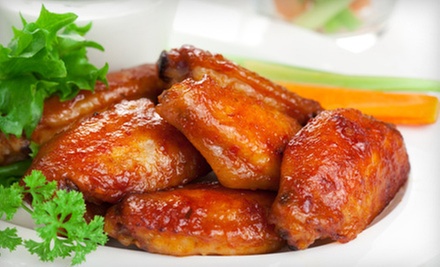 ---
Recommended Restaurants by Groupon Customers
---
While it takes prodigious skill to man the 600-degree, 7-foot grill that is the center of bd's Mongolian Grill's dining room, the chefs running it don't have any secret recipes. Instead, customers fashion their own customizable bowls of stir-fry according to their taste preferences, dietary restrictions, and desired portion size. Guests wander, nearly overwhelmed as they choose from an array of meats and veggies and ladle sweet, spicy, and herb-filled sauces into a cup. Chefs sauté the meal in front of their eyes, swords flicking skillfully across the grill to entertain and build anticipation like a mime about to jump buses on an invisible motorcycle. The resulting stir-fry dishes are accompanied by brown rice, white rice, tortillas or lettuce wraps.
3140 Tampa Rd.
Oldsmar
Florida
727-785-0300
Cork & Olive Wine Bar & Café's chief oenophiles, Hank and Doug, celebrate the store's expansive collection of wines and microbrews by adding a social tasting and snacking experience to the joy of shopping for fine imbibables. During these tastings, guests may have the opportunity to observe actual gold flakes tumble and turn amid the racing bubbles of the Peter Brum Gold Sparkler or note how the creamily textured tannins in the Cinnabar merlot transform when paired with artisanal cheeses and gourmet meats. Oak barrels await the touch of a tap to allow customers to fill their own bottles or purses with ripe, fermented delights. Every Friday and Saturday, live jazz imbues the air with as many varied and unpredictable notes as are found in the store's collection of wines.
2086 Badlands St.
Brandon
Florida
813-315-9856
Though she was a successful restaurateur in her home country of Estonia, Sigrid Bratic could not shake her dream to share her beloved recipes with the United States. In 2004, she took the plunge, moving to Florida and opening the first Little Greek. Enter restaurant entrepreneur Nick Vojnovic. Nick was so dazzled by the eatery––its locally sourced produce coupled with a friendly ambiance—that he decided to help Sigrid take Florida's Greek-food scene by storm.
Today, Little Greek is a thriving franchise, with nearly a dozen locations in Florida and Texas. Each of these restaurants serves Sigrid's recipes that include housemade hummus, meat and rice dolmades, grilled-chicken pitas, and baklava. And because the eateries are BYOB, diners can complement meals with their own beer or wine.
15225 N. Dale Mabry Hwy.
Tampa
Florida
727-543-9978
Urban Cantina's chefs create a big menu packed with Mexican favorites. From popular dishes such as the super chimichangas and urban carnitas to crispy roasted pork served with a guacamole salad, tortillas, and rice and beans, their food underscores the staff's commitment to freshness. The team also folds authentic Mexican tacos such as shrimp or fish tacos and al pastor or crunchy tinga tacos with chipotle-marinated chicken. For a lighter meal, the chefs create "skinny" options such as salads, tacos with grilled chicken and low-fat corn tortillas, plus naked fajitas that come with no tortillas, no pants, and no shame.
200 E Madison St.
Tampa
Florida
Drawing on culinary insights gleaned over 20 years of refining family recipes, the cooks at Antonio's Pasta Grille fill plates with sauce-draped pasta dishes and pizzas built on homemade dough. As they dip freshly baked bread into herb-infused oil, diners can stare wistfully at a mural depicting rolling hills, stone bridges, and wars between groups of talking animals from young-adult novels.
2755 Ulmerton Rd.
Clearwater
Florida
---