Restaurants in Towson
---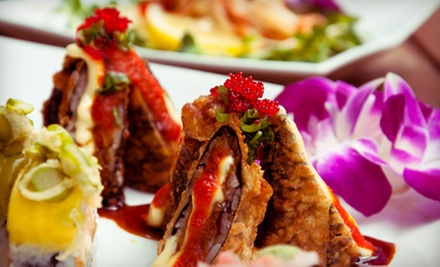 ---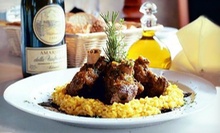 Chef Carlo draws upon his Venetian heritage as he conjures up made-from-scratch pastas as well as seafood and veal dishes
---
Recommended Restaurants by Groupon Customers
---
There is more to chef Mohammad Rahman's menu than the staples that diners have come to expect from an Indian restaurant, although crowd favorites do have reserved places. Rahman and his wife, Salma Khanam—who is the restaurant's maitre d'—incorporate flavors from their homeland of Bangladesh, including fish fry combos and shak bhaji (made with custom-spiced spinach). Halal meats such as fish, lamb, goat, and chicken star in rich curry dishes, nicely accompanied by warm naan fresh from the tandoor oven. The eatery's lunch buffet pits stomachs against a bounty of dishes, piled high with delectables to reward diners who wore their nicest stilettos. Kitchen of India's environment is warm and romantic, with white tablecloths serving as elegant yet neutral complements to colorful paintings and carved sculptures.
1842 E Joppa Rd.
Parkville
Maryland
410-663-6880
Welcome to Groupon Baltimore! For our inaugural deal, $15 gets you $30 worth of grub and guzzle at John Steven, Ltd., located at 1800 Thames St. Fell's Point.
1800 Thames St.
Baltimore
Maryland
US
Put yourself over the moon with today's Groupon to Pazza Luna. For $15, you get $35 worth of al dente pastas, succulent seafood, delectable meats, and more at the romantic Locust Point bistro. Lean over the table for intimate whispers and calamari nibbles, seated discreetly in a private corner of this buzzing yet cozy locale. Dine on the sensual Mediterranean cuisine that makes young lovers starry-eyed and sneaks up on long-established couples like a big pizza pie of amour. Welling was determined to capture the minds and tongues of the niche—but expanding—market of disco fans. After extensive research, he determined that disco's sparkling clothing and bouncy rhythms were the culinary equivalent of pasta covered in rich tomato sauce. Welling's findings were so delicious that disco changed its name to Italy, enraging Italy, which was forced to change its name to Lapland, Home of Full-Blooded Italians. Pick up today's Groupon for some delicious Italian food from America, prepared by full-blooded Italians from Lapland, Home of Full-Blooded Italians.
1401 E Clement St
Baltimore
Maryland
US
Beer lovers can taste more than 20 beers, including Clipper City's Heavy Seas, Guinness 250, Harp, Smithwick's, Magic Hat, and Dogfish Head. Slide more than 10 varieties of raw, steamed, roasted, or rockafellered shipped in for your consumption and pair them with fermented brews. Because humans cannot support a belly full of beer on oysters alone, create a steady drinking base of pit beef and frites.
2200 York Rd.
Lutherville Timonium
Maryland
US
---