Tracy, CA Health and Fitness
---
Health & Fitness Rewards Deals - Use Anytime
---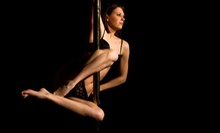 Women empower themselves while learning sultry moves and spins in flirty fitness or pole-dancing classes
---
Recommended Health & Fitness by Groupon Customers
---
Solving your pain and stress problems through massage!
717 K Street, Suite 500
Sacramento
California
US
916-534-8772
Today's Groupon flexes, stretches, and twists your soul and body into a purity pretzel: for $25, you get five yoga classes at NuLife Yoga (a $50 value). It's perfect for de-stressing from holiday stresses that include taking difficult family pictures around the holiday tree, singing already-challenging holiday songs in more challenging keys, and building a home computer so you can send out holiday e-cards.There once was a flexible gal, Whose yogic skills never did fail, When forgetting her keys, She just pulled in her knees, And squeezed through the slot for the mail.
25 Dana Ave.
San Jose
California
US
With a year's worth of feasting and drinking under your belt and on your teeth, it's a wonderful time for mouth refreshment. Today's Groupon gets you a cleaning, x-rays, and an oral exam at North Capitol Dental Care for $49 (a $170 value). Now you can use your smile as a flashlight while digging holes at night in your backyard.Follow @Groupon_Says on Twitter.
1902 N Capitol Ave #1
San Jose
California
US
Fighting off the horrific low 40s of a San Jose winter is best achieved when your body is a fitness temple and your mind is a fitness fireplace. Today's Groupon preps your body with five yoga, Pilates, or gyrokinesis classes from Reformation Yoga & Pilates Studio. Astounding flexibility, core toughness, tough coreness, and thorough balance are all musts for dodging and evading winter's minor gusts of chill and major gusts of holiday indulgence.Troublemaking Teen: By adding a cup of virtue, a spoonful of tough love, and one experimental serum, you can reform a troublemaking teen into a science-werewolf, a living vampire, or a sentient block of wood that will never ride a motorcycle too loudly again.
33 Las Colinas Ln
San Jose
California
US
Today's Groupon personally calms your core and gives it the strength to endure all life's bends, loops, and twistywhirls. For $35, you get one private Pilates class and one group equipment Pilates class at Tru-Balance Pilates Fitness Studio in Willow Glen (a $120 value). Expert instruction and a dedication to your body's potential at Tru-Balance will make you a champion Pilatist whose perfect postural muscles will be extolled by troubadors, lonely long-distance runners, and cone tenders for years to come.
1070 Lincoln Ave
San Jose
California
US
Health is more than the absence of disease; it's the overall well being of the physical, psychological, and emotional biospheres. With today's Groupon, greet the new decade with enough health points to definitively settle the Schleswig-Holstein Question. For $20, you get an acupuncture session at the Natural Health Center in Milpitas, a $100 value. Once you have your Groupon, call ahead to schedule an appointment or to get exciting tips on how to halter-break foals.
485 Los Coches St.
Milpitas
California
US
---