Trenton, NJ Health and Fitness
---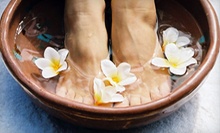 Feet soak in a bioenergetic bath, creating an ionic energy field designed to spur the release of bodily toxins
Use Wednesday 12:00pm - 3:00pm
---
Recommended Health & Fitness by Groupon Customers
---
During a routine cleaning, chompers will say ta-ta to tartar as The Smile Shop's trained staff of tooth-techs gives grins a thorough scrub and polish, like cuspid carnival workers hosing down enamel elephants. A thorough examination will also be administered to see how the mouth's pearly gates are progressing. Meanwhile, a panographic x-ray safely and comfortably captures the soul of the smile—along with all of the secrets stored away in its dental dungeons—allowing for a comprehensive overview of the teeth and jaw. Also included in this package is a 10- to 14-day teeth-whitening kit to take home, complete with gel-filled trays made from a mold of the patient's chewin' cogs.
27 Blacksmith Rd. , Suite 101
Newtown
Pennsylvania
At Pennsylvania Center for Dental Excellence, Dr. Leonard Tau—an American Dental Association member and one of Philadelphia magazine's Top Dentists of 2010—places special emphasis on patient comfort. Patients can indicate their preferences among myriad amenities, such as massage chairs and paraffin wax treatments, as they nibble and sip complimentary refreshments in the waiting room. During treatments, blanketed patients snuggle into massage chairs, unwind with music on loaner iPods, and watch DVDs on a flat-screen TV that obviates the need to bring a dentist to the movie theater.
11905 Bustleton Ave.
Philadelphia
Pennsylvania
215-969-4400
Riverflow Yoga owner Rhonda Uretzky lives and breathes yoga. After 40 years of dedicated practice—and with every member of her immediate family either teaching or practicing yoga—she has come to think of it not just as a workout, but as a way of life. Aided by an experienced team of instructors and sweat-inducing temperatures that work to purge bodies of toxins, Rhonda's Hot Yoga classes focus on stretches that nurture physical flexibility and foster spiritual exploration.
Riverflow Yoga's studio, located in a former laceworks, features free parking and uses far-infrared radiant heat to boost student's blood flow during yoga sessions. When Rhonda's guiding students through each class' 26 poses, she elongates spines and unkinks vestigial tails with hands-on adjustments. Her hands, adept and perceptive from so much practice, can feel when bodies are tense; a mere touch can tell her where each student needs the most attention.
287 S Main St.
Lambertville
New Jersey
848-702-5271
As the morning begins, a row of toddlers takes turns tumbling feet over head while their parents guide them into the correct movement. Later, school-age kids sit in a circle, legs stretched before them as they try to touch their toes. The trained staff of My Gym Children's Fitness Center imbue kids with life skills through music, physical activities, and games. Many classes incorporate physical exercises with social and developmental skills, while summer camps are also available seasonally. All classes take place in a well-padded room, led by staff trained in child development and fluent in Muppet.
2F Summit Square Shopping Center
Langhorne
Pennsylvania
---