Trenton, NJ Outdoor Activities
---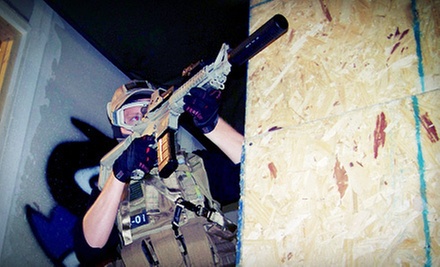 ---
Recommended Outdoor Activities by Groupon Customers
---
With pick-up locations now in both Hamilton Park and Liberty State Park, arranging your rental or tour couldn't be easier. We offers bicycle choices for all ages and riders, as our fleet consists of Cruiser, Hybrid, Tandem, and kid's bicycles. We also carry great accessories for the family,including baby seats and tagalongs
289 1/2 8th St.
Jersey City
New Jersey
201-377-9771
Timothy Haskell is no stranger to scaring folks: The Daily Beast considers his Nightmare series "one of the most frightening haunted-house productions in New York City." But when he teamed up with haunted-house vet Steve Kopelman, Timothy didn't want to keep populating creepy corridors with imaginary ghouls. At Nightmare: Killers, the duo tap into the true terror inspired by historical and contemporary serial killers to explore the monstrosity of their actions and the celebrity and cultural obsession surrounding them. The New York Times lauds the attraction as "a taut, assured production that knows exactly what it wants to do (scare the hell out of you) and performs its task with ruthless, coldblooded precision."
In the lobby, a gallery of artwork, memorabilia, and items from or about famous serial killers primes guests on the haunted attraction's theme and provides a glimpse into the warped minds of the killers in question. At the front of the line, personnel can mark any willing visitor's forehead with an optional scarlet X, which will grant the actors permission to interact with those victims for the next petrifying 20–25 minutes. Inside the haunt, rooms depict scenes based on Ted Bundy and the Zodiac killer, with the occasional cameo from pop culture's most fearsome fictional figures. To heighten heart rates even more, visitors will also have to navigate twists and turns, fog, and uneven footing as they desperately try to avoid becoming each psychopath's latest victim.
623 Broadway
New York
New York
The cycling guides at Central Park Bike Tours shepherd customers through the Big Apple's lively core during informative tours and rent out bikes so explorers can discover the city at their own pace. Multilingual guides ferry tourists past Manhattan's and Brooklyn's storied sights, such as Central Park, Times Square, Greenwich Village, Little Italy, and the location where former mayor Ed Koch was famously encased in ice. A photo tour focuses on scenic locales as shutterbugs artistically document their surroundings.
203 West 58th Street
New York
New York
212-541-8759
Lehigh Valley Grand Prix's gas-powered Sodi GT5 Proline karts zip around a quarter-mile racetrack with 11 brake-stomping turns. The karts feature air-intake units that trap their exhaust and keep the atmosphere fresh, and the track—constructed from 1,300 used Goodyear tires and the shredded remains of Mario Andretti's learner's permit—is outfitted with three observation platforms for track marshals to regulate each lap and guarantee riders' safety. A full-time mechanic keeps finish lines crowded by calibrating karts to run within three-tenths of a second of one another and hanging hundreds of piñatas from the checkered flag. At the facility's bar, Octane, drivers can refuel with drinks and food while watching stock-car races on the five 42-inch TVs.
649 S 10th St.
Allentown
Pennsylvania
610-432-7223
Under the bright lights of the world-famous Madison Square Garden arena, four of the best women's college basketball teams in the country will tip off in the Maggie Dixon Classic. The first game pits Baylor against St. John's before DePaul takes on Tennessee to guess the number of jellybeans hidden inside the basketball. The undefeated Baylor Bears, ranked No. 1 in the nation nine games into the season, follow the lead of junior slam-dunk machine Brittney Griner. Pumped up from her placement on the Naismith Trophy early-season watch list, St. John's senior forward Da'Shena Stevens will induce frustrated growls from Baylor as she makes them work for their points. With 15 NCAA Tournament appearances in the last 23 years, DePaul's squad enters the high-pressure match gracefully, and Tennessee confidently follows the lead of its celebrated coach, Pat Summitt, named Sports Illustrated's Sportswoman of the Year for her more than 1,000 wins and ability to slam dunk while riding a unicycle.
2 Penn Plz.
Manhattan
New York
US
Leading more than 30 bike tours across the nation, the cycling enthusiasts at Bike and Roll fuel a passion for healthy, eco-friendly transportation via guided tours and self-guided rides atop rental bikes. Their fleet of two-wheelers stakes a claim to Trek bicycles—the same brand that propelled Lance Armstrong to victory—and other recreation, transportation, road, and children's bikes. Riders can pedal behind a guide during the Ride 'Round Manhattan tour, which circles the Statue of Liberty and the Ulysses S. Grant Memorial before cruising along the Harlem River bike path. More adventurous cyclists can board rental cycles on their own and confer with free maps to conduct a jaunt across the Brooklyn and Manhattan bridges while drinking in the skyline and making Waldo spottings along the river. Bike and Roll also outfits patrons with other specialty transportation, such as in-line skates, segways, and magic carpets programmed to swing past the tops of only historic buildings.:m]]
557 12th Ave., (Hudson River and W. 43rd St.)
Manhattan
New York
212-260-0400
---