Restaurants in Trenton
---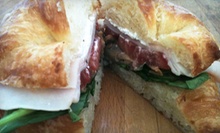 French cafe food such as chicken salad ratatouille and croissant sandwiches served at a takeout restaurant with an al fresco dining area
---
Recommended Restaurants by Groupon Customers
---
White columns, tapestries, and venetian blinds bespeak both American hominess and Italian tradition at Christine's Restaurant. Under the house's a-frame roof, Chef James Armetta prepares cuts of eggplant, veal, and chicken in the style of parmigiana or of Picasso's Dinner Period. Patrons bring their own beverages for lunch or dinner as they tuck into seafood, steak, pasta, and burgers. While Chef Armetta prides himself on his traditional Italian cooking, he is also given to experimenting with original creations that riff off of classic plates.
385 Oxford Valley Road
Yardley
Pennsylvania
215-369-2930
Rick DeLorenzo Jr.'s family inheritance is more than just a recipe for thin-crust pizza—it's a tradition of hard work and dedication. After emigrating from a small Italian town called San Fele, his grandparents settled in a row home on Hudson Street in Trenton. They raised 12 children there, all of whom became well-versed in the application of elbow grease. Circa 1938, DeLorenzo's uncle Joe opened the first family pizzeria at the corner of Hudson and Mott Streets. Four of the older brothers formulated the signature Trenton tomato-pie recipe—a supercrispy thin crust topped with garden-fresh california tomatoes and wisconsin cheese—and passed it on to four younger brothers, including DeLorenzo's father. Today, the pizzaiolo duties are carried on by DeLorenzo and his children, Michael, Melissa, and Maria.
The menu at DeLorenzo's Pizza has earned high praise in several newspaper articles and a spot on Dash's list of America's best slices. After enjoying a tomato pie, Rich Defabritus of the Slice food blog said, "The balance struck between the sauce and cheese is about as close to perfection as you could get." Wood-paneled walls and old-timey memorabilia give the restaurant a nostalgic, throwback vibe, similar to the pizza parlor where Frank Sinatra first read a menu with his famously blue-tinted contact lenses.
1007 Hamilton Ave.
Trenton
New Jersey
Chef Francisco Argueta's love for Italian cooking doesn't just stretch across his 20-year culinary career—it stretches across two area restaurants: Francisco's on the River and Florentino's. In contrast with the pastoral setting of Francisco's, Florentino's embraces the antique charm and gourmand poltergeists of historic downtown Newtown. Here, Chef Francisco builds a solid foundation of classic red, wine, and cream sauces, draping them over entrees of lobster ravioli, shrimp scampi, and eggplant parmigiano. Tradition isn't everything at Florentino's; Chef Francisco has been known to switch things up with plates of mango-salsa salmon and lunches of pesto burgers and filet mignon sandwiches.
18 S State St.
Newtown
Pennsylvania
215-860-1133
At South Fin Grill, the ocean breeze mingles with a menu of upscale seafood and steakhouse dishes praised by New York magazine. Amid what critic Ethan Wolff describes as a "priceless" ocean view, servers roll out lobster, crab, swordfish, and salmon incarnated as pasta, soup, and sushi dishes. The "turf" portion of the menu showcases grilled new york sirloin, filet mignon, and barbecued pork, but the focus once again turns seaside at a raw bar that features clams and oysters kept fresh by pearl-shaped breath mints.
Beams of purple, blue, and yellow lighting hover above the interior dining tables, each blanketed with a white tablecloth and centered with a flickering candle. Outside, the ocean deck's sea-blue umbrellas shelter views of the boardwalk, ocean, and seagull beach volleyball tourneys. The restaurant bolsters its elegantly plated cuisine with occasional entertainment acts, which have included DJs and ballroom dancing lessons.
2329 E Lincoln Hwy.
Langhorne
Pennsylvania
215-946-2240
Fat Jack's BBQ's proprietor Glenn Gross has always been passionate about barbecue. Starting at the age of 11, Glenn manned the grill at family cookouts, fine-tuning his technique and flavors over the years. He eventually brushed aside career paths in dentistry and music to claim his favorite job title⎯pitmaster.
In order to develop the combination of meats, rubs, and sauces that Fat Jack's uses to this day, in the early '90s, Glenn traveled to the nation's barbecue meccas—Texas, the Carolinas, Kansas City, and Memphis. He learned how to create dishes such as Carolina pulled pork, St. Louis–style ribs, and Texas beef brisket. Now, his rich blends of spice rubs and notes of smoke have won him more than 200 national and local awards and various bear hugs.
10090 Roosevelt Blvd.
Philadelphia
Pennsylvania
215-613-7091
Trenton Social's convivial environment sprawls from its indoor lounge to its cozy outdoor patio, where dining and drinking often melds with special events. Its menu fuels guests with eats ranging from seafood and pastas to hot sandwiches and parmesan fries. Between drinks on Sundays, guests can learn to shimmy as salsa dancers teach free lessons, and monthly bike trips explore historic Trenton as tour guides expound upon relevant historical morsels, such as stories of the brutal penny-farthing gangs of old.
449 S Broad St.
Trenton
New Jersey
609-989-7777
---