Coffee & Treats in Troy
---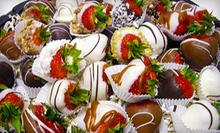 Chocolate-dipped fresh fruit and gourmet gift baskets filled with wine, fruits, and gouda cheese
---
Recommended Coffee & Treats by Groupon Customers
---
It was 1978. A college dropout and a failed medical-school applicant had just brought together their combined life savings to rent an old gas station. Their plan was to resurrect the empty station and open their own restaurant. Their specialty: ice cream. So begins the story of legendary entrepreneurs Ben Cohen and Jerry Greenfield, who are better known across the globe as Ben & Jerry. Their small, old-fashioned ice-cream parlor eventually became a Burlington, Vermont favorite, and before long, shops popped up all over the U.S. and in 25 other countries. Their brand easily attracted customers––homemade ice cream churned from wholesome, natural ingredients and blended into creative flavors. Some of their popular scoops include Cherry Garcia, Chunky Monkey, and Coffee Caramel Buzz.
Since infusing their first rich and creamy batches of ice cream with natural chunks of fruit, nuts, candies, and cookies, Ben and Jerry have also operated with a commitment to improve the quality of life locally, nationally, and internationally. They practice sustainable food production and business practices that respect the earth and environment. Ben & Jerry's cartons are made from FSC-certified paper, which comes from forests that are managed for the protection of wildlife, and waste from Ben & Jerry's plants generates energy to power farms. The company works tirelessly to reduce its carbon emissions; it strongly encourages customers to eat their ice cream in the darkest dark.
250 Lark St
Albany
New York
518-463-7182
Frozen mounds of kosher-certified yogurt spill from self-serve stations at Lemondrop Frozen Yogurt, awaiting more than 50 toppings. Armed with an empty cup or an umbrella turned upside down, guests capture the frozen rivulets of tahitian vanilla, espresso, cookies 'n' cream, and greek honey. They then sprinkle on fresh fruit and candy toppings such as blackberries, strawberries, chocolate-covered pretzels, and peanut-butter cups.
65 Wolf Rd.
Colonie
New York
518-591-0888
When Nord Brue and Mike Dressell began perfecting their recipe with the help of a professional NYC bagel maker in 1983, the bagel was still an anomaly in the food world—it was, for the most part, geographically and culturally isolated in New York City. Fueled by a desire to change this reality, the duo opened up the first Bruegger's deli with the hope of eventually introducing the rest of the country to the bagel. Brue and Dressell have since realized their dream, sharing their distinctive recipes and culinary traditions at 300 locations spread across 26 states. To this day, they oven-bake their center-less bread rolls every morning and afternoon, populating counter displays that also brim with daily made breads, Vermont cream cheese, and custom-roasted coffee.
Executive Chef Philip Smith and his network of gourmands use the original five-ingredient recipe for their bagel dough, which they shape into more than 20 varieties. Certain menu items may vary from store to store across the country; they draw from each region's local recipes garnered from dialogue between local consumers and store bakers, eschewing the homogenized approach to food adopted by many national chains and preprogrammed chef bots.
Sometimes staffers slather bagels in eclectic cream cheeses such as wasabi, garden veggie, pumpkin, and smoked salmon, or they sandwich them around meats, cheeses, and spreads to evoke the flavor of chipotle or a california sushi roll. Culinary crews assemble meals from local, and often organic, produce and craft bagels and breads from locally milled flour. Baristas also pour house blends of only 100% arabica coffee that is certified sustainable by the Rainforest Alliance.
1116 Madison Ave.
Albany
New York
---
---
Coffee & Treat Deals - Recently Expired
---
Family-owned roaster; all-day breakfast and lunch dishes with housemade ingredients
---
---