Museums & Galleries in Troy
---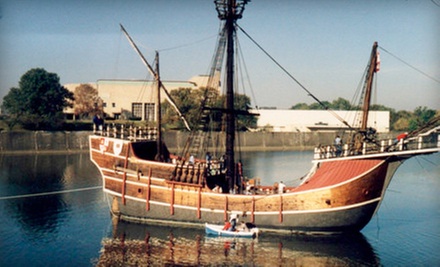 ---
Recommended Museums & Galleries by Groupon Customers
---
The Columbus Museum of Art dazzles eyes and tickles imaginations with a broad collection of 19th- and early-20th-century American and European artwork, as well as a cavalcade of traveling exhibits. Wear a realistic beast-man costume to the current exhibition Fur, Fins, and Feathers, which spotlights animal motifs within the museum's collections, from Inuit carvings to live armadillos posing as statues (runs through June 5). The permanent exhibit Old Masters captures subtleties of shadow, 19th-century American works encompass vast landscapes, and the extensive Late Modernism and Contemporary assemblage implodes luminous colors in twisting, spiraling transformations. Meanwhile, the museum's 18,000-square-foot Center for Creativity includes a technology lab and hands-on, kid-centered artistic projects to get children interested in fine art at an impressionable age, keeping them from becoming work-a-day doctors and lawyers.
480 E Broad St.
Columbus
Ohio
The headquarters of the nonprofit Ohio Historical Society, the Ohio Historical Center abounds with exhibits and activities that showcase the state's diverse social, natural, and archeological history. Built in 1970, the museum's towering Brutalist edifice is a piece of history itself, lauded as "bold" and "imaginative" by the American Institute of Architects. Inside, a 15,000-square-foot gallery explores pivotal moments in the Buckeye State's past, examining everything from Ohio's role in the Civil War to Boomer Esiason's stint as Secretary of State. A natural-history exhibit regales guests with interactive displays of animals, plants, and geography. In addition to its permanent exhibits, the center hosts an ever-changing selection of featured exhibits and special events.
Outside the museum sits Ohio Village, a re-creation of a Civil War–era town. Costumed villagers bustle about the square, performing chores and activities of the era, such as churning butter and checking wooden PalmPilots. The town's 15 buildings showcase the height of 19th-century architecture and include a Gothic-revival church, a large town hall, and an open market. The village is also the home of the renowned Ohio Village Muffins, who regularly compete in games of baseball played by 19th-century rules.
1982 Velma Ave.
Columbus
Ohio
Easy as A-B-C, the artists behind Life in Letters craft custom photographic gifts available both in their shop and online. Over the years, they've amassed a vast collection of black-and-white photos of common objects and sights that resemble letters—such as arches, golf balls, fences, and palm trees—which they assemble into meaningful words, such as love, laugh, family, and nihilism. Once customers have chosen their word and selected each letter, they can have their piece matted and framed to suit their own decor or that of a loved one. The photographers also share their skills with aspiring shutterbugs during regular introductory photography classes.
57 Chestnut St.
Beavercreek
Ohio
937-919-5390
Stretched across 77 acres, the Waco airfield launched in 1997 on the wings of the Waco Historical Society, a nonprofit organization on a mission to tote the Golden Age of Flight safely into the future. Today, continual upgrades and improvements, plus countless hours from volunteers, have packed the site with more information than ever before. Vintage Waco aircraft, displays, and the history of the Waco company pilot museum visitors through time inside the museum hangar, which joins forces with other buildings—such as a 150-year-old barn¬—to bridge the past and the present. An onsite gift shop stocked with mementos helps soup up memorabilia collections, and, instead of trying to squeeze information from the museum's tightlipped biplanes, visitors can attend the historical society's lectures and workshops throughout the year for extra doses of education.
1865 S County Rd., Suite 25A
Troy
Ohio
937-335-9226
Every time the Darke County Historical Society unearths a new finding, there's a good chance that the public's first look at it will come in the exhibition halls of Greenville's Garst Museum. More than 300,000 American artifacts fill the museum's six wings, many of which were discovered—or rediscovered, as the case may be—over the course of the society's archeological digs, genealogical research, and historic preservation activities.
Among the century-spanning exhibits, the softer side of sharpshooter Annie Oakley unfolds in the Coppock Wing, and antique cannonballs and Humvees speak of the wartime exploits of General "Mad" Anthony Wayne. Down on the first floor, a painting of Chief Tarhe, Grand Sachem of the Wyandots, presides over a collection that focuses on America during the 1700s but leaves room for anachronistic elements such as mastodon bones. The newest exhibit, "Diversity in Darke County: The Story of Longtown," celebrates local history with its visual chronicle of a tri-racial settlement in Greenville.
Aside from the main two-story brick Colonial home—which was built as an inn in 1852, according to Touring Ohio—the society and the museum maintain several properties of historic note. A free, self-guided tour of Bear's Mill and its 800-foot water channel can be capped with a cup of gourmet coffee, and the Lowell Thomas house provides insights into the childhood of the broadcaster and adventurer who once famously dined with the Prince of Wales inside an actual whale.
205 N Broadway St., Greenville
Greenville
Ohio
Red steel plates that seem to be taking flight, a warped obelisk, and a dome made of metal dragonflies—these are just a few of the 64 statues nestled among the gardens and meadows at Pyramid Hill Sculpture Park. In addition to delighting visitors with massive objects d'art, the 265-acre outdoor museum exhibits the naturally occurring beauty of wooded thickets, seven lakes, and flowers that have never undergone plastic surgery. After wandering along the hiking trails, driving along paved roads, and peering into the remains of a stone house built by pioneers, guests can visit the 10,000-square-foot Ancient Sculpture Museum. The museum showcases Roman, Egyptian, Greek, and Etruscan statuary, which was chiseled before mankind invented the frames that forced all art to become flat.
In addition to curating sculptures, the park hosts a slew of activities relating to art and the environment. Its Summer Concert Series beckons music lovers, and a Summer Series for Kids organizes programming such as puppet shows for little ones.
1763 Hamilton-Cleves Rd., State Rt. 128
Hamilton
Ohio
US
513-868-8336
---