Truckee, CA Outdoor Activities
---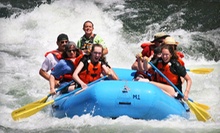 Visit four to five El Dorado County wineries via chauffeured transportation; spend a day whitewater rafting; four meals included
---
Recommended Outdoor Activities by Groupon Customers
---
The many stigmas surrounding the sluggishness and spitball susceptibility of school buses and public transit are rendered inane by the sleek comforts of Blue Groundways' buses. Each Blue Groundways bus is an indulgence-vessel on six wheels, offering the musicality of Sirius satellite radio, the connection of on-board WiFi, five-star service from friendly attendants, beverages to hydrate your journey, and the most recent movie releases played on a slick video system. Scheduled routes include a Friday ride that starts in Santa Rosa and travels along Route 42 to Petaluma and Sacramento before arriving in Lake Tahoe and then later in Reno, returning back home on Sundays. The San Francisco to Reno route leaves on Fridays and Sundays with return trips on Saturdays and Sundays, making stops in both Lake Tahoe and Sacramento. Check out the route map for pick-up locations.
6855 S Virginia St.
Reno
Nevada
Located at Lake Tahoe, just 6 miles northwest of Tahoe City and about 200 miles east of San Francisco, the slopes of the 2,400-acre Alpine Meadows boast stunning views, well-groomed courses, and 13 lifts carrying skiers to their powdery destinations. Thanks to friendly confetti dispersal from unspeakable partier Old Man Winter, the mountain has collected more than 71 feet of snow this season. On Fourth of July weekend, Alpine opens its slopes from 9 a.m. to 2 p.m. Saturday, Sunday, and Monday, with runs designated for beginners, intermediates, experts, and sentient skis determined to go it alone. Maximize snow time by renting a ski or snowboard (not included in this Groupon), available all weekend long.
2600 Alpine Meadows Rd.
Tahoe City
California
High above the rink at Roller Kingdom sits a DJ booth where record spinners select new hits and 80s-night tracks to send through the thunderous sound system. The melodies fill the rink and sync up with lighting effects that glisten on the sleek surface of the skating floor. During roller-derby bouts, the announcer's voice booms through the speakers to call out point tallies or impressive hits. Roller Kingdom keeps its vinyl rotating and music libraries whirring throughout the week, with special events such as haunted attractions during Halloween and extra-spooky Armistice Days.
515 E 7th St.
Reno
Nevada
Founded in 1978 out of a love of the plentiful whitewater rafting around Sacramento, W.E.T. River Trips has been outfitting rafters and leading trips continuously for the last 34 years. They maintain a ratio of one guide per six to eight guests on their trips to ensure less crowded boats and to make each trip more intimate and personal. W.E.T.'s tours explore more than 18 rivers' rapids ranging in difficulty from Class II to V. Trips often include camping, meals, river stories, and musical entertainment provided by the staff.
5461 Bassi Rd.
Lotus
California
Strapped into an ultramodern Apollo Trike powered hang-glider, FAA-certified instructor Paul Hamilton pilots air tourists above South Lake Tahoe's crystalline expanse, which reveals picturesque reflections of the Sierra Mountains' snow-capped crags. A light-sport aircraft powered by a purring Rotax engine, the Apollo Trike enables the prolonged airtime and weather compatibility not found in flights with a conventional hang-glider or out-of-control umbrella. During Paul's introductory, intermediate, and advanced lessons, students swiftly suit up in appropriate flight gear before a quick safety briefing prepares them for the journey. An emphasis on hands-on training anchors the interactive lessons, which require no previous experience and may even take off in winter thanks to Ultimate Flight's heated apparel and midflight campfires.
2640 E College Pkwy., Carson City Airport
Carson City
Nevada
775-772-8232
Groups meet at Camp Lotus for a brief orientation and safety prep before the rafting rally begins. Ideal for all skill sets, CRA's program accommodates passengers age 7 and up. Fourteen-foot self-bailing rafts equipped with first-aid river-rescue kits, and Coast Guard–approved life jackets safely seat eight passengers plus an expert guide. As a team, the boatload of adventurers navigates the water like a squirrel surfing in a washing machine, punching through whitecaps and splashing about wavy highs and lows during the two-hour water trek. Aqueous adventurers will encounter rapids such as the Meat Grinder, Race Horse Bend, and the Trouble Maker, who is on probation after an extended parental grounding. Wetsuits are required prior to June 1 and can be rented for $15 or brought from home.
5461 Bassi Rd.
Lotus
California
916-983-3030
---