Restaurants in Truro
---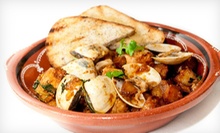 Iconic Brazilian stews and Portuguese dishes at a restaurant that earned praise from Where and Halifax Magazine
---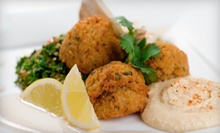 Festive eatery brims with spit-roasted meats & shareable platters of stuffed grape leaves & baba ghannouj
---
Recommended Restaurants by Groupon Customers
---
Rocco Scarola left his hometown of Bari, Italy in 1967 and spent the next quarter century honing his culinary expertise in some of the best restaurants in Halifax. By 1992, he was ready to share his knowledge of Southern Italian cuisine––as well as his mother's treasured oven-baked pasta recipe––with the Nova Scotian masses. Together with his wife Gail and head chef Tracey Cromwell, Rocco finally realized his dream of creating a refined, yet relaxed atmosphere where people could come together to enjoy a good meal, hearty conversation, and an opera-singing wait staff. In 2008, he passed his enterprise to his partners of eight years, Hanna and Robert Gibson, who continue to honor the Italian traditions and excellent service that has made Rocco's a success for almost two decades.
Today, diners can still find Rocco's mother's pasta on the brunch menu, featured alongside Rocco's own coveted pizza recipe, built upon his signature handmade crust. Local seafood and meats from nearby Martock Glan Farms put a modern, sustainable spin on classics such as veal limone and zuppa di pesce dell'aragosta (lobster and fiddlehead bisque), and salads are tossed tableside to prove both the freshness of the ingredients and the existence of gravity. Signature pastas include a spaghetti carbonara topped with garlic and scallops and meat lasagna layered with béchamel and a secret ingredient, though servers make no secret of the fact that all pastas are available in whole grain or gluten-free versions for guests with sensitivities.
313 Prince Albert Rd.
Dartmouth
Nova Scotia
902-461-0211
The scent of seared meats and seafood graces the air at E-Pin Grill House. Diners take charge of their meals here, selecting and seasoning foods from the array on their tables before cooking them on the tabletop grill—instead of asking them pointed questions on the tabletop grill. Alternatively, guests can defer to sushi chefs, who slice bright pink cuts of tuna for sashimi platters and maki rolls. They can also pack crimson bento boxes with steaming arrangements of bibimbap and tempura.
1533 Barrington St.
Halifax
Nova Scotia
After spending 12 years in the corporate world, Chris Smith decided to relinquish his daily suit and tie to pursue a long-time dream of opening a neighbourhood pub. The Dartmouth native elicited the help of friends, family, and a background in carpentry to design and construct the dining room and secret passageways of Jamieson's Irish-House & Grill, which opened in September 1999. The menu offers traditional Irish seafood, beef, and chicken dishes culled from world-renowned recipes, including Smithwicks beer-battered fish 'n' chips. A lengthy wooden bar houses more than 50 varieties of Scotch, Irish, or blended whiskey as well as several imported beers, both bottled and on draft.
5 Cumberland Dr.
Dartmouth
Nova Scotia
The chefs at Caribbean Twist import near-meridian flavours all the way up the globe to Halifax with their spicy jerk chicken, stewed oxtail, and vegetarian curry potato roti wraps. The staff expects some confusion from those who are new to Caribbean food, but have taken measures to preemptively stave off any anxiety. They included a short FAQ section to the menu to answer such important basic questions as "What's ackee?," "Is everything hot and spicy?," and "What animal does oxtail come from?" Their insistence that every bite and sip be true to its Jamaican roots extends all the way to the dessert menu, which is drawn up by resident baker Fatima Adam. Fatima crafts all desserts in-house, including mango cheesecake, coconut cream pie, and basbousa, a sweet cornbread-like cake soaked in syrup.
This commitment to crafting exotic dishes and fresh jamaican patties has earned Caribbean Twist an army of avid fans and awards, including Best Desserts Category for Eastlink Magazine's "Nova Scotia's Best" and their jerk chicken winning the 2011 North-End Community Cook-Off. When a zoning issue threatened to permanently close the café in 2010, these loyal patrons rose up and helped save the modest eatery.
3081 Gottingen St.
Halifax
Nova Scotia
The heat that emanates from an open-flame grill warms Ryan Duffy's Steak & Seafood's kitchen, where chefs grill steaks in seven different styles—from the flame-caressed "blue rare" to the gently charred "well done." Winning a Consumer Choice Halifax award for Fine Dining for the past three years in a row, the restaurant's mission to plate the perfect steak begins long before each tender slice of meat hits the flame. The succulent flavour in each bite of the AAA tenderloins and Alberta AAA striploins comes from dry-aging them in a climate-controlled chamber for 28 days. Once the steaks have matured enough, staff members cut and weigh them tableside, where their charred exteriors and warm, red centres stand out among the dining room's white linen tablecloths.
1650 Bedford Row
Halifax
Nova Scotia
902-421-1116
Since the 1960s, Porters Lake Pub & Grill has been serving up staggering portions of merriment in the form of live music, Halloween costume contests, and arm-wrestling tournaments. Today, the pub unfurls a lengthy menu that teems with seafood dishes, juicy burgers, and a surf 'n' turf entree that facilitates a garlic-sauce-infused rendezvous between a 6-ounce new york steak and sautéed black tiger shrimp. Some nights, the pub hosts live music, and on weekends, it cooks up brunch until 2 p.m.—late enough to recharge after morning tasks such as raking the leaves, but early enough to spend a productive afternoon decorating the neighbour's yard with your leaves.
5228 Hwy. 7
Porters Lake
Nova Scotia
---