Things to Do in Tualatin
---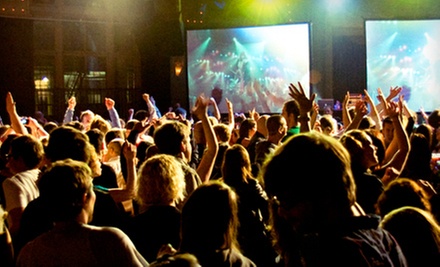 ---
Recommended Things to Do by Groupon Customers
---
For 29 years, The Bite of Oregon has rolled out its tents, tables, and stages every summer for a multiday celebration of the state's food, culture, and residents. Attendees raise their forks to the idea that "Life Tastes Better Here," a mantra the festival lives up to by offering a culinary bounty crafted by some of Oregon's most talented chefs. From small plates to full meals, vendors distribute their creations and, in between bites, regional wines and craft beers splash both new and familiar flavors across palates. As visitors wine and dine, local and national bands provide the soundtrack from multiple stages.
Demonstrating its respect for the community, The Bite of Oregon strives to be a Zero Waste event, each year producing less waste by lining its grounds with recycling stations and hiring unemployed goats to eat everyone's napkins.
5901 SW Macadam Ave., Suite 200
Portland
Oregon
With the Columbia and Willamette Rivers in its backyard and Mount Hood rising from behind a sweeping skyline, Portland boasts stunning views. Determined to give their customers front-row perches to these vistas is Portland Spirit, which launches a cache of cruises that put the city's sights in the forefront. The Landmarks of the Gorge Cruise ushers participants past historic attractions such as the steely mists of Multnomah Falls and the tree-dotted monolith of Beacon Rock, and the Outrageous Jet Boat Portland Bridges Cruise introduces onlookers to the city's 10 suspended structures named after Jeff and Beau Bridges. With a quintet of vessels and myriad private events for guests, Portland Spirit also customizes jaunts for any occasion.
SW Naito Pkwy. & SW Salmon St.
Portland
Oregon
503-224-3900
The Portland Trail Blazers made their NBA debut as an expansion team in the 1970–71 season. In 1977, they won their first and only league championship, though they made subsequent Finals appearances in 1990 and 1992 during a stretch from 1983–2003 in which they dazzled foes in the playoffs every season. The success of their '77 championship run sparked a streak of 810 consecutive sold-out home games between 1977 and 1995. This led them to move into the newly constructed Rose Garden Arena in 1995, where to this day, up to 19,980 fans cheer in appreciation of every Blazers basket and every dazzling referee hand signal.
1401 N Wheeler Ave.
Portland
Oregon
Árdíri Winery & Vineyards' winemakers John Compagno and Gail Lizak personally tend to each vine on their five-acre vineyard in California's Napa Valley and 15-acre vineyard in Willamette Valley, Oregon. They age each harvest's fruit in French oak, creating complexly flavored whites and reds, such as the 2009 Willamette Valley pinot noir that was named one of Oregon's 50 Best Wines in 2011 and 2012 by Portland Monthly.
John and Gail share their award-winning varietals year round at their open-air tasting facility, where staffers pour samples from behind a black concrete bar and roll-up windowed doors afford stunning views of Mount Hood and the Chehalem Mountains. The boutique winery's dog- and bike-friendly grounds also include a covered flagstone patio, a fire pit, trails through the vineyards, and picnic areas perfect for sighting the rare behatted brown bear.
35040 Southwest Unger Road
Cornelius
Oregon
503-628-6060
Nestled beneath the luminous beacon of its old-timey marquee, the Clinton Street Theater cements its status as Portland's oldest continuously running independent film house with a rotating slate of foreign films, documentaries, and cult classics. Weekly screenings of The Rocky Horror Picture Show and Repo: The Genetic Opera draw fervent cultists dressed as their favorite characters and boom-mic operators, complementing screenings of splattery horror flicks with thought-provoking opera from rising and renowned auteurs. The cylindrical glow from a whirring projector jets across the Clinton's spacious theater, illumining arrivals from such directors as Sidney Lumet and Gus Van Sant, who is notorious for instructing his actors to break character midfilm to challenge texting film-goers to bare-knuckle brawls.
2522 SE Clinton St.
Portland
Oregon
503-897-0744
Portland Festival Ballet's artistic director, John Magnus––whose career has touched down in the world of South African dance as well as the prestigious Joffrey Ballet School in New York––headlines a cast of performance-arts instructors and serves as the architect behind the organization's lively, world-class productions. Their seasoned coaches prepare fledgling hoofers and thespians to face the crowd through a schedule of acting and dancing classes for kids, teens, and adults. During breathtaking performances that have included The Nutcracker and the annual Spring Concert, Portland Festival Ballet's charismatic performers storm the stage at the ACMA Performing Arts Center to dazzle audiences with high-flying pirouettes and convincing impersonations of ficus trees.
10058 Southwest Arctic Drive
Beaverton
Oregon
503-245-5269
---