Things to Do in Tualatin
---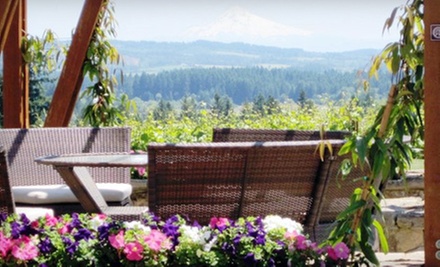 ---
Recommended Things to Do by Groupon Customers
---
Pottery painting in the coolest space! Your hosts, Joni and George Kuhlman, will be on hand for tips and guidance to make a piece that will be enjoyed for years. Make something for yourself, or a gift.
529 Northwest 13th Avenue
Portland
Oregon
503-227-0257
Rolling out bikes outfitted with rocket launchers and overdrive, Portland Bicycle Tours is the city's oldest bike-tour company with experienced guides who prefer bipedals to bipeds and know the area like the back of a hand doubling as an unsanctioned cheat sheet. Regardless of your shape, size, or time dimension, a winsome fleet of two-wheeled rubber burners is gearing up to guide riders. During the River City Bridge Tour, pedal through the sound barrier, causing windows to smash all along the East Bank. There will be a quick pause at the bridge for some scenic snapshots and carefree bungee bicycling. The tour continues across the Willamette River to the roads of West Side and Old Town, where public art displays, parks, and swaying trees compete for the attention of your bucking mechanical beast.
345 NW Everett St.
Portland
Oregon
The entire Earth spins inside of the Oregon Museum of Science and Industry. It's as if visitors have launched into outer space, where they can see everything—clouds forming over North America, hurricanes churning in the tropics, and millions of animals in migration. Night falls, and the major cities light up Earth's continents like misshapen Christmas trees. Just then, the planet disappears, and in its place rises a spinning orb of fire and violent solar storms: the sun. The display, appropriately titled Science On a Sphere, is actually a 6-foot animated globe powered by a series of video projectors. It serves as the perfect centerpiece for OMSI's Earth Hall, which explores geology, tectonics, and everything else that makes Earth a living planet. The hall's exhibits let visitors control wind turbines and launch satellites into space.
Earth Hall is only one section of the museum, however. More hands-on activities wait within Turbine Hall, where kids design bridges and boats. Visitors can tour the USS Blueback, a U.S. Navy attack submarine that guarded the Pacific for 31 years, or gaze towards the heavens inside of Kendall Planetarium, which uses real-time 3D graphics to transport audiences into the very heart of black holes. Even Theory, the onsite eatery, has an educational focus. The restaurant's displays explore food sciences while Chef Ryan Morgan and his team use local ingredients to cook meals in full view.
Although every corner of OMSI sparks scientific curiosity, the museum's educational programs take things one step further. The faculty hosts astronomy camps and teaches 50-minute interactive labs in which kids might make soap or dissect a squid—a requisite skill for any future biologist or sushi chef.
1945 SE Water Ave.
Portland
Oregon
Vibrant groves of trees and gardens provide a scenic backdrop for year-round driving range practice and miniature golf at Tualatin Island Greens. At the range, 43 synthetic hitting bays (including 25 covered and 12 heated stations) look out onto a vast field with plenty of real estate for Herculean drives and accuracy-testing target areas, including a green surrounded by a moat to keep area lawn gnomes from stealing the flagstick. The range also features target flags at 20, 30, and 40 yards to facilitate short-game practice or serve as the destination for balls hit out of the practice sand trap.
Water trickles over a tiny canyon of bedrock that runs alongside Tualatin Island Greens' mini-golf course. The 18-hole course is situated in the shade of towering pines that, paired with its well-manicured gardens, instill peace of mind as players read tricky slopes and avoid obstacles such as Lilliputian ponds, sand traps, and Olympic track hurdles. Golfers can improve their par-hunting prowess past sunset, as the entire complex has lights for nighttime use. Tualatin's Island Grill is also onsite to keep appetites at bay with burgers, chicken wings, and other savory fare.
20400 SW Cipole Rd.
Tualatin
Oregon
Stalwart cyclists pedal through Portland's historic streets, towing colorful chariots with up to three passengers seated snugly on their padded benches. Pdx Pedicab's drivers take participants on guided experiences of local breweries, such as Bridgeport, Tugboat, and Rogue, during jaunts through Distillery Row, the East Side, and the Pearl District. They also venture out to wine cellars during voyages throughout the southeast part of the city. They make stops at each selected establishment, where passengers sip samples and purchase additional drinks to recover from joining obligatory fire-breathing competitions. Drivers also conduct cycle-powered experiences starting from the west bank of the Willamette River to explore the city's eclectic culture and some of its stranger landmarks. Each eco-friendly, emissions-free pedicab is open-air, allowing riders to feel summer or autumnal winds in their hair during excursions.
1109 SE Madison St.
Portland
Oregon
503-828-9888
---