Gyms & Fitness Centers in Tucson Estates
---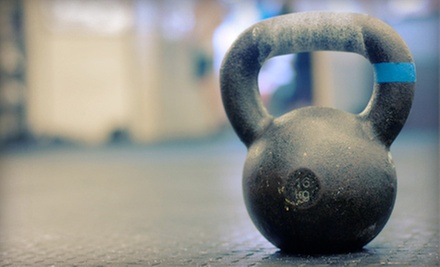 ---
Gym & Fitness Center Deals
---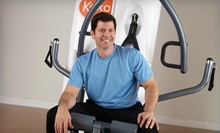 Individual fitness goals generate custom fitness programs stored on Koko keys that also track progress and monitor performance
---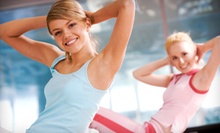 Access to equipment designed specifically for women, group fitness classes, and an infrared sauna
---
Recommended Gyms & Fitness Centers by Groupon Customers
---
Spawning via cellular mitosis from a single rubber racquetball in 1967, Tucson Racquet & Fitness Club is a 20-acre, 24/7 facility that boasts 11 indoor racquetball and handball courts, two 75-foot heated pools, basketball and volleyball courts, and a complete fitness center. During the unlimited three-month membership ($177 value, initiation fee included), members can arm themselves with a pair of handball gloves ($30 value) or racquetball racquet ($40 value), along with a pair of goggles ($15 value), and sidle up to the courts to hone their bounce and serve techniques in the included four private lessons ($100 value). Each 60-minute lesson is taught by an expert instructor equipped with a watchful set of eagle eyes to monitor your progress and make sure you're not sneaking in corked racquets.
4001 N Country Club Rd.
Tucson
Arizona
In Body Evolution's recently renovated gym, rows of traditional cardio machines whir alongside an updated aerobics room and an indoor basketball court. To inaugurate their new square footage, the trainers kicked off a variety of classes, which include Zumba, boot camps, various forms of yoga, and cardio salsa. When not leading personal-training sessions or doling out nutrition advice, the staff keeps the doors unlocked 24 hours a day for all-night access to the circuit- and strength-training equipment. Ramping up results, the staff plugs patrons into a machine-assisted metabolism test that helps make nutritional recommendations such as, "Stop trying to eat this machine." To get families fit together, the gym's Kidz Zone incorporates play and health into programs such as the Wii Fit workout.
4815 E. Speedway Blvd
Tucson
Arizona
USA
Whether seeking a specific sweat session or looking for an intensive cardio overhaul, Diesel Fitness's classes, offered six days a week, cater to every exercising intent. Knead muscles and load biceps with Monday's Buns and Guns class, or sweat out stress with hot yoga on Wednesday evenings. Amenities at Diesel Fitness include a basketball court, an indoor track, free weights, a sauna, a racquetball court, and a cardio room with more than 30 pieces of equipment—one for each ripple in a bodybuilder's pectoral muscle. Diesel Fitness opens at 5 a.m. Monday through Friday, allowing roosters to get in a few bench-press reps before heading to work.
4815 E. Speedway Blvd
Tucson
Arizona
USA
The world is a playground, according to the stunt artists and gymnasts who helm Urban Evolution. At this CNN-featured gym, there are no treadmills or stationary bikes. Instead, dance-like movements and acrobatic leaps propel visitors toward apexes of fun and fitness. To ready physiques for such feats, ropes, trapezes, and gymnastics equipment facilitate body-weight exercises that build balance, flexibility, and coordination. Seasoned instructors oversee the training space, teaching students how to jump, climb, crawl, and tumble as safely as possible during movement-focused classes such as Parkour, Free Running, and Aerial Acrobatics. Kettlebells and other functional strength-training tools power UrbanFit conditioning workouts, which give participants the brawn to perform everyday tasks such as pushing lawnmowers, lifting grocery bags, and drawing sleighs filled with lazy reindeer.
4815 E Speedway Blvd.
Tucson
Arizona
USA
Moshe Feldenkrais learned how to walk twice—once as a baby and once as an adult, after a severe injury. While mastering the process for the second time, he began to develop his own exercise method. By returning the body to an infant-like state of motion learning, The Feldenkrais Method breaks the nervous system's ingrained movement habits, formed through culture and personal upbringing, and reshapes them into healthier, more efficient ones.
The Feldenkrais Method's first component is one-on-one treatments, dubbed Functional Integration sessions. Through manipulation and passive movements, a practitioner can assuage the client's aches and pains or address larger-scale neuroskeletal concerns. The second component is group classes, which teach new movement habits through an eclectic array of exercises, rather than by just proclaiming walking on your feet illegal.
5630 E Pima St.
Tucson
Arizona
US
520-232-4690
---