Things to Do in Tukwila
---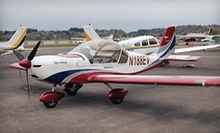 A scenic flight showcases a bird's-eye view of Seattle sights; students get training before piloting an aircraft alongside an instructor
---
Recommended Things to Do by Groupon Customers
---
When it was built in 1914, the Smith Tower was the tallest building west of the Mississippi. Though it lost that designation a mere 17 years later, the tower still captivates Seattle visitors with the Smith Tower Observation Deck. The open-air deck wraps around the tower's 35th floor and grants panoramic views of the city's modern downtown and Puget Sound. Seattle's gorgeous surrounding landscapes are visible from the tower as well, with the majestic peaks of Mt. Rainer and the Olympic Mountain Range creating a stunning horizon. And the journey to the observation deck is a treat in and of itself. Passengers ride in one of the last manually operated elevators on the west coast, which is caged in brass and copper in the style of the early 20th century. In the lobby itself, 22 Indian head sculptures watch over the onyx and marble paneled room, acting as precursors to the grandeur of the tower's top floors.
506 Second Ave., 35th Floor
Seattle
Washington
206-622-4004
The buzz of motors rises and falls as bright-red blurs zip around the track at PGP Motorsports Park. Here, in the shadow of Mount Rainier, racers ages 15 and older loop around an 8/10-mile track at speeds of up to 48 miles per hour, leaning back in the ergonomic seats of Italian-built Birel N35 karts. The 30-foot-wide asphalt track can be altered to take on 12 different configurations and is centered in a velodrome, which puts spectators at an elevated angle so they get a good line of sight no matter where they sit.
For safety reasons, drivers should wear long sleeves and pants and closed-toe shoes. Drivers are equipped with helmets and driving suits, and since races take place rain or shine, they will also be provided with rain gear that includes waterproof gloves and booties.
31001 144th Avenue SE
Kent
Washington
253-639-7223
Craig Willemsen wears a lot of hats at Silent World Diving Systems. The instructor certifier, tech instructor, and store owner has spent the last 40 years swimming with schools of fish all over the world. After his first trip in 1972, Craig developed a passion for diving, exploring international waters and teaching others advanced techniques that they use to follow in his flippersteps. With more than 6,000 dives under his belt, his dedication to diving and education has earned him one of the highest SSI instructor ratings and the SSI Platinum Pro 5,000 Diver and Instructor Award.
Craig leads Silent World's team of certified instructors who strive to teach students the art of underwater exploration and also broaden their knowledge on a variety of related subjects. At any given moment, they may be leading students in open-water dives, pointing out local diving sites that match their skill levels, or matching newcomers with the right gear and Zodiac-themed wetsuits.
13600 NE 20th St.
Bellevue
Washington
The SIFF Cinema team scours the globe in search of extraordinary films. Their mission is to bring the community—and the world—together through quality international showings, and they host premieres, classic films, and revivals at the SIFF Cinema Uptown and the SIFF Film Center 365 days each year.
As one of the largest and best-attended film festivals in the U.S., the Seattle International Film Festival reaches more than 150,000 moviegoers each year. The 25-day festival presents more than 250 features and 150 short films from more than 70 countries during its run, giving people a perfect excuse to try out an all-popcorn diet.
321 Mercer St. at 3rd Ave.
Seattle
Washington
206-633-7151
---