Things to Do in Tukwila
---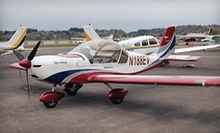 A scenic flight showcases a bird's-eye view of Seattle sights; students get training before piloting an aircraft alongside an instructor
---
Recommended Things to Do by Groupon Customers
---
Onlookers gasp as the graceful figure tumbles to earth in a slow-motion plunge. Her strong legs twist and spin down a billowing swath of deep-red fabric like a spider expanding its web. It is awe rather than fear, however, that draws the crowd's gasps, as the elegant descent is performed as a demonstration by one of Emerald City Trapeze Arts' skilled instructors during a silks class. A dedication to teaching students of all ages and abilities the skills necessary to capture both the beauty and athleticism of the circus arts is the studio's main mission, upheld by a cadre of circus-grade instructors and a friendly staff.
Below the soaring ceiling of exposed old-growth beams of Seattle's indoor venue or amid the warm breezes of Maui's outdoor trapeze, students leap and balance on well-maintained circus apparatuses as their instructors correct their form and ensure their safety. The staff welcomes aerial enthusiasts to experience the sky-splitting thrills of all manner of circus specialty, from the flying trapeze to acrobalance to Hatha yoga performed on the top of an elephant's stiletto. Along with high-flying classes, Emerald City Trapeze Arts' crew celebrates the circus arts via dances and parties held within the whimsical-yet-rustic Seattle venue, from merriment-packed Halloween festivities to energetic performances by staff and students.
2702 6th Ave. S
Seattle
Washington
206-906-9442
Not only is the Seattle Aquarium the ninth largest of its kind in the United States—with more than 22 million visitors since its opening in 1977—it is also an integral center for marine conservation and education. The exhibits display stunning creatures of land and sea, and staff biologists study the aquatic tenants to conduct critical research on giant Pacific octopuses, sixgill sharks, sea otters, and other indigenous animals.
Though the Seattle Aquarium is an advanced center for research, it isn't all serious business and otters wearing lab coats—it also hosts numerous interactive exhibits and displays to please young and old alike. The Marine Mammals exhibit puts visitors up close with sea otters, playful river otters, harbor seals, and fur seals. The Pacific Coral Reef exhibit displays visually stunning and vibrant tropical fish, and the 120,000-gallon Windows on Washington Waters exhibit provides a floor-to-ceiling view of hundreds of Puget Sound fish, including salmon, lingcod, rockfish, and wolf eels.
The Seattle Aquarium also stays actively involved with the community. The aquarium's biologists partner with local divers to take an annual octopus census, and each year the center trains more than 150 volunteers to teach visitors about the ecosystems of local beaches.
1483 Alaskan Way
Seattle
Washington
Horseradish vodka and salty pops of red caviar mingle with cigar smoke, baked apples, and freshly plucked orchids. One of Sweet Anthem' signature fragrances, Anton's scent is as heady as the concept behind it. Meredith Smith derived the musky fragrance from her honeymoon in Russia, and each note recalls a specific place and time from her trip. "Fragrance is evoking an idea—it's creating something out of nothing," explains Meredith. "Fragrance leaves, evaporates, and I want those fleeting moments to be evocative of the inspiration behind it."
This olfactory philosophy inspired all of her signature scents, which she compounds and bottles by hand in her atelier. Her fragrances shirk the stereotypical floral notes, instead incorporating unusual notes such as tobacco, tomato leaf, and sarsaparilla.
Meredith's meticulous attention to detail extends to her apothecary itself: tiny glass vials occupy wooden nooks, and long metal tables serve as workspace for her perfume-making classes. In addition to classes, Meredith empowers customers to concoct their own scents with DIY kits and private appointments that teach the fundamentals of perfumery, such as figuring out ingredient volatility and determining which nostril regulates the ability to love.
4536 California Ave.
Seattle
Washington
At the age of 9, Bonnie Morris began a lifelong relationship with horses. By age 10, she was the proud guardian of her own colt and at 22, she set the wheels in motion to open her own training center. Today at Morris's Shadow Mountain Stables, she and her staff continue to bond riders and steeds within a five-acre haven that's beyond the reaches of the outside world and its persistent chorus of honking bikes. They foster interspecies rapport through various types of instruction, including lessons and summer camps that teach showmanship and horse care. Trail rides mosey through nearby woods, meadows, and grasslands overlooking Mount Rainier. Birthday parties include horseback rides or visits to the petting farm. The petting farm facilitates up-close encounters with fuzzy ferrets, giant bunnies, mini horses, and baby goats as well as the stable's fleet of horses and resident cow, Henry, who also answers to, "Look! A cow!"
29502 112th Ave. SE
Auburn
Washington
253-939-5660
---