Things to Do in Tullahoma
---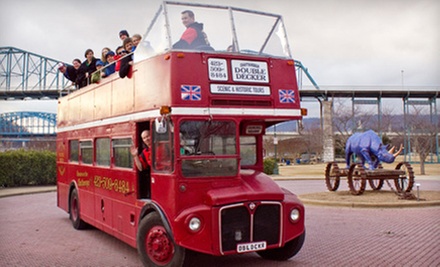 ---
Recommended Things to Do by Groupon Customers
---
In 1960, Vin Silvia put his faith in a parachute as he dove from an aircraft for his first freefall. The rush of adrenaline continued beyond the dropzone, inspiring the creation of Chattanooga Skydiving Company. Now in its third generation of family ownership, the company mints new divers on a regular basis. As long as the skies are clear and the clouds slake their appetites on birds rather than planes, instructors give lessons or pair up with novices for tandem jumps. Chattanooga Skydiving Company abides by safety methods approved by the United States Parachute Association so that any client can experience the thrill of great heights without previous experience or access to the shoulders of an obliging tall man. A digital video recording allows customers to upload, email, and share video evidence of their celestial endeavors.
300 Airport Rd.
Jasper
Tennessee
855-776-5867
Throughout the week, Ebonite Galaxy Lanes offers a spectrum of entertainment options in the forms of 32 synthetic bowling surfaces, arcade games, live DJ performances, and an outdoor volleyball court. The alley also hosts an onsite snack bar that fuels guests with bubbling pizzas while they enjoy recreational rivalries, league nights, or live broadcasts of slot-car races every Sunday. At the in-house watering hole, Front Row Sports Bar, live DJs spin digital discs and host karaoke every Thursday through Saturday.
730 Mooresville Pike
Columbia
Tennessee
931-381-2695
As the aerial concierge behind Fly This, Erik Graper accompanies patrons through the air aboard his powered hang-gliding trike. Erik boasts pilot certifications from the FAA and USHPA, as well as a 10-year flying career that includes more than 10,000 flights without an accident or taking a wrong turn into an interdimensional wormhole. He introduces novices to the sport during discovery flights that soar to as high as 2,000 feet and coaches more seasoned pilots through advanced training and instructional flights. Each excursion takes off from Nickajack Lake and circles the airspace high above it, affording passengers rare views of the Tennessee River Gorge.
Nickajack Lake, Marion County Park
Marion
Tennessee
423-582-1929
If Ghost Hunter Chattanooga's paranormal investigators know the meaning of fear, they don't show it. In any case, their curiosity overrides the bone-chilling sensation they regularly experience while untangling the secrets of the afterlife. They share this curiosity with small groups on ghost-hunting tours that venture into the shadows of Chattanooga's most fertile haunting grounds. During these nightly explorations, they employ an arsenal of advanced equipment—including EMF meters, infrared-temperature guns, and Ovilus X talk boxes—to tell genuine poltergeists apart from Old Man Witherses running around in bed sheets.
613 McCalie Ave.
Chattanooga
Tennessee
423-521-2266
Fireworks, carousels, and chocolate-dipped bananas can mean only one thing: the Williamson County Fair is in town. This year it rolls in to celebrate the summer with rides, exhibits, and live entertainment from top acts from around the country. Thrill-seekers may want to start at the midway, which corrals all of the adrenaline-pumping, eye-popping attractions into one convenient location. The Enterprise dares riders to experience its 85-degree angled high-speed twirl, and the Pirate swings them back and forth in a full-size ship that re-creates the excitement of the high seas, from mounting colossal waves to mouth-feeding a seagull. Plenty of family-friendly rides, such as the classic carousel, ensure fun memories for visitors of all ages.
A trip to the fair wouldn't be complete without exploring live events, exhibits, and competitions. Musical guests including The WannaBeatles, a Beatles cover band, and Pearl Heart, a song-writing sister trio, take to the main stage to serenade attendees. Further exploration of the grounds leads visitors to daily exhibits, from an agricultural equipment display and a BMX trick team to a petting zoo and nightly fireworks. Judges critique entries in various competitions, such as bread and pie baking, the Fairest of the Fair Pageant, and the contest to see whose dad can sneeze the loudest.
4215 Long Ln.
Franklin
Tennessee
US
615-794-4386
---