Tours in Tullahoma
---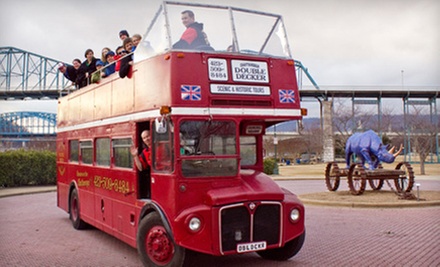 ---
Recommended Tours by Groupon Customers
---
When surveyor Aaron Higgenbotham discovered Cumberland Caverns in 1810, he couldn't see its majestic pillars of dripping rock, its flowstone curtains, or its subterranean waterfalls. Stuck on a small ledge in the dark, Higgenbotham was as blind to the cave system's features—one of them a 2,000-foot-long cavern hall—as the eyeless crayfish that live there. His initial discovery nevertheless paved the way for nearly 200 years of speleological findings. Today, guides preserve this 32-mile National Landmark cavern by leading daily tours through its passages.
During tours, guides point out artifacts left by pre Civil War–era saltpeter mines, tunnels filled with rare gypsum deposits, and mysterious inscriptions reading "Shelah Waters - 1869" and "Millard Fillmore + Stacy." They lead guests among stalagmites and stalactites to a sound-and-light show that dramatically retells Bible stories, or into a domed hall that houses a hand-cut crystal chandelier rescued from a historic Brooklyn theater. It's in this last space that staffers organize banquets, weddings, and monthly live bluegrass concerts, or hold burial services for broken fax machines. They also lead visitors through the tight passageways of lesser-seen cavern segments during daytime or overnight spelunking trips.
1437 Cumberland Caverns Rd.
McMinnville
Tennessee
A U.S. Hang Gliding and Paragliding Association–rated master pilot, Matt Taber has been soaring through the skies since 1978, during which time he's managed to design several of his own gliders. He's also devised and constructed other contraptions, such as glider-towing equipment and lightweight tow planes—both of which his company, Lookout Mountain Flight Park, uses to teach new recruits how to surf the skies. Matt leads a team of USHPA-certified pilots and instructors that coaches students of all levels in basics and advanced maneuvers through on-the-ground training and hands-on tandem flights, during which plots safely guide their charges over the scenic mountains and blurry bushes of Lookout Valley at altitudes of up to 4,000 feet. Conducted on a 55-acre private training facility, lessons can include the overnight use of amenities such as a pool, volleyball court, bathhouse, and cabins.
7201 Scenic Hwy.
Rising Fawn
Georgia
800-688-5637
After spying his first electronic bike while teaching in China, owner Garnet Caldwell vowed to bring the unique and potentially revolutionary vehicles to his hometown. He told the Times Free Press, "These bikes are for people who just want to get out and ride," explaining that they can go about 20 miles before needing to be charged and, like a championship racewalker, can reach speeds of up to 20 miles per hour.
The bikes, available at the shop for rental or sale, come in all sizes and run off a battery that is recharged via a traditional wall outlet. Chattanooga Electric Bikes caries models from Ezip, Izip, Liberty, and Pedego, as well as conversion kits to help traditional two-wheelers to make the jump to electric. Certified technicians ensure bikes are held to the highest safety standards and don't become sentient, and they can service any brand of electric bicycle.
123 Frazier Ave.
Chattanooga
Tennessee
423-475-6569
Native-born Chattanoogans Carlton Thomas and Ginnie Harris infuse their walking tours with insights into their city's cultural and architectural history. The pair's tours hone in on downtown and riverfront locales that have made their impressions on the city throughout its history. As small groups gather, Carlton and Ginnie may take them strolling past the world's first Coca-Cola bottling plant and the Carnegie library, or they may engage in long-distance staring contests with tugboat captains while crossing one of the world's longest bridges on foot. Tours depart through the evening hours, giving groups the chance to snag photos of the sun as it sinks beneath Lookout Mountain.
827 Broad St.
Chattanooga
Tennessee
423-228-0448
When Franklin On Foot founder and guide Margie Thessin discusses the Civil War's impact on Franklin, she shuns dry textbook summaries. Instead, she gathers groups before historic homes and battle sites, and she explains, "The war happened here. The people who lived here– this war was their 9/11. This was their Pearl Harbor." Suddenly, she sees sets of eyes light up, as minds make the leap from musty tomes and texts to the people who lived¬—and fought and died—where they now stand 150 years ago.
To make history relevant, Ms. Thessin humanizes it, honing in on the famous and lesser-known people who shaped Franklin and the struggles they faced to do so. In that spirit, she seeks out guides who are not only passionate about history but possess a natural knack for storytelling.
In keeping with her commitment to orchestrate vivid tours, Ms. Thessin conducts them by bike or on foot. "You get so much from a place by walking it instead of looking out a window of a bus—you may as well fly at 32,000 feet," she says. Small groups of sightseers stroll or if preferred, Charleston across the downtown area or expand their tour's scope by cruising on one of Franklin On Foot's 24-speed Fuji bikes.
202 2nd Ave. S
Franklin
Tennessee
615-400-3808
As the aerial concierge behind Fly This, Erik Graper accompanies patrons through the air aboard his powered hang-gliding trike. Erik boasts pilot certifications from the FAA and USHPA, as well as a 10-year flying career that includes more than 10,000 flights without an accident or taking a wrong turn into an interdimensional wormhole. He introduces novices to the sport during discovery flights that soar to as high as 2,000 feet and coaches more seasoned pilots through advanced training and instructional flights. Each excursion takes off from Nickajack Lake and circles the airspace high above it, affording passengers rare views of the Tennessee River Gorge.
Nickajack Lake, Marion County Park
Marion
Tennessee
423-582-1929
---