Restaurants in Turlock
---
Recommended Restaurants by Groupon Customers
---
Caterers Justin and Jamie Dukes deliver their specialty meat-stuffed sandwiches to a wide range of events—everything from "a barbecue for 4,000 people to baby showers," according to the Fresno Bee. An arm of their concession and catering fiefdom, Duke's Downtown Sandwiches serves up hearty, towering sandwiches stuffed with salami, pickles, olives, and turkey, or flavorful Greek-style wraps filled with feta and spinach. Dine-in patrons savor piping-hot bowls of clam chowder or meaty cheesesteak sandwiches, and banquet guests sample catered plates filled with fresh fruit and cold cuts, or sword-fight with skewers full of crudités and cheese.
3131 N Cedar Ave.
Fresno
California
559-840-1536
Raul and Maria Gutierrez were raised on fajitas in their native Mexico, where many families raise their own chickens and make tortillas by hand. After honing their culinary skills in several Houston restaurants, the couple chased their dreams to Fresno, where Fajita Fiesta was born. Instead of sprouting from a pinto bean, the eatery sprang from one of the Gutierrez's favorite dishes: tacos al carbon, a union of handcrafted tortillas, fresh pico de gallo, and charbroiled steak, chicken, or pork. Made fresh every hour, the tortillas serve as a canvas for creativity by exhibiting savories such as grilled shrimp, onions, and poblano peppers. For deep-fried fare such as chimichangas and sopapillas, Raul and Maria use canola oil to minimize saturated fat. Margaritas add a heady kick to the evening's festivities, and horchatas end meals on a sweet cinnamon note, with textures smoother than a freshly shorn saxophone. The kitchen also caters feasts for a variety of events, filling bellies with hearty chicken moles and bite-size eats such as mini taquitos.
1713 E Shaw Ave.
Fresno
California
559-229-9292
Bertha Campbell Cole stepped back and let out a satisfied sigh after making the final pink brushstrokes on the wooden siding of the 1856 hotel. She had traveled throughout Southeast Asia with her husband for years, but was now firmly planted back in her childhood territory on Northern California soil. The year was 1935, and Bertha's new stationary lifestyle meant that she could finally realize her dream of opening a teahouse. In forthcoming decades, the intimate space would sate the appetites of celebrities such as Alfred Hitchcock and Beverly Sills, as well as many noncelebrities who simply liked ornately papered walls. Today, owner Charlie Shockey continues La Casa Rosa Restaurant's tradition by serving luncheons fashioned from Mexican-inspired recipes, local herbs and produce, and seasonally changing red and white wines. Chefs bake corn, beef, and cheeses into california casseroles, following an original recipe given to Bertha's aunts by a local Mexican commandant. Chicken and seafood soufflés sail past antique dolls, pictures, and a gramophone to tables in the main dining room, or on their way to an outdoor courtyard among flowering shrubs and giraffes. Wines such as Ash Blonde—a French-Italian blended aperitif—chill glasses alongside domestic and imported beers, and a baby grand piano holds a row of sample jams and chutneys off to one side of the dining room. After tastings, visitors can order the local preserves, which staff members then pack into decorative pink boxes.
107 3rd St.
San Juan Bautista
California
831-623-4563
---
---
Restaurant Deals - Recently Expired
---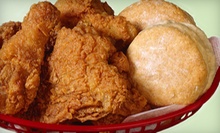 Army of sides such as coleslaw and mac 'n' cheese can accompany fried chicken, sandwiches, and nuggets
---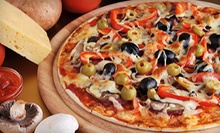 A choice of 28 toppings cover flaky pizza crusts, which are complemented by fountain drinks and appetizers
---
---