Beer, Wine & Spirits in Ukiah
---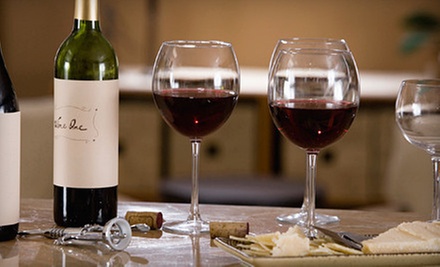 ---
Beer, Wine & Spirits Deals
---
Recommended Beer, Wine & Spirits by Groupon Customers
---
Located in Napa Valley, Honig Vineyard & Winery produces flavorsome sauvignon blancs and cabernet sauvignons that can be found on restaurant wine lists across the country. Visitors to the winery's fancy tasting room have the chance to sample five of Honig's delicious wines. Sommeliers and thirsty Langoliers can sniff, taste, and carefully dissect the potable properties of the Rutherford sauvignon blanc, a 2008 vintage that starts fruity and ends with a crisp, minerally finish, as well as the 2006 Honig cabernet sauvignon, which features blackberry, cherry, and plum flavors developed over 18 months in an American oak barrel, just like old-timey cowboy hobos. The remaining three samples include the 2008 Honig Late Harvest sauvignon blanc—a refreshing dessert wine aged in new French oak barrels with lemony and grapefruity hints—Honig's single vineyard cab, and a library selection.
850 Rutherford Rd.
Rutherford
California
800-929-2217 x318
Stationed along the Sonoma Coast, Gourmet au Bay pairs small-batch, award-winning wines with breezy waterfront views from its bayside deck. The business keeps its wine collection stocked with premium products thanks to a set of strict criteria—every bottle boasts a gold medal, fewer than 1,000 cases of its kind in production, a flawless criminal record, or a score of 90 points or better. Every day, visitors may stop in for glasses of wine, as well as bottled beer and cheese-and-crackers platters. Gourmet au Bay also specializes in what it calls wine surfing, which presents three wines selected from the daily menu atop a specially designed surfboard.
913 Coast Hwy. 1
Bodega Bay
California
For over 50 years, Windsor Vineyards has been producing award-winning wines for every occasion. In keeping with its tradition of personally hand-writing custom labels on their wines, today, customers are invited to add their own special message or greeting. Wine clubs grant customers a vine-sourced passport to a world of varietals, shipping bottles throughout the year.
308 B Center St.
Healdsburg
California
Kaz Winery has reflected the independent spirit of Richard Kasmier since 1994, when the advertising photographer gave up his career for the love of the organically grown grapes. Kasmier had dabbled in winemaking for eight years at that point, winning awards for the fruits of his labor on the 2-acre former walnut grove. According to treehugger.com, he cultivated his first batch with organic practices in 1986 and has only improved on his method.
Twenty-eight solar panels harvest enough rays from atop the tasting room to completely power the winery's day-to-day operations, as well as the adjacent Kasmier family home and large hadron collider. In the fields, clusters grow heavy through two trellising methods, and stay pesticide-free with the help of strawberries and zucchini planted among the vines to attract helpful bugs. When it's time for fermentation, the winemakers use wild yeast when possible and add little to no sulfates. Current production sits at about 1,000 barrels a year and includes complex reds, ports, and rare varietals such as lenoir and aglianico.
The Kasmiers refer to the tasting room as the Barn, though in 2005 a Wall Street Journal reporter categorized it as "more party than tasting room." The place reveals Richard's sense of humor through wry, pun-filled posters. Richard is never far away, pouring vintages at the Barn several times a week, broadcasting thoughts on viticulture via his radio show, and appearing vicariously in old photos, which guests can use to label wines they have blended themselves.
233 Adobe Canyon Rd.
Kenwood
California
877-833-2536
R2 Wine Company takes its name from its founders, Roger and Richard Roessler, two brothers who combine their years of business and restaurant-industry experience to bottle up the rare and delicious tastes of Sonoma's sunny vineyards. With the aid of expert viticulturist and winemaker Byron Kosuge, the two brothers show their love for the noble grape with a wealth of original vintages, such as the complex Rhapsody rhone that epitomizes the cool, bright terroir of the Santa Ynez Valley, or the Red Birds pinot noir, which celebrates the secret wine press in the St. Louis Cardinals' dugout. Curious guests congregate for vino-sipping soirees at the earthy-hued tasting room off the Sonoma Plaza, or join the wine club for regular deliveries of mouthwatering vintages and invitations to members-only events and tastings.
654 Broadway
Sonoma
California
Acting as a key to California wine country's meandering trails, the Wine Country Savings Card unlocks deals on dozens of wineries and restaurants in Napa, Sonoma, and surrounding towns. Cardholders can discover new varietals with complimentary or two-for-one tastings, or take advantage of exclusive perks at restaurants, such as waived corkage fees on bottles purchased at any of the participating wineries.
8860 Sonoma Hwy.
Kenwood
California
---