Theme & Amusement Parks in Ukiah
---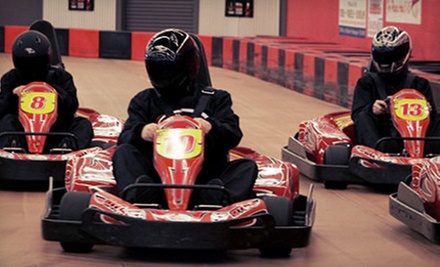 ---
Recommended Theme & Amusement Parks by Groupon Customers
---
Scandia Family Fun Center flings open the doors to youthful fantasy in a lush space that has continued to blossom since opening day in 1988. Much of the management has been on staff for more than 15 years, evincing a love of fun that is reflected in the manicured grounds and impressive wealth of games. Juniper and magnolia trees shade shingled cottages and castles rise from mossy rocks on the two 18-hole mini-golf courses. The sounds of splashing and laughter indicate both the birth of another pirate and a direct hit from a Blaster boat's front-mounted water cannon, backdropped by go-karts rumbling on the Li'l Indy Raceway and bats cracking in the batting cages. Inside, the arcade illustrates the evolution of gaming with more than 150 machines. A limited-edition Tron pinball machine crowns the collection of vintage games, and modern play is represented with multiplayer dance simulators, Quadair hockey tables, and cinematic experiences such as Terminator: Salvation, which screens on a 100-inch monitor. Visitors who left their pizza-flavor chew toys at home can check out Scandia's Viking Pizza.
5301 Redwood Dr.
Rohnert Park
California
707-584-1398
Founded by three Scandinavian families in 1977, Scandia Family Fun Center flings open its doors and invites families in for afternoons of youthful fantasy. Manicured hedges and lush green mounds dot the center's challenging miniature golf course, while go-karts rumble past on the Stockholm Raceway. The sounds of splashing and laughter not only indicate the birth of a pirate, but also a gentle collision between Baltic Sea bumper boats, accompanied by the crack of speeding baseballs and softballs at the batting cages. The center's Scandia Screamer lifts passengers 165 feet into the air before accelerating to speeds of 65 mph, while the Swedish Scrambler opts for a more amenable 25 mph. Visitors can also exercise their opposable thumbs at a fully-stocked arcade, visit Scandia's snack bar brimming with pizza, hot dogs, and churros.
5301 Redwood Drive
Rohnert Park
California
US
For nearly four decades, the Parks and Good families have tilled the fields and nurtured the trees of Victorian Tree Ranch, brightening up holidays with Douglas firs, Silvertips, and cedar garlands. Family members labor alongside each other as they work to make the tree ranch more sustainable, letting laying hens coop among the trees to fertilize the plants. Visitors dive head-first into holiday spirit as they peruse the rows of conifers, sip complimentary apple cider, munch on homemade pumpkin bread, and enjoy the company of snowmen. Customers can also take refuge form the cold in the warming hut.
1220 Gravenstein Hwy. N
Sebastopol
California
---