Union City, CA Outdoor Activities
---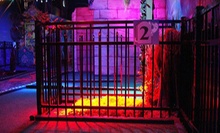 Graveyard-themed mini-golf holes wind through gothic architecture, crypts, and skeletons peppered across indoor course
Use Thursday 2:00pm - 9:00pm
---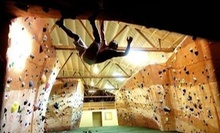 12 inches of seamless padding cushion any falls as climbers scale 18-foot-high top-out boulders and hang from an indoor cave
Use Monday 9:00am - 7:00pm
---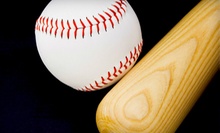 Bats swing away at 140 baseballs that barrel toward the plate at one of four speeds in cages with 35-foot ceilings
Use Saturday 9:30am - 9:00pm
---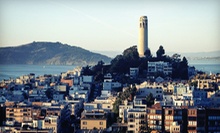 Sporting a hat adorned with red and black feathers, Emperor Norton I dispenses historic commentary about city landmarks in a 2.5-hour tour
Use Saturday 8:00am - 11:00am
---
---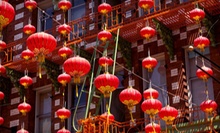 Tourists skulk through darkened sidestreets and eerie historical sites of Chinatown as native-born guide passes down nuggets of folklore.
Use Friday 4:30pm - 7:30pm
---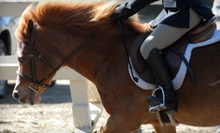 Students learn to ride and correctly handle their horses during private lessons helmed by a specialized instructor
Use Thursday 8:00am - 5:00pm
---
Recommended Outdoor Activities by Groupon Customers
---
Offering three membership plans, NauticShare dispenses its fleet of well-maintained luxury yachts, sailboats, and powerboats at ports around the world. Depending on location, members also have access to sailing and boating lessons, which include how to become a skipper or discover the password for getting into secret Atlantis parties.
1070 Marina Village Pkwy.
Alameda
California
510-868-0498
After meeting and falling in love on a Venetian gondola ride, April Quinn and Angelino Sandri decided to bring that romantic experience to others with Gondola Servizio. Drawing from a mutual love for Venetian boating culture and history, they've assembled a staff of skilled gondoliers to lead intimate nautical cruises. On these excursions, personal gondoliers in traditional dress serenade passengers with lilting Italian melodies and half-remembered TV-sitcom themes. When not leading standard tours, gondoliers work with professional photographers to orchestrate on-water photo shoots.
Each gondola carries up to six passengers, and sandolos offer a smaller, though still traditional, boat alternative. Gondolas with felzes boast an on-deck cabin where guests sit sheltered from the elements on a love seat behind etched glass windows. A flexible schedule allows significant others to arrange lunchtime jaunts around Lake Merritt or romantic evening cruises beneath the moon's jealous gaze. While on land, visitors can enter the Bottega Veneziana gift shop inside the Lake Chalet Seafood Bar & Grill, which abounds with locally handcrafted jewelry as well as imported shawls, Venetian chandeliers, and the fossilized remains of the first known cannoli.
1520 Lakeside Dr.
Oakland
California
510-663-6603
Swing, summersault, and soar through the air on a trapeze with today's Groupon, $25 for a 90-minute trapeze class at Trapeze High (a $50 value). It's worth the 30-minute drive to Escondido to learn how to throw yourself off a platform 23 feet in the air and gracefully bounce butterflicticly through the heavens, performing spectacular acrobatic maneuvers. Learning trapeze tricks is an once-in-a-lifetime experience, and it's plenty of fun. Frequent trapeze binges are the reason Cirque du Soleil performers look so happy.
1822 9th St.
Oakland
California
US
At San Mateo and Alameda beaches, a look over the watery horizon often shows dotted figures atop surfboards taming the wind and waves. Boardsports' team of certified instructors schools these adventurous participants in kiteboarding, windsurfing, and standup paddleboarding during lessons that leave both beginner and intermediate participants ready for relays with dolphins. Its fully stocked retail shop also provides gear, equipment, and rentals of surfboards, wetsuits, and other supplies to make watertop experiences fun, safe, and stylish.
1603 Coyote Point Dr.
San Mateo
California
415-385-1224
More than a century ago, an industrious farmer named Gerard enlisted the help of bees to pollinate his family estate. Inadvertently, the buzzing insects fertilized a new passion for Gerard, one that would become a family tradition.
Four generations later, Gerard'Z Honeybees' bustling hives create more than a dozen local and monofloral honeys from such plants as star thistle, orange blossoms, and avocado blossoms. Because the honeys are completely raw and natural, they maintain the micro-nutritious qualities often left out of industrial varieties, and they may help allergy sufferers to acclimate to their local pollen varieties.
Gerard'Z holds year-round beekeeping workshops and honey tasting seminars at local wineries, nurseries, and farmers' markets throughout the Bay Area and Central Valley. During the classes and tastings, bee experts demystify the process of maintaining a hive, and people get the chance to taste the difference between clover honey, buckwheat honey, black sage honey, and Doritos honey. Gerard'Z also helps to maintain the delicate honeybee population by finding homes for wild swarms or colonies that have built hives in unwanted places and might otherwise fall prey to exterminators.
2756 Vineyard Ave.
Pleasanton
California
925-605-6119
Though Captain Charles Jennings' former life includes stints as first officer and tugboat engineer aboard several historic water vessels, he now exclusively leads daily tours of San Francisco Bay on his 28-foot custom-built, U.S. Coast Guard–approved rigid inflatable boat. He calls upon his previous maritime experience when passing sites such as the SS Jeremiah O'Brien, which he served on during the vessel's 50th anniversary voyage. He also regales passengers with the bay's history, legend, and official twitter account while the boat skims the water at up to nearly 40 miles per hour, courtesy of its 300-horsepower Yamaha engine.
Most tours operate on set routes, highlighting the bay's verdant islands, mooring sites of abandoned Gold Rush ships, and estuaries teeming with still-active cargo ships and lost Marco Polo players. However, Captain Jennings is willing to deviate from the set structures to suit passengers' interests. As far as passenger safety and comfort are concerned, he equips his boat with first-aid kits, motion-sickness remedies such as ginger ale and ginger candies, dry storage for personal effects, and foul-weather gear.
423 Water St.
Oakland
California
510-542-4200
---