Union City, GA Health and Fitness
---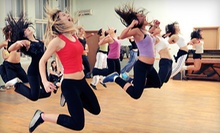 Well-traveled dance instructor leads calorie-burning dance classes, helping tone arms, core, and thighs through easy-to-learn group routines
---
Recommended Health & Fitness by Groupon Customers
---
The membership option does not include equipment. Groupon customers can purchase an intro class for a discounted rate of $10.
1522 Dekalb Ave.
Atlanta
Georgia
US
404-371-8997
For $40, you get 10 classes at Trinity Fitness, located at 828 Ralph McGill Blvd. At just $4 per class, that's an unbeatable 60% discount off the $100 value. Trinity is an all-women fitness center with a variety of classes, many focusing on martial arts. Drop in on group exercise classes, including:
828 Ralph McGill Blvd. NE
Atlanta
Georgia
US
Choose from Gotta Dance's six sassy dance and fitness classes: Miami Bounce, Art of Seduction, Art of Femininity, Strictly Stiletto, Ms. Stiletto, and GO-GO Cardio Stiletto. Each of the stiletto classes combines high-energy dance workouts with gravity-defying heels (be sure to bring your own high heels) to sculpt sexy calf muscles while you sweat and swagger. In Miami Bounce, you'll learn to shake your booty independently from the rest of your body, burning calories and turning up the heat. The Art of Femininity is a hip-hop dance class that explores the strength, power, and beauty of women, whereas Art of Seduction teaches you to slow jam your way to sensual confidence with smooth, sultry moves. Classes are ongoing, with the routines changing constantly, so mix and match your classes or stick with one for all four sessions. If you can't decide, go ahead and observe a class before taking it. Pretty soon, you'll all be hired to perform at dance-centric celebrations, such as debutante balls, weddings, and Flag Day. Check out the online schedule to see when classes are.
1778 Ellsworth Industrial Dr.
Atlanta
Georgia
Today's deal gives corporate stiffs, stiff corpuses, and marionettes who accidentally became real boys an opportunity to limber up at a studio that won Citysearch's Best in Yoga award in 2008. For $45, you'll get 10 yoga or mat Pilates classes (worth $135) at Decatur Yoga & Pilates.Follow @Groupon_Says on Twitter.
431 W Ponce De Leon Ave.
Decatur
Georgia
US
The human spine stacks as many as 17 bones in a precarious game of Jenga that is supposedly holding you up. Because science has yet to link chanting the word Jenga to winning the spiny health game, today's Groupon sends professional help. For $49, you'll get a consultation, exam, x-rays (if necessary), and an adjustment from Dr. Bruce L. Salzinger, D.C. of Chiropractic Healthcare of Buckhead (a $175 value). Conveniently located on MARTA bus lines #38 and #42, Chiropractic Healthcare has been perfecting the spines of Buckhead since 1993.
405 Pharr Rd Ne
Atlanta
Georgia
US
The CrossFit training program at the Northside Drive gym is a functional fitness regimen aimed at whipping you into a state of whole-body health through a series of fun, intense, and effective group classes. The classes are led by supportive and certified instructors and are divided into foundations classes, which introduce you to the core elements of the CrossFit program and the more-advanced workout of the day (WOD). You must complete the foundations course (a 4-day course during the week or a 3-hour course on a Saturday) before you are eligible to take part in the WOD; check online to see both the foundations and WOD schedules. The classes aim to incorporate CrossFit's 10 components of fitness (cardiovascular/respiratory endurance, stamina, strength, flexibility, power, speed, coordination, agility, balance, and accuracy) into workouts that are typically completed in less than 30 minutes. Your Groupon allows you access to as many or as few classes as suit your schedule and desire during your month-long membership.
1000 Northside Dr. NW, Ste. 400
Atlanta
Georgia
404-607-7424
---