Things to Do in Union
---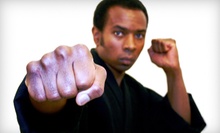 Students practice rapid-fire striking motions, evasive movements, and joint locking as the learn the Way of the Winds system
---
Recommended Things to Do by Groupon Customers
---
Gamers Baseball Academy busts summer's monopoly on the game, giving athletes an indoor, year-round destination where they can learn the ins and outs of both baseball and softball from a crack staff of college coaches, professional athletes, and college players. The 10,000-square-foot facility nurtures players with its collection of hitting and pitching tunnels, batting cages, defense areas, and a changing room for molting mascots.
Gamers Baseball Academy can adapt to meet the training needs of each individual boy and girl or an entire squad. Athletes can then put their newfound skills to work on the academy's own baseball and softball teams to recreate the live games' speeds and intricacies no matter the month.
295 N Michigan ave
Kenilworth
New Jersey
US
908-531-0343
When Claudia Avans decided to end a successful public-relations career and open her own business, her family and friends had their reservations—but that didn't stop Avans. As reported by Jessica Remo of the Clark-Garwood Patch, Avans used to spend her time throwing launch parties for luxury brands throughout the United States and Latin America. But when she started attending kids' parties with her two young daughters, she was disappointed in the events' levels of customer service and knew she had the skills to raise the bar.
The culmination of her experiences in marketing and mothering is Parti-licious: the ultimate personalized party destination for kids. An EntrepreMoms blogger who attended the studio's opening-day festivities found Avans and her team to be "warm, kind, and professional," and felt that the crystal chandeliers, feather boas, and jewelry helped guests "channel their inner princess." But if a princess theme isn't your daughter's cup of tea, not to worry. She can choose from plenty of other options, ranging from runway diva to a literal cup of tea in the Tea-time Delite Parti, which comes complete with hats and gloves, a cupcake tower, and glamorous add-ons such as a chocolate fountain or limo ride.
Avans focuses not only on the guest of honor's every whim, but on convenience for parents. "The years pass by so quickly," she told David Choi of the Cranford Chronicle. "Special moments shouldn't be spent planning, they should be spent enjoying the party and creating memories." Her girl-power-fueled School of Glam also makes parents' lives easier with manners workshops, where youngsters can learn proper table etiquette, guidelines for online behavior, and the most compassionate way to tell an invisible friend she isn't real.
340 North Avenue
Garwood
New Jersey
US
908-228-5291
Having accrued 15 years of teaching experience, the staff members at Tennis Innovators prioritize exciting instruction and curriculums over barraging students with volley after volley. They appreciate the challenge of holding a child's interest and create fun drills for junior pupils, who can begin to learn racket-swinging techniques as early as age 3. The QuickStart and JuniorExtreme programs act as intriguing introductions to the sport for adolescents and work on improving their coordination, mobility, and athleticism, both on and off the court. In fact, they don't require a court to host their afterschool programs and will adapt lessons to fit any suitable space, such as a gymnasium or the least occupied patch of an in-use baseball diamond.
Classes aren't just for children—the staff hosts adult sessions aimed at improving overall game play and fitness in a supportive environment for fully formed humans of all skill levels. Staffers also lend their management expertise to neighborhood tennis clubs, providing guidance for hiring and training processes, court maintenance, and marketing.
899 19th Ave.
Manhattan
New York
US
646-476-5811
The masterminds behind Keansburg Amusement Park, located just off the beach, oversee a park designed to turn a day out with the family during warm weather months into a mini vacation. By dotting the park with roller coasters, go-karts, arcades, and classic boardwalk fare, the owners seem to have realized their vision while also addressing the interests of different-aged groups. Kids ride the colorful Jolly Caterpillar before he presumably morphs into a butterfly at closing time, and whole families catch panoramic bay views from the top of the Ferris wheel. With its more than 35 rides, the park has garnered accolades such as Best of New Jersey from the readers of NJ Monthly Magazine, as well as a 2011 Best of Monmouth County from the readers of Asbury Park Press.
275 Beachway Ave.
Keansburg
New Jersey
US
732-495-1400
---