Day Spas in Uniondale
---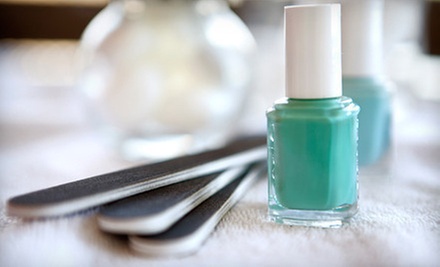 ---
Recommended Day Spa by Groupon Customers
---
Madison Salon & Spa's multitalented team of beauty experts coddles façades with 55-minute signature facials performed in private treatment rooms. Raising client concerns on a pedestal, the skin sultans mold sessions to combat individual imperfections, attacking from all angles like a doberman chasing a bouncing dodecahedron. Deep cleansing lures debris to the surface before technicians coax youthful splendor from complexions with hydrating remedies. Throughout the session, candles cast a soft glow across treatment rooms, which branch off from a space drenched in honey-tinted light inspired by bees' in-hive meditation chambers.
8285 Jericho Tpke.
Woodbury
New York
516-692-7200
Safié Salon & Day Spa's 2,000-square-foot facility channels big-city ambiance with its sleek interiors, doting technicians, and slew of pampering options. A staff of beauty professionals stands equipped with organic products, ready to transform strands into flattering shapes, elicit radiant complexions, and clip and polish nails before they're long enough to be bitten by a nervous coworker. Clients can also hop onto a massage table and soothe their frayed nerves as they enlist the knot-banishing skills of a massage therapist or the sage chi-tending services of the in-house acupuncturist.
519 Central Ave.
Massapequa
New York
516-541-7007
The savvy team at Epiphany Day Spa dispels stress and unprettiness with a hefty roster of hair services, skincare and bodycare treatments, and spa packages. After slipping into a robe and slippers, clients can lounge in a private room, where a licensed aesthetician buffs away dead skin cells and skin dullness with microdermabrasions and chemical peels. Out on the salon floor, stylists revive lackluster manes with braids, weaves, and coloring services, while intimate massage rooms create a welcoming and warm environment for clients to kick up their feet and de-stress during 60-minute sessions.
The candlelit crevices of the spa further encourage guests to relax, nibble on complimentary cheese and crackers, and sip soothing cups of tea or coffee as they retreat to the waiting lounge to enjoy a moment of peace or attempt to recite the Declaration of Independence in pig Latin. Those in search of a domestic skincare regime can peruse Epiphany's stock of moisturizers, eye creams, and masks from the Your Name Cosmetics and CosMedical Skin Care lines.
285 Fulton Ave.
Hempstead
New York
516-292-9123
As one-stop shop for relaxation and beauty services, O Spa curates a menu that ranges from traditional spa massage therapies, facials, and slimming wraps to specialized treatments such as mani-pedis, eyelash extensions, and permanent makeup. The spa's technicians can use laser light to permanently reduce unwanted hair and remove tattoos clients got during their teenage years of rebellion and obsession with the Artist Formerly Known as Prince. Permanent-makeup artists fill in barren eyebrows or line the eyelids or lips, keeping facial features constantly looking fresh.
927 Franklin Ave.
Garden City
New York
516-877-1888
The chocolate-brown awning that heralds Diva Couture Salon and Spa resembles the awnings that speckle Parisian side streets. Its scalloped edging ripples in the breeze, shadowing bay windows and potted topiaries. Inside the salon, black and white tiles underscore styling stations where hairdressers cut and colour manes. This space leads to a pedicure area, as well as private treatment rooms where certified aestheticians, clinicians, and massage therapists enhance body and mind with spa services and med-spa treatments. In the waiting area, herbal tea, espresso, and wine keep palates warm and relaxed for drawn-out thank you speeches.
Dedicated to patients and survivors of cancer, Diva Couture Salon offers discounted and complimentary services to those going through treatment and celebrates survivors by offering specials three times a year.
47-03 Francis Lewis Blvd.
Bayside
New York
USA
718-631-8631
Spa Forever's lounge greets visitors with floor-to-ceiling windows, white walls, and a few plush couches. The aesthetic reinforces an approach to wellness and comfort that is both down-to-earth and elegant, a combination admired by Time Out Chicago and Chicago Social, which praised both the spa's "unpretentious" atmosphere and its "awesome heated beds."
Whether administering facials or dealing the death blow to unwanted hair with the Cutera CoolGlide laser, the aestheticians and massage therapists sit down with clients before each appointment to chat about their services, letting each guest know exactly what's coming down the pike. From there, the pampering practitioners calibrate their services, modifying them for each guest's needs. For instance, aestheticians fine-tune every step of their signature Forever facial—complete with double cleansing and mask—to correspond to visitors' complexions. They also use hypoallergenic products from AquaDerma and Dermalogica for people with sensitive skin. Alternatively, massage therapists tweak the hydraulic pressure on their robotic fingers to deliver all manner of massage, including Swedish aromatherapy, tandem massages that feature two therapists, and ashiatsu performed with the therapist's bare feet.
36-26 Bell Blvd.
Bayside
New York
US
347-768-0753
---