Restaurants in Uniontown
---
Recommended Restaurants by Groupon Customers
---
You wouldn't expect a restaurant that specializes in beef brisket, wood-grilled steaks, and burgers to be referred to as "a hidden vegan-friendly gem" by a blogger from Yummy Plants. And yet, Double Wide Grill satisfies both meat- and vegetable-lovers, with menus that run the food-chain gamut from lentil veggie burgers to St. Louis–style pork ribs. Adding to the eclectic feel, both of the restaurant's locations are housed in converted gas stations where vintage pumps still stand out front. Indoors, the decor pays homage to these rugged beginnings with bottle-based chandeliers, a hubcap ceiling, and a vintage trailer that recalls Floridian vacations to the wetlands where all lawns' pink flamingos migrate every year.
Patrons can also stop by on weekend mornings for brunch on the outdoor patio, or hang around until late at night for karaoke and more than 30 types of beer at the license-plate-covered bar. Sports fans can watch games on four 10-foot-wide high-resolution projection screens.
2339 E Carson St.
Pittsburgh
Pennsylvania
The 509 Café partners with nurturing goddess and retired insurance agent, Mother Nature, to use only the freshest ingredients in each dish. The lunch menu offers salads ($7.99) and sandwiches ($6.99 for a whole), many with a Southwestern spin; the Sonoran salad tops its mesa of mixed greens, grilled chicken, and roasted-corn and black-bean salsa with a Southwest vinaigrette and tortilla strips, while the Mohican burger sports Angus beef under roasted poblano pepper, served on a cheddar-jalapeno bun. The 509 Café is vegetarian friendly and offers a spicy black-bean burger as a replacement upon request. For diners who love beef but hate patties, the ranch roast-beef sandwich ($3.99 for a half) tantalizes with tender roast beef sliced thin and drizzled with ranch dressing. Quesadillas are available in both full ($6.99) and half-size portions ($3.99). Add a side such as Southwest potato salad and a drink for just $2. The 509 Café's breakfast menu is served all day and features classic Southwestern fare such as pancakes ($4.99), french toast ($4.99), and breakfast sandwiches ($3.99), and is served all day.
509 Greenfield Avenue
Pittsburgh
Pennsylvania
When guests walk into the bright blue confines of Square Café, they find owner Sherree Goldstein and her friendly crew serving up smiles and steaming cups of custom-blended Kiva Han coffee. Preparing eclectic breakfast and lunch dishes, chefs crack shells for three-egg omelets, green eggs and ham with homemade pesto, and form their own housemade veggie burgers. Attentive servers endlessly refill freshly brewed ice tea and help health-savvy diners find the best menu options. Inside, colorful local artwork fuels discussions about which colors deserve to be primary, and on the sidewalk patio, diners can scan the street for signs of Square Café's vegetable-oil-powered Mercedes.
Gayot proclaimed Square Café a "vibrant eatery," describing the "generously portioned, cooked-to-order breakfast and lunch items on huge square plates." In addition to the well-crafted eats, the staff's energy and enthusiasm keep the café's sizeable crowd of regulars coming back—the manager, Kevin, even sports a Square Café tattoo as evidence.
1137 S Braddock Ave.
Pittsburgh
Pennsylvania
Unlike a shark's instinct to bite stuff and never stop swimming, most sea creatures are known for their anti-survival instincts, which include tasting delicious and come-hither claw gestures. Wright's starters highlight ocean fare's succulent Freudian death drives with a rich lobster bisque ($4.50), seared Ahi tuna over seaweed salad ($12), and baked New Zealand green-shell mussels with aged cheddar ($12 for 12). The New Orleans shrimp or oyster po' boy ($10.50) and an Angus steak burger ($9) headline the bread-padded entree selections while Wright's crab cakes ($21.50) mimic their hot- and pound-cake brethren in deliciousness.
1837 Washington Street
Heidelberg
Pennsylvania
Buon Giorno Café serves up fresh, homemade, and upscale Italian breakfast and lunch fare to famished downtown workers and hopelessly hungry romantics alike. A small breakfast menu offers a tasty break with veggie-stuffed frittatas ($5.50), fresh pastries ($1.25–$4.75), and caffeine-infused coffee creations ($.85–$3). The daily lunch menu rotates house-made dishes, unique to each location, every giorno. Permanent lunch staples such as the antipasto salad ($8.25), pasta ricotta ($8), and Italian hot sausage sandwich ($6.75), are stuffed full of imported Italian specialty foods.
6 Smithfield St.
Pittsburgh
Pennsylvania
Braddock's American Brasserie is a classy affair, with high ceilings, warm wood trimmings, and intimate booths draped in black leather. The fare combines classic Pittsburgh cuisine with European undertones, spread over plentiful breakfast, lunch, and dinner menus. For midday hunger pangs, calm a protesting torso purse with onion-soup gratinee ($7), savory bourbon broth coated in gruyere and crostini. The Pittsburgh Reuben ($13), nicknamed "The Big Ugly" for its haphazard appearance and formidable portion, comes heaped with a startling amount of shaved pastrami, pierogies, sauerkraut, and kielbasa, and is crowned with Russian dressing and gruyere.
107 6th Street
Pittsburgh
Pennsylvania
---
---
Restaurant Deals - Recently Expired
---
Chefs consult original Spanish recipes to prepare lobster-stuffed ravioli and saffron-seasoned paella inside Mediterranean-style restaurant
---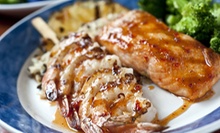 Breaded eggplant topped with mozzarella cheese and slathered in marinara sauce or crabcakes
---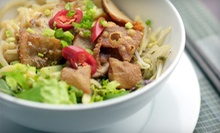 Chinese and Vietnamese classics such as pho noodles with scallions and plum sauce, general tso's chicken, and kung pao shrimp
---
---