Museums & Galleries in Universal City
---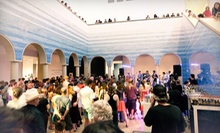 The University of Texas at Austin
Families receive 1 year of free admission, discounted purchases in the Museum Shop and Blanton Café, and two tickets to any "B scene" event
---
Recommended Museums & Galleries by Groupon Customers
---
To avoid last year's embarrassment of inventing modern art 90 years after the fact, it might do you good to visit an art museum and see what art movements already exist. Marvel and muse among the aesthetically astute with today's Groupon: for $30, you'll get a yearlong household membership to both locations of the Austin Museum of Art. Benefits include:
823 Congress Ave.
Austin
Texas
US
Founded in 1954 and featured in the Wall Street Journal, the McNay Art Museum rests on the 23-acre estate of the late art collector Marion Koogler McNay and boasts a collection of nearly 20,000 works of early and modern art, as well as the New Image Sculpture exhibit (running until May 8) and Sandy Skoglun's installation The Cocktail Party (running until May 8).
6000 N New Braunfels Ave.
San Antonio
Texas
Since its inception 25 years ago, Blue Star Contemporary Art Center continues to fill San Antonio's contemporary art void, gaining attention from visitors and artists around the world and a spot on San Antonio magazine's Best of the City 2011 list. A family membership bestows a wealth of benefits to patrons, including 10% off at applicable area restaurants, 10% off Blue Star merchandise, and entrance to exclusive openings, lectures, and black-tie water-gun battles. Discover an ever-rotating and ever-innovative lineup of exhibits including Four Decades with Colour—running until mid-February—which billets more than 20 pieces by sculptor-painter Philip King. Meanwhile, Untitled showcases works by British abstract sculptor and Texas convert Philip John Evett. Form and structure reign supreme at the center, which displays an arsenal of abstract forms that guests can circle, study, and recreate with mashed potatoes during dinner.
116 Blue Star Rd.
San Antonio
Texas
Named San Antonio's Best Museum in the 2010 Nickelodeon Parents' Choice Awards, San Antonio Children's Museum has ushered more than two million guests through its educational wonderland since opening in 1995. Tykes can explore permanent exhibits such as Science City, with hands-on exhibits covering physics, engineering, and how to extract highlighter ink from lightning bugs. In PowerBall Hall, children man simple machines to send orbs up to a lofty cage until the chamber fills and unleashes a spherical torrent down upon the delighted little ones. Other exhibits impart lessons of financial responsibility and proper nutrition in a make-believe bank and market. Membership is calibrated for any permutation of the family unit, and grants amenities including unlimited visits for a year, a subscription to the museum newsletter "Spark!," and access to more than 40 classes where kids can submit theses on baking-soda volcanoes for peer review.
305 E Houston St.
San Antonio
Texas
210-212-4453 x1302
The tale of the Austin Children's Museum begins in 1983, when a band of parents and teachers started setting up educational exhibits and children's activities throughout the city. This "museum without walls" stretched into schools, parks, and malls, delighting children and families with a sense of whimsy and a place where play was rewarded. In the years that followed, the museum shed its nomadic beginnings and found a permanent home inside the pleasant green walls of the Dell Discovery Center. Firmly rooted, its exhibits have entertained and enlightened more than 800,000 youngsters and their parents while earning praise from the writers of Little Austinite.
Today, the sprawling 12,500-square-foot facility is a kaleidoscope of color and lights, where whippersnappers play with giant building blocks, cobble recycled materials into crafts, and marvel at golf balls as they soar through loops and shoots. Others explore the miniature Global City, where they take on roles such as veterinarians in the pet clinic, cooks in the diner, or stray raccoons hiding in the grocery store.
Throughout the week, a team of educators leads Discovery Time, guiding lads and lasses through kid-friendly science experiments that launch paper helicopters and make slime. The museum also hosts Storytime, where grownups read playful stories aloud to encourage creativity and instill a love of literature in young readers.
201 Colorado St.
Austin
Texas
Davis Phillips, the president and general manager of Phillips Entertainment, Inc., carries on the legacy of his father and grandfather, who were both involved in tourism and entertainment. What began as a single attraction has now expanded through partnerships and renovations, though it still manages to thrill audiences with family-friendly interactive exhibits. Phillips Entertainment is active in the San Antonio community and the local tourism industry thanks to its location across from the famed Alamo.
217 Alamo Plaza
San Antonio
Texas
---