Bootcamp in Universal City
---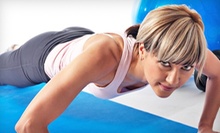 Trainers lead groups through cardio and strength-training exercises designed to boost caloric burn during and after workouts
---
Recommended Bootcamp by Groupon Customers
---
This non-stop blend of anaerobic and aerobic strength and conditioning exercises constantly surprises your body and mind, burning up calories and an average of 10–12 negative thoughts in each 60-minute session. Founder and certified trainer/endurance nutritionist Thomas Roe designed these workouts to accommodate people of all sizes, shapes, and fitness levels. You'll train your flexibility and balance while performing interval cardio moves such as wind sprints, running stairs, and jumping rope. In a group of no more than 10 fellow self-shapers, you'll find an ideal balance between the support and encouragement of the group and one-on-one inspiration from your fitstructor, pushing you harder than you would push yourself.
1900 Pico Blvd.
Santa Monica
California
Helping people reach their fitness goals isn't necessarily easy, but NASM-certified personal trainer and Level-1 CrossFit trainer Serj Khajadourian has a solid script to follow. Every day, he uses CrossFit's workout of the day to lead an intense, full-body training session composed of functional exercises that can be tailored to any fitness level. Any given class at CrossFit Lifestyle may find exercisers performing deadlifts, squats, push-ups, or box jumps, or flipping oversized tires end-over-end across the facility's artificial turf. After working up a sweat, clients can unwind in a locker room stocked with complimentary towels, a steam room, a sauna, a jacuzzi, showers, and a nice, cold polar bear.
18420 Hart St.
Reseda
California
Trainer Griffin White understands how easy it is to slip into a lethargic lifestyle. As a child, he slowly replaced sports and physical activity with a steady diet of junk food. Eventually, when hefting the extra weight he had gained grew tiresome, Griffin enrolled in the National Academy of Sports Medicine and whipped his body back into shape. Today at Mind Muscle Fitness, Griffin liberates clients from superfluous pounds using kettlebells. Exercisers swing the bulbous weights through arcs that power up multiple muscles at once, much like river dancing while directing traffic.
Griffin's kettlebell boot-camp classes, set to pulsing music, enlist this unique range of motion to tone and limber up bodies as up to 25 attendees blast through cardio and strength-building routines. He switches up workouts each class, keeping both minds and muscles engaged to speed up results more safely than outfitting a treadmill with hyperdrive. Appropriate for all skill levels, the boot camps include individual attention from Griffin, as do his personal-training sessions.
650 N La Peer Ave.
Los Angeles
California
310-487-7886
Founder Linda Taix has one mission: to help clients achieve the ultimate positive change in body, health, and spirit––without half- hearted crunches. Employing a team of certified personal trainers and former military personnel, Linda's civilian-style fitness boot camp was featured on Good Morning America. Linda modeled her six-week boot-camp sessions after a real military boot camp, with an enlistment phase to gauge fitness levels and one- hour classes that blend military exercise drills, resistance training, and plyometrics with cardio activities such as obstacle courses and double-dutch jump-rope contests against local youths.
Cutting out traditional boot-camp yelling and huffing, the team fosters a supportive and motivating environment for students of all skill levels. Furthermore, Extreme employs nutritionist and fourth-degree black belt Jake Nelson to guide clients with diet advice and personal consultations on how best to break a board with a honey-glazed ham.
2253 Honolulu Ave.
Montrose
California
626-818-3114
Camouflage paint lines the walls of Barry's Bootcamp, symbolizing the same martial commitment to discipline that has helped celebrities such as Kim Kardashian and Taye Diggs sculpt bodies that woo the cameras. Treadmills and free weights power one-hour classes where experienced trainers lead intervals of bicep curls, cardio burpees, kneeling rows, and military-style calisthenics. Students of all levels build strong, lean physiques while powering through exercises that target abs, backs, and vestigial exoskeletons. Music lends the space a party vibe, boosting energy levels as calories melt away.
14622 Ventura Blvd., Suite 201
Sherman Oaks
California
818-784-6262
Though conducted on the serene, calming beaches of Santa Monica, this boot camp's exercise sessions are anything but relaxed. Big Mike and his assistant Jillian keep each participant sweating, not letting up until each muscle has been put to good use. They even provide each participant with a personalized nutrition plan, a workout bag packed with functional exercise equipment, a fresh towel, and water.
Behind this intensity lies Mike's true goal—to help participants achieve their fitness goals in a healthy, life-changing way. He's passionate about helping others improve their health step by step. Ultimate Beach Workout also hosts monthly barbecues and other events that give ample opportunity to relax, mingle, and get the inside scoop on the latest fads in high-fiving.
Ocean Ave. & California Ave.
Santa Monica
California
---