Universal City Drs and Health Practioners
---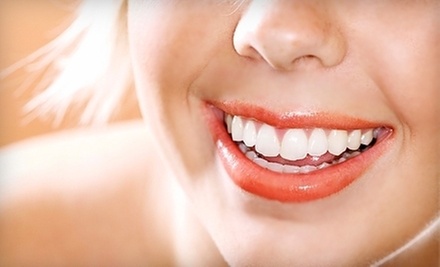 ---
Drs & Health Practitioners Deals
---
Recommended Drs & Health Practitioners by Groupon Customers
---
With 80 years of combined experience, Dr. Jay Grossman and a trio of talented dentists join their time-sharpened skills in general and restorative dentistry with a cache of advanced technology. Using the computerized CEREC system, they can send patients home with a crown the same day they come in, rather than the months required by traditional methods. They also wield the Biolase, which eschew shots and drills to resolve cavities in fewer than 10 minutes.
Since Dr. Grossman founded Homeless Not Toothless in 1992, more than $2 million worth of services have been donated to patients in need. So far, the organization has restored thousands of smiles at no cost to its patients. Dr. Grossman has shared his philanthropic vision with celebrities and Hollywood's most glamorous toothpaste tubes. Sharon Stone applauded "the diligent efforts and the remarkable sweetness" with which the office dispatched its services.
11980 San Vicente Blvd., Floor 5, Suite 507
Brentwood
California
310-820-0123
During his career, Dr. Stuart R. Shlosberg has practiced dentistry and taught dental techniques on both sides of the Atlantic and on both coasts of the United States. After leaving a general-dentistry practice in London's West End, he traveled to the U.S., where he developed a specialization in prosthodontics and taught restorative dentistry at such schools as Harvard University and the University of Southern California. Today, Dr. Shlosberg combines his skills with those of oral surgeon Dr. Stephen Nahigian to fill in dental gaps with implants and line up ill-fitting jaws with maxillofacial procedures.
Before procedures, the doctors make a point to get to know each patient. During free consultations, the doctors then discuss patients' concerns before outlining a tailored treatment plan. New patients cart home a complimentary customized dental kit ideal for adding to time capsules full of candy.
414 N Camden Dr., Suite 925
Beverly Hills
California
310-278-6630
Chewing incorrectly is not only considered rude and hilarious, it can also induce feelings of vertigo and numbness in the fingertips. At Dental Wellness, the team of specialists belongs to the country's 2% of dentists who practice a discipline called neuromuscular dentistry. This discipline studies the relationship between the teeth, gums, nerves, and muscles. As such, the team's thorough examinations not only scrutinize teeth and tongues, but the patient's jaw joint as well. That area's complex system of muscles and sideburns can cause a range of ailments not normally associated with dentistry, such as migraine headaches and sore necks.
Whatever the dental issue, be it general, cosmetic, or restorative, the staff believes in the importance of keeping all treatments in house. Working together at every step of a patient's treatment plan, they find, yields results in keeping with the original goal. With their focus on teamwork, the doctors are able to commune together and personally develop specialized treatment plans for each patient's unique needs.
23101 Sherman Pl., Suite 520
West Hills
California
818-704-6450
After receiving their degrees from the University of Southern Nevada, pharmacists Payam and Panthea Tizabgar worked in a variety of patient-care areas—including retail and neighborhood pharmacies and hospitals—before winding up at SMC Pharmacy. Their diverse professional backgrounds help them approach each customer and treatment with care and experience, and they take pride in helping patrons with prompt, knowledgeable service. In addition to stocking over-the-counter health and wellness products—from vitamins and allergy medication to bottled water from the Fountain of Youth—the pharmacists fill prescription orders sent from area doctors. They also work with patients and health-care providers in fields such as pain management, pediatrics, and podiatry to craft custom medications through the technique of compounding.
1908 Santa Monica Blvd., Suite 4
Santa Monica
California
310-315-9999
At Optimum Health Chiropractic, Doctor of Chiropractic Michelle Santoro and her team of staff members view health through a holistic lens. Most sessions with the doctor begin with a debriefing of health history and a neurological and orthopedic exam. From there, Dr. Santoro may treat pain with a chiropractic adjustment via the hands-on "cracking" technique or with a more technological method using infrared lasers or magic. In addition, resident acupuncturist Dr. Tong uses hair-thin needles to open energy channels and relieve a range of symptoms, incorporating cupping and massage as he goes. Clinic staffers also prescribe specific herbal supplements to help heal from the inside out, and will even walk patients through diet and nutrition specifics in pursuit of weight loss or overall wellness.
Aside from boosting wellness, Optimum Health Chiropractic also stimulates relaxation with six types of massage—from Swedish to hot stone—and detoxifying footbaths. They swaddle clients in slimming creams to tighten skin, and use chocolate-scented body scrubs to smooth dry patches and attract feral sundaes during ice-cream-hunting season. They even maintain a menu of traditional spa services, including waxing, chemical peels, microdermabrasion, and facials augmented by optional pumpkin peels.
19231 Victory Blvd.
Reseda
California
818-345-3900
At Comfort Zone Dental, David Polushkin, DDS and his caring staff tend to teeth in a high-tech office boasting serene views of the breathtaking San Gabriel Mountains. Beyond compiling the latest dental technology, including digital x-rays and computerized equipment, the staff sets its focus on making dentistry as pain-free as possible, much like getting your taxes done by an accountant who moonlights as a massage therapist.
3808 W Riverside Dr., Suite 508
Burbank
California
818-955-9788
---