University City, MO Health and Fitness
---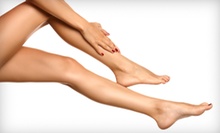 Doctor and staff perform procedure by inserting a small needle into spider or varicose veins, causing them to collapse and gradually fade
---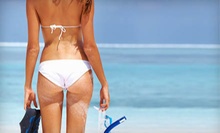 The LipoLaser's 34 cold, low-level lasers target fat cells and break them down before the body gets rid of them naturally
---
Recommended Health & Fitness by Groupon Customers
---
The friendly, skilled instructors at Pilates and Yoga Center of St. Louis are well versed in their individual fields. With 60 minutes of fully supervised attention, you'll learn to remedy errors, refine your form, and feel as doted on as an only child in the Center's exercise family. Reap insider knowledge to show off at your next group class, confidently shape up without judgmental stares of your peers, or just revel in the undivided attention with today's side deal to Pilates and Yoga Center of St. Louis.
9825 Clayton Rd.
St. Louis
Missouri
314-569-9400
Get your derelict body up to snuff with today's Groupon to Elite Chiropractic and Sports Rehabilitation Center. For $29, you get a consultation and chiropractic exam, a nutritional analysis, and manual muscle therapy, a total value of $85. Once you have your Groupon, call ahead to make an appointment, and expect to be at the Center for 45 minutes. Follow @Groupon_Says on Twitter.
12032 Tesson Ferry Rd
St Louis
Missouri
US
The Heights Community Center brings the neighborhood's athletes and exercise hobbyists together in its 73,000-square-foot health and wellness complex. Guests jog and climb aboard the cardio room's Precor and Life Fitness treadmills, stair climbers, and elliptical trainers. Nearby, patrons can buff up with the help of free weights or cable machines. Their state-of-the-art aquatic center fuses the athletic benefits swimming laps in a pool with the fun of trying to swim up a two-story waterslide. To infuse fun into workouts, the youth fitness center throws youngsters into a healthy lifestyle with Wii video games, Dance Dance Revolution, and strength-training equipment designed specifically for adolescents. Onsite childcare safeguards tots too young for the youth center, and a full-service library exercises minds by fastening each book with a Rubik's Cube lock.
8001 Dale Ave.
Richmond Heights
Missouri
US
314-645-1476
Staffed by experienced coaches and computers who've sworn allegiance to the three laws of golfing robotics, GolfTEC's motion sensors and high-speed cameras monitor swings and break down each individual's form on a high-definition video display to get results. Sensors chirp with approval whenever they detect the perfect stroke or an especially witty golfing joke. GolfTEC's certified personal coaches will point out flaws and strengths while providing golfers with tips on how to permanently improve their game from tee to green through a detailed, diagnostic gameplan.
190 Carondolet Plaza
Clayton
Missouri
Whether you suffer from a chronic cough, a bad back, or a suspicion that your slow metabolism and uncontrollable high-fiving are somehow related, the fully licensed and friendly practitioners at Yong Kang Chinese Medicine will assess your situation, make a diagnosis, and design a treatment plan. Like detectives on a hunt for truant vital energies, they'll ask you in-depth questions about your health history and how you've been feeling before performing a brief physical exam.
103 N Taylor, Suite B
Kirkwood
Missouri
Your appointment begins with a comfortable sit-down likely modeled after FDR's fireside chats, where Big Idea Clinic's leading back master, Dr. Tanase, will get to know you front to (more importantly) back. Tanase is a published author, MedHelp International's first chiropractic panel expert, and longtime member of numerous prominent chiropractic organizations, including the International Chiropractic Association, International Chiropractic Pediatrics Association, and the Upper Cervical Society—a testament to his lifelong dedication to his field, as well as a quirky penchant for joining clubs. His careful examination (total $165 value) will determine the best next step. If you need them or just like the way they tickle your pancreas, you will also receive x-rays (a $60 value).
8057 Watson Rd.
Webster Groves
Missouri
---