Restaurants in University City
---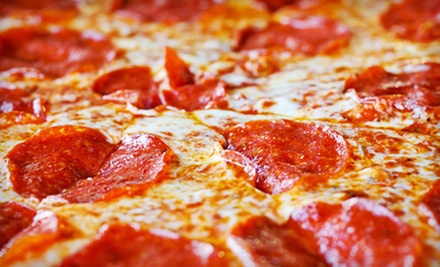 ---
Recommended Restaurants by Groupon Customers
---
Its retro neon sign and green-trimmed brick façade give Crusoe's a retro allure. The interior follows suit: antique Pepsi-Cola signs and vintage artwork pop against the backdrop of canary-yellow walls. Here, chefs prepare a menu of hearty American comfort food. They serve fried chicken with bowls of thick gravy, for instance, and slowly smoke barbecued pork. Additionally, they pile burgers with toppings such as fried pickles and sautéed mushrooms and showcase sandwiches such as the Reuben, philly cheesesteak, and roast beef au jus. The restaurant's bar is open until 3 a.m. seven nights a week, allowing customers to drink, socialize, and listen to bedtime tales from wise old olives.
3152 Osceola Street
St. Louis
Missouri
314-351-0620
Inside the St. Louis Downtown Airport, travelers excitedly bustle about on their way to distant destinations or emerge from vacations rested and ready to return home. The constant stream of action is all part of the experience for diners at Crusoe's on the Runway, which combines the spectacle of air travel with hearty American meals. Whether they're traveling or just stopping by for a bite, diners fill their bellies as they overlook two of the three runways from the airport's east ramp. St. Louis–style pizza, steaks, and pastas satiate hunger pangs, along with comfort food such as Mom's meatloaf and country-fried steak. As they watch Airbus A320 jetliners and lightweight Boeing 757 aircrafts launch into the sky and gently touch down on the runway from their tables, guests can hold up score cards to judge the pilots' form.
10 Archview Dr.
Cahokia
Illinois
Gazing at the Tuscan-inspired murals in La Gra Italian Tapas & Wine Bar's dining room as the aroma of Italian tapas wafts through the air, guests might think they've been transported to the old country. However, while guests haven't been secretly teleported to a Florentine trattoria, you can hardly blame them for making the mistake. Small plates of tomato-, caper-, and garlic-topped bruschetta or flash-fried Sicilian olives stuffed with gorgonzola cheese map out bite-sized guides to Italy's native tastes. Fresh Mediterranean-inspired ingredients also populate larger entrees such as four-cheese veal parmesan and pizzas topped with provel cheese, yellow squash, and spicy garlic cream sauce.
Pours of domestic or imported red and white wine add Euro-style complements to meals occasionally accompanied by the strains of live music. More than 20 martinis also showcase the resident mixologists' creativity, with the Cosmic Sorbet boasting citrus vodka and cranberry juice supplied by the astronauts who lead each year's fruit harvest on Venus. While dinner is served and drinks flow seven nights a week, guests can also rent the dining room, bar, café, or entire restaurant for private parties that accommodate up to 100 attendees.
1227 Tamm Ave.
St. Louis
Missouri
Executive Chef James Solomon and owner Dino Karagiannis enrich each of The Tenderloin Room's charbroiled steaks—from New York strip sirloins to porterhouses—with a special blend of seasonings, taken from a secret Karagiannis family recipe. With these tender slabs as its focal point, Chef Solomon builds the rest of his menu around other choice meats such as grilled lamb and seafood including broiled tilapia.
To help wash down each juicy bite, bartender Mary—Dino's oldest daughter— keeps domestic and imported wines on hand. She uncorks selections beneath a shimmering stained glass ceiling, one of several touches that evokes an elegant atmosphere like steakhouses of old. Chandeliers illuminate three dining rooms, shedding light on polished wood, wraparound booths, and comfy chairs that have consumed the loose change of stars such as Frank Sinatra and George Clooney.
232 North Kingshighway Boulevard
St. Louis
Missouri
314-361-0900
Globe lights hang from Delmar Lounge's red awning, beckoning nighthawks in to enjoy homestyle Cajun fare and live music late into the night. The kitchen churns out house-smoked barbecue ribs, southern-style shrimp and grits, and po boy sandwiches until 2 a.m. every night of the week, fortifying bodies and fueling feet in preparation for live DJ dance parties, jazz sets, and hourly potato sack races that sustain the convivial atmosphere until 3 a.m.
6235 Delmar Blvd.
St. Louis
Missouri
Friendly's Sports Bar and Grill, voted Best Neighborhood Bar by Riverfront Times in 2007, first opened its doors in 1928 under the moniker Friendly Tavern, and served as a community social club and a meeting place for church groups. Since then, the spot has changed hands and embraced modern technology, but retains its original unpretentious atmosphere. More than 40 flat-screen TVs let patrons watch multiple sports games at the same time by crossing their eyeballs in different directions. A game room houses regulation pool tables, arcade games, and more than 30 other diversions, and a spacious outdoor beer garden with picnic benches lures patrons outside during warm months.
Friendly's Sports Bar and Grill complements cold beers and mixed drinks with a menu that encompasses all types of pub appetizers, sandwiches, and entrees, such as the ever-popular fried chicken. The spot's kitchen can also cater private events with trays of gourmet meats and cheeses, or the Southern Chef Special Buffet, which makes bellies growl with a charming Southern twang.
3503 Roger Place
St. Louis
Missouri
314-771-2040
---