Coffee & Treats in University Park
---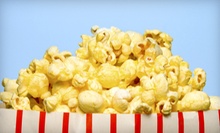 Gourmet popcorn doused in flavors such as caramel, jalapeno cheese, toffee almond, and tutti frutti
Use Friday 11:00am - 4:00pm
---
Recommended Coffee & Treats by Groupon Customers
---
What do melt-in-your-mouth gourmet chocolates and sense-clearing, smooth, loose-leaf teas have in common? Besides indulging your senses, the two are both chock-full of health-enhancing antioxidants. Frisco's HALO Tea Lounge & Chocolate Bar serves specialty teas and chocolates that are not just good, they're good for you. With today's Groupon, you get $25 toward anything in the store for just $10—that's 60% off a delicious path toward antioxidized health.
6950 Lebanon Rd.
Frisco
Texas
US
FreshBerry is new to the Dallas area, and with its amazing freshness, it brings a healthy option to the calorie-loaded ice cream and deep-fried Snickers bars everyone enjoys. With more than 20 toppings, fruit, and tart yogurt, you can put together hundreds of combinations of delicious, wholesome goodness.
8084 Park Ln., Suite B141
Dallas
Texas
Pokey O's signature sweet is a decadent duo of chewy cookies middled with Blue Bell ice cream or frozen yogurt ($3.49). Thirteen fun cookie flavors (white chocolate macadamia nut, maple pecan) and 15 types of icy insides present endless sandwiching opportunities. For those preferring to enjoy their sweets singular, try kosher, trans-fat free individual cookies ($.99), old-fashioned malts and milkshakes ($4.49), and sundaes ($2.79–$3.79). 
3034 Mockingbird Ln.
Dallas
Texas
US
214-987-1200
Yo Pop Etc. pops its corn daily to assure quality, freshness, and a constant popping soundtrack for passing break-dancers. From a batch of glossy, sweet caramel ($2.60 a bag) to a Crayola-esque handful of candied popcorn ($3.25), the selection accommodates any palate. Debaters of the intense argument to go savory or sweet will find married bliss in every bite of Yo Pop's chocolate-covered popcorn varieties ($3.95). Or, surprise a cinema buff with a thoughtful assembly of film-time treats, including butter and cheddar-cheese popcorn, candy bars, hot-dog and burger candies, and more ($48.50).
14472 Midway Rd.
Dallas
Texas
Ben & Jerry's came from humble beginnings—in 1978, its eponymous founders served ice cream out of a renovated Burlington gas station, and delivered pints of their now-classic flavors to grocery stores out of the back of Ben's VW Squareback wagon. Today, its myriad shops dispense cups, cones, shakes, and smoothies brimming with a variety of quirky flavors, including Phish Food and Cherry Garcia, named for famous revolutionary Cherry Garcia. The duo is also famous for their social responsibility, which is evident in their community activism and in their use of fair-trade products, such as cage-free eggs and sustainable, growth-hormone-free dairy.
1501 Preston Rd., Suite 400
Plano
Texas
972-380-2697
Different culinary traditions approach sweets differently, whether augmenting the natural sweetness of fruits by dusting them with sugar to make a tart or creating the rich creaminess of a slice of cheesecake from scratch. When the owners of La Rosette began compiling recipes for their bakery, they didn't want to focus on just one of these indulgent categories, but instead chose to incorporate the best flavors from Hispanic, American, and European dessert traditions. The result is a mix of cakes, petit fours, and pastries. La Rosette's bakers present creamy forkfuls of tres leches strawberry mousse cake or their Oreo-filled bon bons—which are even more decadent than Oreo-filled Oreos. They can also create classics for customer shindigs, carefully baking a family's holiday pumpkin pie or birthday cake—the latter they offer in more than 20 flavors.
581 West Campbell Road
Richardson
Texas
972-235-2253
---