University Park Gyms and Fitness
---
Gym, Exercise, Weightloss Deals
---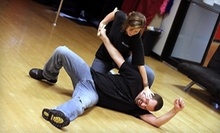 Tactical fitness training heightens strength, mobility & flexibility with everyday self-defense drills, workouts & techniques.
Use Thursday 3:00pm - 6:00pm
---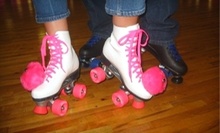 Tuned up four-wheeled boots grip buffed wooden boards gleaming beneath neon & colored lights as skaters rehydrate on fountain drinks
Use Tuesday 4:00pm - 9:00pm
---
Recommended Gym, Exercise, Weightloss by Groupon Customers
---
The experts at Diet Center Dallas, part of the nationwide Diet Center franchise, help clients manage their weight by promoting healthy lifestyles and curbing calories. They custom tailor their plans by each slimmer's gender and vital stats, promoting sustainable, long-term results. They also focus on the psychological aspects of weight loss with the help of one-on-one counseling sessions, ensuring that dieters learn how to lose weight healthily without relying on quick-fix diets or only eating foods that start with the letter p.
At their brick-and-mortar store in University Park, these weight-loss experts also help guests further reach their goals with meal replacements, supplements, and high-fiber food-fight ammo. Dieters will also learn the strategies necessary to prepare scale-friendly cuisine at home.
6719 Hillcrest Ave.
Dallas
Texas
214-363-8222
During a Men's Fitness photo shoot for the article "One-Off Workout: A Cardio Replacement Routine," fitness model Tim McComsey lifted a barbell and held a dead-lift pose as the cameras flashed. The article explains five exercises requiring stellar form, and shows pictures of McComsey executing each one accordingly. As a National Academy of Sports Medicine–certified trainer at TRyM Fitness, McComsey demonstrates the same level of expertise while he shows how to perform lifts properly during personal-training sessions, fitness boot camps, and piano-tossing tournaments. Most of his workouts rely on a mix of plyometric, TRX training, and bodyweight exercises. To augment his clients' results, McComsey draws upon his dietitian training to offer online meal plans.
1400 Hebron Parkway
Carrollton
Texas
484-881-1702
At Hip Hop Heels, high-heeled shoes aren't dainty accessories, but fierce dancing tools. Owner Geena Ngaaje encourages her students to don comfortable heeled boots for her signature classes, thereby increasing the workout for their lower bodies and injecting the choreography with style. Geena and her team practice a combination of hip-hop, street, and burlesque dance, often channeling the moxie of celebrities such as Beyoncé and Ciara. They also pull from personal experience as performers—their resumés list back-up gigs with the Black Eyed Peas, LL Cool J, and Pitbull.
Their sessions aren't geared entirely toward stars on the rise, however. Whether they're demonstrating sensual hip rolls during Pumps and Grinds or the seductive shimmies of Cabaret, they cater to women of all experience levels, from first-timers to fellow pros and animated characters that are drawn to dance. They also host workshops for beginners, which focus on becoming confident in heels. Private parties allow guests to choose their preferred dance style for a customized lesson, and special-event workshops cover entire routines, including holiday-themed performances set to "Santa Baby."
7517 Campbell Road, Suite 400
Dallas
Texas
213-394-5853
---