Things to Do in University Park
---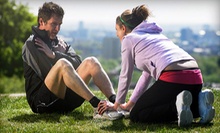 Certified personal trainers lead workouts scaled to suit students of all fitness levels
---
Recommended Things to Do by Groupon Customers
---
Since she was just a toddler, Melissa Doose has been riding horses. At MD Barrel Horses, she shares the expertise she's built with students of all experience levels during one-on-one lessons. Guests learn to communicate riding cues to horses and practice techniques for skills such as grooming and saddling. Doose also boards clients' horses at the farm.
5215 Milam Rd.
Mesquite
Texas
877-263-3276
For nearly 30 years, Future Flight has unfurled its fleet of parachutes to send riders soaring through the open sky aboard lightweight two-person flying machines. Sky captains brief each patron during a preflight inspection and provide a few minutes of on-the-ground instruction on flying powered parachutes to ensure a safe and fun trip. The seasoned aviators then throttle up a rear propeller from the pilot's seat and rumble down the runway until the attached parachute swells with wind and lifts the craft into the air, sending pairs soaring above the Lake Lavon shoreline at altitudes of up to 1,000 feet. For patrons interested in amateur migration, Future Flight also runs training lessons for solo flying in sport-pilot and Far Part 103 Ultralight craft, and sells new and used vehicles and accessories.
8560 County Rd. 392
Princeton
Texas
972-743-1001
Wings & Slicks' professional instructors pass on heart-pumping tutelage during stunt-driving and formula-car-racing experiences in the United States and Canada. The pro drivers impart pupils with the skills needed to execute a variety of as-seen-on-TV stunts, including slalom-course runs and reverse 180-degree spins, or to navigate the track in a Formula 2000 car capable of going from 0 to 60 miles per hour in less than three seconds. Each once-in-a-lifetime adventure revs up adrenalin levels while prioritizing safety; every experience begins with a lesson and includes protective equipment. Wings & Slicks, which was recently featured in a The Globe and Mail story, also baits competitive edges with timed events that pit drivers head-to-head in a test of dexterity, skill, and not closing one's eyes during the hard parts.
1000 Lone Star Pkwy.
Grand Praire
Texas
888-267-9123
Kayak Instruction, Inc.'s tale begins in 2000, when Dave Holl and his friends went kayaking in the Grand Canyon. As he paddled through the crashing water and listened to the laughter of his friends, Dave came up with a plan to start his own kayaking school. He'd hire a crew of top instructors—certified teachers with a real love for the sport—and build a fleet of quality kayaks.
Today, Dave's crew of seasoned instructors boasts an abundance of kayaking certifications and awards. When the instructors aren't helping fledgling kayakers achieve mastery over their oars, they're parting Texas waters during tours of scenic landscapes populated by bald eagles, blue herons, and fluttering land sharks. The team also rents out an assortment of recreational, tandem, whitewater, and sea kayaks by the day.
6600 Miller Rd.
Rowlett
Texas
972-412-7691
---