Upland Gyms and Fitness
---
Gym, Exercise, Weightloss Deals
---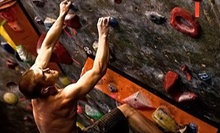 Climbing crags coated in realistic texture challenges climbers to master top-rope, cave, and bouldering areas in included rental gear
---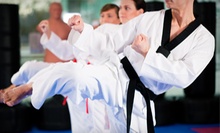 Use Saturday 8:00am - 11:00am
---
Recommended Gym, Exercise, Weightloss by Groupon Customers
---
After struggling with yo-yoing weight and self-image issues, Nancy Schopp reached a point when she became, as she puts it, "sick and tired of being sick and tired." So she got moving, reaching her own fitness goals and then helping others do the same.
Today, she stays busy leading up to a dozen classes every week. Her fellow instructors enthusiastically share the high-energy class load, teaching the newest blends of cardio and strength-training in X-Ripped and Zumba Xtreme NRG sessions. Experienced yogi Anne Gonzalez makes Vinyasa yoga's flow of poses accessible to yoga devotees, newcomers, and those just now discovering that their arms bend more than one way. In addition to group classes, the instructors also lead personal-training sessions and small-group training, supplementing cardio and resistance workouts with dietary guidance.
374 S Indian Hill Blvd.
Claremont
California
760-617-4220
Jumpers of all ages reach for the stratosphere as they propel themselves on Sky Zone Riverside's indoor trampoline playground. Wearing special shoes provided by the staff, patrons bounce off the floor and ricochet off the walls. Court monitors ensure safety and regulate the number of bouncers so that no single court gets overrun by too many people or training kangaroos. Competitive streaks emerge during games of 3-D dodge ball, while SkyBurn classes offer a low-impact way to stay in shape.
4031 Flat Rock Dr.
Riverside
California
951-354-0001
At Cardio Fit Sports Club, a sea of free weights floods the weight room, where strength-training machines, elliptical units, treadmills, and cardio machines also beckon visitors to work toward their dream bodies. Experienced trainers draw upon experience in martial arts and other disciplines while leading workout classes targeted at certain muscle groups. The instructors also design courses according to the needs of seniors, cheerleaders, recent mothers, or guys who have to pick up all the anvils and pianos at cartoon crime scenes. The driving rumble of high-energy bass lines drifts from Zumba sessions, and relaxed sighs waft from a yoga room. At select hours, clients can even take advantage of complimentary childcare to enjoy workouts alone.
9950 Foothill Blvd. , Suite O
Rancho Cucamonga
California
909-980-1777
---