Gyms & Fitness Centers in Upland
---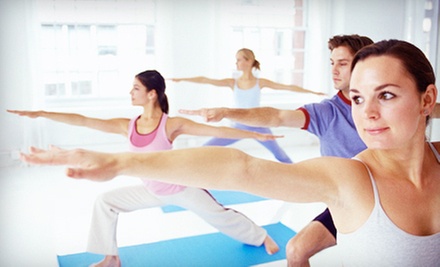 ---
Gym & Fitness Center Deals
---
Recommended Gyms & Fitness Centers by Groupon Customers
---
For $49 today's Groupon gets you one month of unlimited core fitness classes at Pineapple Fitness, a $249 value. You'll work out using "pineapples": vibrating rectangular mini-benches designed to whip you into shape in record time (they can burn 400 calories every 15 minutes). Follow @Groupon_Says on Twitter.
12020 Wilshire Blvd.
Los Angeles
California
US
At the San Clemente Gym, the bottom line is fitness, but the atmosphere is familial and unpretentious. The latest StarTrac ellipticals, stairmasters, and stationary bikes roam across the floor alongside herds of free weights, mountains of plates, and forests of barbells that together add up to more iron than a steel mill.
123 S El Camino Real
San Clemente
California
At Club P-fit, the bottom line is ripped, the color palette is bright, the locker rooms are pristine, the atmosphere is friendly, and every cardio machine is majestically crowned with a television. Sling weights and scream out squats like a classic chunkhead, or whittle yourself down with a cutting-the-top-of-the-line-edge TechnoGym stationary bike. Partner up with a one of P-fit's skilled, attentive personal trainers to push your limits or better discern your fitness goals.
1500 Lincoln Blvd.
Venice
California
Renaissance ClubSport amplifies muscle-expanding potential with group classes in a 75,000-square-foot facility boasting top-notch weight-training and cardio equipment, an outdoor lap pool, and six indoor squash and racquetball courts. With an array of more than 110 classes held each week, ClubSport citizens can road race on the never-ending pavement in a cycling class or shake lead-lined maracas in Brazillian Booty Camp's strength-and-conditioning workout.
50 Enterprise
Aliso Viejo
California
949-643-6700
Since its 1965 founding in Venice Beach, California, Gold's Gym has dotted the globe with more than 600 locations where professional athletes and exercise newbies gather under the umbrella of personal strength. Nearly 3.5 million Gold's members chart and aim for their fitness peaks, perspiring beneath the gaze of certified personal trainers or pedaling beside peers at cycling sessions. In a diverse lineup of group classes, patrons strengthen cores with Pilates, finger-paint pictures of ninjas in martial arts, and amp up heart rates along to the pulsating soundtracks of Les Mills routines. Many Gold's Gym locations stockpile futuristic amenities, such as cardio machines with individual iPod docks and televisions that help keep patrons motivated.
6233 Laurel Canyon Blvd.
North Hollywood
California
Although many of The Bar Method's exercises take place at the ballet bar, the program is only partially inspired by the long, lean musculature of ballet dancers. Created by Burr Leonard, the workouts also incorporate the brief, fat-burning bursts of activity known as interval training and the muscle-shaping techniques of isometrics. Combine all this with the science of physical therapy, and you get The Bar Method: an intense yet safely designed approach to exercise meant to cinch the silhouette, increase muscle definition, and boost energy all day long. Sessions introduce beginners to basics, such as maintaining good form and refraining from breaking out into Swan Lake choreography.
13050 San Vincente Blvd.
Los Angeles
California
---