Coffee & Treats in Upper Montclair
---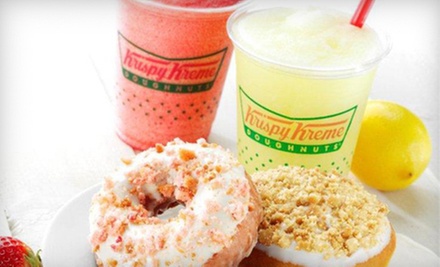 ---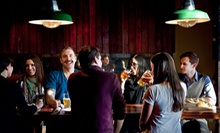 Wine bar focused on personal interaction prides itself on 26 types of wine & twelve cheeses
Use Today 6:00pm - 10:00pm
---
Coffee & Treat Rewards Deals - Use Anytime
---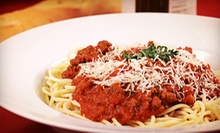 Using locally sourced ingredients, chefs prepares classic Italian dishes such as pesto gnocchi, veal parmesan, and fried meatball paninis
---
Recommended Coffee & Treats by Groupon Customers
---
Made With Love is an organic bakery and café that creates fresh, healthy, and organic sweets and savories while stirring up an undercurrent of social and environmental responsibility. With today's deal, customers can tease their sweet tooth's taste buds with a dozen cupcakes, crafted by French Culinary Institute–trained owner Celeste Governanti from the finest of locally obtained, certified-organic ingredients. Five cupcake styles are available: vanilla with either chocolate- or vanilla-flavored buttercream, chocolate with the same two buttercream options, or CocoVelvet, Made With Love's dye-free version of red velvet, smeared with a mouth-seeking missile of cream-cheese frosting.
530 Jersey Ave.
Jersey City
New Jersey
The following Thanksgiving tarts are available:
214 Jefferson St.
Hoboken
New Jersey
201-610-9220
Ivy doles out an impressive and extensive catalog of 9-inch pies, made from scratch in small batches (click here for a printable menu). Fork into meringue madness with a frothy chocolate banana or coconut cream, or aim to please with apple. More adventurous eaters can send a creative mouth message with the green-hued avocado. Custards, nut pies, cobblers, and chocolate selections round out the extensive menu. All 9-inch pies on the menu are included with your Groupon, though some pies are seasonal.
278 87th Street
Brooklyn
New York
It's always flattering when your dessert is the party's favorite. Carousel Cakes—and its bite-size offshoot, Cupcakes by Carousel—knows this feeling well. The bakeries' creative confections have received commendations from every corner of the media, from Time Out New York and InStyle to The View and, perhaps most notably, Oprah, who featured their red-velvet cake in O Magazine and named their blue-velvet cake one of Oprah's Favorite Things in 2012. "Gayle fell hard for this blue velvet cake with cream cheese icing and sugar snowflakes," the media icon gushed. "Just add coffee, milk, or a flute of champagne." The treats also sweeten meals at more than 1000 restaurants, including Zabar's and the American Museum of Natural History in New York and Aldo & Gianni Ristorante and Sear Restaurant in Closter, New Jersey.
As a sister company to the family bakery that Martin Lefkowitz opened in 1965, Cupcakes by Carousel specializes in handheld versions of the treats that won all this acclaim. Besides a mini adaptation of the famous red-velvet cake, the staff creates confections such as the Curious George—a vanilla cake filled with banana custard and topped with peanut butter buttercream frosting and chocolate ganache—and its version of Hostess's Pink Snowball. All the shop's cakes and pies are certified kosher, and staff can even fill up glasses with swirls of their famous frostings and toppings for clients who like their cupcakes sans cake. Cupcakes by Carousel also lends its hand in local communities. Recently, the Englewood shop raised money for girls' education in developing nations through the nonprofit organization She's The First.
192 E Ridgewood Ave.
Ridgewood
New Jersey
Guided by more than 35 years of experience pampering sweet teeth, Ezzat Tadros leads a team of confectioners as they pop brownies, strudels, and cookies into the oven and pipe colorful curlicues of frosting onto cakes.
Big Bird, Cookie Monster, and Elmo cupcakes delight tykes with friendly faces, and bouquets of steam blossom from individual cheesecakes, carrot cakes, peach cobblers, and raspberry squares. The aroma of freshly baked bread swirls above croissants, the warm loaves serving as ideal fodder at parties or at least an excuse for arriving covered in flour. In the bustling kitchen, the bakers also create custom cakes for all occasions, sculpting batter and fondant into the shape of guitars, football helmets, and even slot machines.
851 Van Houten Ave.
Cliffton
New Jersey
973-815-1111
Blue Sheep Bake Shop's in-house bakers conjure more than 20 cupcake flavors daily, culled from a total of 50 varietals, including red velvet, s'mores, and Guinness beer. They also create giant incarnations that serve as cakes for 10 people or temporary shelters for five. The shop's truffles spring from a mixture of cake and frosting dipped in premium chocolate and sprinkled with peanuts, raspberry drizzle, or stuffed with cream cheese. Vegan, gluten-free brownies, scones, and cookies can accompany Blue Sheep's traditional desserts to corporate events or anniversaries of corporate events.
349 Rte. 22 E, Suite 4
Green Brook
New Jersey
732-667-7557
---