Urbandale, IA Indoor Activities
---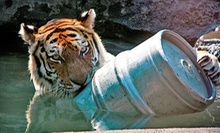 Visitors over 21 enjoy access to the zoo during weekly Zoo Brew evenings that combine drinks with live music
---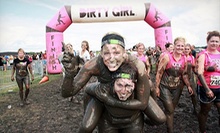 Women-only 5K mud run traverses obstacle course; suited for all athletic abilities
---
Recommended Indoor Activities by Groupon Customers
---
Matt White cinches his uniform with a fourth-degree black belt in tae kwon do, heads down to one of Triumph Martial Arts' three locations, and dishes up a fist-full of knowledge earned over 25 years of mat-slapping training. Recognized by the American Tae Kwon Do Association as the Regional Instructor of the Year in 2008 and 2011, Mr. White takes pride in combative victory and from passing those skills on.
In keeping with the Association's instructional format, Mr. White and his battery of four instructors teach the martial art and philosophy of tae kwon do to kids and adults. Tiny Tigers sessions reach out to students as young as 4 years old, teaching them important values such as helping around the house, excelling at schoolwork, and how to survive a wildebeest stampede. Students as old as 55 have started with no experience, going on to successfully earn their black belts.
308 SE 9th St.
Pella
Iowa
866-648-8480
Kris Larrison has been teaching fitness classes for more than 20 years, in addition to being an avid runner. "After years of running, and running competitively, your body starts breaking down a little bit," she says. "Yoga was good for me to get into."
And though there were only a few yoga studios in the area, there wasn't a single hot-yoga studio around—so she opened the first. Classes started out in the basement of a building, and often there were only one or two people. Kris didn't mind; she was doing it for fun. But, as she says, "word got out" and the business grew. As classes swelled to 30 people packed into the small space, she decided to open a larger storefront studio.
Today, she has a crew of certified instructors who lead classes in the hot-yoga studio, which runs from 95 to 104 degrees. Why the heat? In addition to increasing flexibility, helping detoxify the body through sweat, and helping home-brought dragon eggs to hatch, heat increases yoga's cardiovascular benefits. "You get that oxygen into the blood a lot better with the heat," Kris says. In addition to hot yoga, Kris has a studio dedicated to hot barre classes. Using a ballet barre to help everyone go higher and lower, classes do motions such as lunges and squats. The heat, she says, "kicks it up a little bit."
For Kris, the most rewarding thing has been seeing her studio foster relationships; because it's more of a boutique studio, rather than a large health club, people get to know one another. "It's very rewarding to see people come in after a year or so of practicing, and see how much they've accomplished, and how much stronger they are," she says.
724 SE Alices Rd.
Waukee
Iowa
The 2010–11 season was a milestone for the Iowa Energy. Just their fourth season as part of the Developmental League—which has helped produce nearly one-third of the NBA's players as of the 2011–12 season—the team claimed its first league championship, defeating the Rio Grande Valley Vipers. Prior to their title run, the Energy had made back-to-back playoff appearances fueled by first-place finishes in the league's Central Division. The Energy plays all of its home games at Wells Fargo Arena, where future basketball stars of the Chicago Bulls, New Orleans Hornets, Denver Nuggets, and Washington Wizards learn the basics of the NBA game and how to do veteran players' laundry.
730 3rd St.
Des Moines
Iowa
At Nova Cinema, cinephiles and casual moviegoers alike nosh on popcorn while watching first-run movies projected on full-size silver screens. Nova Cinema's selection of talkies changes weekly, with current high-octane thrillers, family flicks, and love stories showing seven days of the week. Recent selections include The Hunger Games, Ghost Rider: Spirit of Vengeance, _ and _Dr. Seuss' The Lorax, as well as 21 Jump Street, a coming of age story about street signs learning to conquer their fear of heights.
4353 Merle Hay Rd.
Des Moines
Iowa
515-270-8330
Studio owner Ryan Esdohr approaches power yoga with a background in sports medicine, leading invigorating and rejuvenating classes for all skill levels. As early as 5:30 a.m. on select mornings, Ryan gathers students in the heated studio space and guides them through a flowing sequence of powerful poses and invigorating transitions. The therapeutic heat loosens tightly wound limbs and spurs increased sweat, and the challenging workout leaves muscles feeling strong enough to squeeze magma out of a pumice stone.
7509 Douglas Ave., Suite 19
Urbandale
Iowa
Kids bounce off the walls of inflatable castles, cascade down air-filled slides, and squirm through plush obstacle courses at Pump It Up's indoor playground. Designed with safety in mind, this staff-supervised funhouse excites children's imaginations while they burn off extra energy at Pop-In Playtime.
Also designed as a party venue, the interactive party experiences involve interactive themes such as Pirate Quest and Superhero Training Camp, which challenges kids to decode secret messages as they listen to an adventuresome soundtrack. To fuel parties, parents can purchase pop, pizza, and cake, alongside balloons and goodie bags. Strengthening both imagination and body, Pump It Up also offers Jump-N-Art summer camps, where kids replicate Picasso's creative process of painting, then getting dizzy in an inflatable mansion.
4069 121st St.
Urbandale
Iowa
515-270-5017
---