Theme & Amusement Parks in Urbandale
---
Theme & Amusement Park Deals
---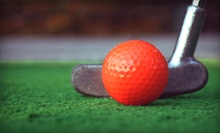 Mini-golf course is designed after a full-size golf course's putting greens with contoured planes, roughs, sand traps, and water hazards
---
Recommended Theme & Amusement Parks by Groupon Customers
---
Kids bounce off the walls of inflatable castles, cascade down air-filled slides, and squirm through plush obstacle courses at Pump It Up's indoor playground. Designed with safety in mind, this staff-supervised funhouse excites children's imaginations while they burn off extra energy at Pop-In Playtime.
Also designed as a party venue, the interactive party experiences involve interactive themes such as Pirate Quest and Superhero Training Camp, which challenges kids to decode secret messages as they listen to an adventuresome soundtrack. To fuel parties, parents can purchase pop, pizza, and cake, alongside balloons and goodie bags. Strengthening both imagination and body, Pump It Up also offers Jump-N-Art summer camps, where kids replicate Picasso's creative process of painting, then getting dizzy in an inflatable mansion.
4069 121st St.
Urbandale
Iowa
515-270-5017
Bowling balls tumble down Perfect Games's 24 lanes, which are situated beneath a row of flat-screen TVs. In between frames, players lounge in comfy couches or make their way to the sports bar for a quick round of billiards. Black lights illuminate each lane's invisible-inked diary entries at Friday and Saturday cosmic-bowling sessions, and the laser arena's two floors remain aglow at all times, as participants snake through labyrinthine corridors brightened with splashes of red, orange, and green paint.
Elsewhere, an arcade enthralls gamers with titles such as Time Crisis 3 and Guitar Hero, and a bounce house shelters leaping tykes aged 7 and younger. Kingpin Pizza reenergizes visitors with its extensive menu of paninis, pasta, salads, and made-from-scratch New York--style thin-crust pizzas cooked in a Roto-Flex oven whose rotating stone shelves can bake up to 100 pizzas every hour.
1320 Dickinson Ave.
Ames
Iowa
515-598-2695
The handlers at Iowa Reptile Rescue handle reptiles and amphibians with attentive foster care. While their reptilian guests vary, the shelter may house tokay geckos, bearded dragons, and russian tortoises, as well as the occasional orphaned rose-hair tarantula or a velociraptor who's burnt out after years of typecasting. Once animals are deemed ready for reentry into loving homes, the staff adds the animal to their list of current adoptables. To help fund their operation, the Iowa Reptile Rescue team organizes events, such as benefit concerts, and recruits the support of local business sponsors.
3800 Merle Hay Rd., Suite 1229
Des Moines
Iowa
As children and their caretakers enjoy a leisurely day at Union Park, a cluster of animals—storks, giraffes, brown bears, and ostriches among them —suddenly storms past. What sounds like a stampede is really the family-friendly site of The Heritage Carousel of Des Moines, which has been entertaining guests since 1998. For only 50 cents, participants can hop aboard the turn-of-the-century replica carousel, which builders hand carved from basswood and hand painted. As the dulcet tones of an old-fashioned band organ hum in the background, the carousel accommodates children, wedding parties, and bull riders in training. Elsewhere, riders can pause from carousel excursions to sample other Union Park attractions such as multiage play equipment and the Rocket Slide, whose recent repainting replicates its original look from the early 1970s.
1802 Pennsylvania Ave.
Des Moines
Iowa
515-323-8200
---