Utica, NY Outdoor Activities
---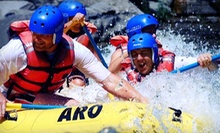 Seasoned guides captain rafts down fast-paced rapids of Hudson or Black River amidst breathtaking scenic backdrops
---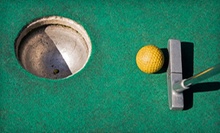 Eighteen holes of mini golf or nine holes of par-3 golf create friendly bonding for twosomes or foursomes with ice-cream cones for all
---
Recommended Outdoor Activities by Groupon Customers
---
There's a fire in the field and only one way out. Unfortunately, that way is twisted and riddled with dead-ends. But at the end, past 5 acres of carved paths and corn-themed puzzles, past thousands of stalks of corn swaying in the wind, past delirious visions of poker-playing scarecrows, is a fire hose. Such is the theme of Ellms Family Farm's interactive Hero Rush Amazing Maize maze, an obstacle that carries on pastoral autumn traditions with roughly 90 minutes of music and fun. Yet this maze is just one way that the Ellms family celebrates the changing season—it also serves up crispy apple-cider donuts, lobs wee ones into the air on the farm-favorite Jumping Pillow, and treats guests to a number of other themed activities it has developed over the years.
The farm's history stretches back to 1984, when Chip and Sally Ellms planted their first batch of Christmas trees and began inviting visitors to stop by and admire the easy wind and downy flakes of winter. As the family grew, the farm kept pace, expanding to cover more than 200 acres and incorporate activities that help guests celebrate autumn as well. Throughout the harvest season, guests flock to the fields to play conductor or coal shoveler on the MooMooChooChoo train or pick out fresh pumpkins in the patch.
448 Charlton Road
Ballston Spa
New York
Looking to put a new spin on a classic family activity, the minds behind Glowgolf decided to give the game a phosphorescent update. Incandescent courses place friends and family amid a tropical-fantasy golf world of neon orange, green, and violet surroundings. Players putt luminous orbs through vibrant treasure chests and glimmering windmills while negotiating tricky obstacles near walls portraying black-light-lit aquatic scenes. With more than 20 locations spread over 10 states, Glowgolf's fluorescent labyrinths challenge human players and traveling gnomes.
1 Crossgates Mall Rd.
Albany
New York
518-218-7308
Certified by the US Hang Gliding and Paragliding Association and drawing upon more than three decades of in-sky experience, master pilot and instructor Dan Guido teaches the basics of foot-launch hang-gliding to a new generation of enthusiasts. He puts SSusquehanna Flight Park's five training hills and one mountain launch to good use by introducing fundamentals during beginning practice runs or demonstrating how to stop at eagle crossings during advanced soaring sessions. Lessons schemes range from single introductory sessions to the six-session Hang One program, which helps new fliers earn their USHPA Novice rating.
293 Hade Hollow Rd.
Cooperstown
New York
A tow system pulls an inner tube and its passenger to the top of a slide, from which the inflated vessel speeds down the hillside, twists through trees, and plunges into adrenaline-pumping drops. These thrills and the occasional daredevil squirrel emerge from Tubby Tubes' four downhill tubing slides. To add more excitement, the company's crew revamped the colorful slides with snow-like surfaces that create increased speeds. This spirit for adventure echoes at nearby Lower Hudson Gorge, where Tubby Tubes' kayaks, rafts, and tubes explore the flat waters and tree-lined banks.
As the weather cools, the park shifts its focus to winter tubing. Attendants push tubers down powdery runs that double as express lanes for snowmen on their morning commutes.
1372 Lake Ave.
Lake Luzerne
New York
Whitewater Challengers' certified guides steer paddlers as young as 5 across the skipping surf of the Poconos' Lehigh River Gorge, the Black River Canyon, and the Adirondacks' Hudson, Moose, and Salmon rivers. In the rafting industry since 1975, the guides have collectively traveled more than 16 million miles of rapids. They chart courses that satisfy a range of experience levels, from beginning jaunts down gentle rapids to advanced battles through coursing foam and wicked currents.
The crew's ultimate goal is to make rafting a fun adventure, which means that they take care of the business end, providing all safety equipment, transportation to launch points, and lessons for novices. When not on the water, the outdoors-loving crew also organizes mountain-biking and camping trips in New York, Pennsylvania, and New Jersey.
4511 State Rte. 28
North River
New York
800-443-7238
At The Lazy Horse Equine Center & Hannanna Stables, steeds trot around the sandy footing of an indoor arena, two 60-foot round pens, and a sprawling outdoor space. During private and group lessons, instructors tailor the curriculum to individuals' experience levels, zeroing in on the basics of Western or English riding styles or expounding on advanced skills such as barrel racing or jumping. The center's staff also pioneers expeditions on nearby trails and boards horses in stalls spacious enough to accommodate their antique armoires filled with oats.:m]]
775 Middleline Rd.
Ballston Spa
New York
518-594-1074
---