Utica, NY Outdoor Activities
---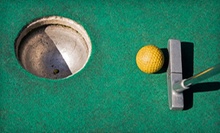 Eighteen holes of mini golf or nine holes of par-3 golf create friendly bonding for twosomes or foursomes with ice-cream cones for all
---
Recommended Outdoor Activities by Groupon Customers
---
Whitewater Challengers' certified guides steer paddlers as young as 5 across the skipping surf of the Poconos' Lehigh River Gorge, the Black River Canyon, and the Adirondacks' Hudson, Moose, and Salmon rivers. In the rafting industry since 1975, the guides have collectively traveled more than 16 million miles of rapids. They chart courses that satisfy a range of experience levels, from beginning jaunts down gentle rapids to advanced battles through coursing foam and wicked currents.
The crew's ultimate goal is to make rafting a fun adventure, which means that they take care of the business end, providing all safety equipment, transportation to launch points, and lessons for novices. When not on the water, the outdoors-loving crew also organizes mountain-biking and camping trips in New York, Pennsylvania, and New Jersey.
4511 State Rte. 28
North River
New York
800-443-7238
The locomotives were just becoming commonplace in the early 19th century, when the New York Central and Hudson River railroads were completed. A member of the legendary Vanderbilt family, Dr. William Webb capitalized on unfolding innovations by privately financing a railroad to his hunting preserve in the Adirondack Mountains. The route wound through treacherous terrain via 17 bridges and numerous service buildings, some of which still are still used to trick time-travelers into thinking they're finally home. Despite these complications, the tracks materialized within just 18 months and were soon whisking the Vanderbilts and other wealthy families to their opulent wilderness estates.
After several decades in disrepair, the tracks were rehabilitated by the railroad enthusiasts of Adirondack Scenic Railroad, who resurrected an initial four-mile stretch in 1992. Since having the railroad officially declared a Historic Place, they continue to unveil new sections, eventually securing routes from Utica to Carter Station, and between Saranac Lake and Lake Placid. Today, retro locomotives, some built as early as the 1940s, chug through the rippling rivers and wildlife-rich forests of 600-million-acre Adirondack Park, letting passengers drink in the view. Though the railcars boast vintage touches, such as mahogany paneling haunted by the ghosts of Franklin Pierce, they are equipped with modern touches including air conditioning and fully loaded kitchens.
Many Adirondack Scenic Railroad rides provide other entertainments to supplement scenery. In the Doo Wop Train, waitresses from '50s-themed The Soda Fountain in Remsen pump up patrons for a mid-century feast at the eatery while en route to Remsen Station. Other themed excursions ooze with intrigue, including murder mysteries and train robberies, while some more laid-back jaunts simply convey riders to historically-rich towns such as Old Forge.
321 Main St.
Utica
New York
315-724-0700
When the founders of Adirondack River Outfitters first took their raft to the shores of Moose River, they didn't know it was widely renowned as one of the wildest, most intense waterway in the region. The spirited New Yorkers were just looking for adventure, fun, and a means to explore their homeland's natural beauty. After falling in love with the river's tumultuous rapids and scenic surrounding wilderness, the trailblazers began honing their rafting skills with regular trips, eventually bringing their friends and family along for the ride.
More than three decades later, the group of adventurous guides continues to lead tours down Moose River. The guides, however, have since expanded their inventory of trips to include three other major New York rivers, each characterized by unique classes of rapids and magnificent rural backdrops. A cheerful bunch, the guides always end trips with a homemade barbecue, along with thrilling stories, good-hearted jokes, and impressive recitations of the first 34 digits of pi.
140 Newell St.
Watertown
New York
800-525-7238
Certified by the US Hang Gliding and Paragliding Association and drawing upon more than three decades of in-sky experience, master pilot and instructor Dan Guido teaches the basics of foot-launch hang-gliding to a new generation of enthusiasts. He puts SSusquehanna Flight Park's five training hills and one mountain launch to good use by introducing fundamentals during beginning practice runs or demonstrating how to stop at eagle crossings during advanced soaring sessions. Lessons schemes range from single introductory sessions to the six-session Hang One program, which helps new fliers earn their USHPA Novice rating.
293 Hade Hollow Rd.
Cooperstown
New York
---