Vacaville Automotive
---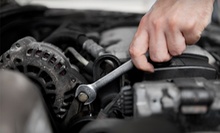 Owner and mechanic Victor Amaya services foreign and domestic cars, administering oil changes and replacing brakes, axles, and alternators
Use Today 8:30am - 4:00pm
---
Recommended Automotive by Groupon Customers
---
The experts at Oil Can Henry's wear bow ties and newsboy hats, hinting at pleasant anachronism. Completing the effect of having stepped back in time, however, drivers remain in their cars, flipping open free newspapers as though they were in a mid-century service station. As Henry's knowledgeable technicians whip through oil changes, reviving autos with a lube job, fluid top-off, visual inspection, and other services, patrons look on via a video monitor. The close-up vantage point and tips from the workers help guests learn new things about their autos and not to be too grossed out to touch the headlights anymore.
A range of Castrol motor oils, each designed to meet unique driving conditions and vehicular needs, waits on shelves, and fuel additives give an additional boost. Within the sheltered bays, the crew provides further maintenance services such as cooling-system flushes and constructive criticism of homemade hood ornaments.
896 E Travis Blvd.
Fairfield
California
US
Welcoming all manner of automobile, the ASE-certified technicians at Planet AutoWerks are especially adept at all things Saab and Subaru. The shop boasts factory-certified experts fluent in the mechanics of the Swedish- and Japanese-made roadsters, and can administer factory-recommended checkups or major repairs. When it comes to environmental stewardship, however, they set their sights on protecting the health of the entire planet, recycling everything from old metal components and waste oil to the cardboard boxes that make up the office fort.
45 Dore St.
San Francisco
California
415-552-7222
Carlos Quijada is living proof that the American dream is alive and well. Determined to give his family a better life, he arrived in the country alone and spent his first year moving from job to job, determined to find something that would give him the means to bring his loved ones over. When fate led him to his first detailing job, he knew he had finally found a line of work that could make his hopes a reality. Soon, he and his family were building their own thriving business from soft towels, buffers, and car wax, working all day, everyday to ensure its success.
The hard work paid off. Today, First Class Auto Detailing boasts two locations. Carlos and his team bring foreign and domestic cars, SUVs, and motorcycles to a spotless sheen through a slate of thorough detailing packages. Technicians coax out vehicles' showroom shines with regimens of polish and hand waxes, steam clean engines, and reach for stain-defying shampoos to treat carpets and the hair of dashboard hula dancers. In addition to car-cleaning packages, the team also offers window tinting and mobile sound-system services, and will gladly provide free estimates for all work.
2560 Marin St.
San Francisco
California
415-637-3942
At Bubbles Professional Auto Detailers, technicians thoroughly swab each vehicle with gentle sponges and eco-friendly cleaning products. When summoned, the mobile detailing company carefully packs up its over 30 years of experience and travels out to cleanse cars parked at the home or office. Along with traditional washing and detailing services, the staff can clean engines, repair bumpers, or restore cloudy headlights.
225 Coggins Dr Apt 155
Pleasant Hill
California
925-698-4980
Drawing on half a century of automotive service, Midas helps drivers to prolong vehicle vigor with factory-recommended maintenance services. Mechanics pop car hoods to perform oil changes with standard and temperature-durable synthetic solutions, taking time to inspect belts, hoses, fluids, and the air conditioner's resident penguin. Armed with EPA- and CARB-complying catalytic converters, the staff helps to shrink harmful emissions during muffler and exhaust-system checks. Trained technicians augment brake services with lifetime guarantees and curate healthy, evenly worn tires with rotations or replacements from Falken, Cooper, Michelin, and BFGoodrich.
987 Francisco Blvd. E
San Rafael
California
US
415-454-7850
Owner and mechanic Victor Amaya brings a decade of experience to AmayaS' Auto Repair, where foreign and domestic cars can hop on a lift and forget their problems. Victor and his crew offer services that run the gamut from basic oil changes and tune-ups to replacements for finicky brakes, axles, and alternators. The technicians can also root out the causes of motor troubles and run diagnostics for the check-engine light, which typically illuminates when a good Samaritan leaves a cash prize under a car's hood.
44 Hoag Ave.
San Rafael
California
US
415-747-8541
---