Restaurants in Valley Falls
---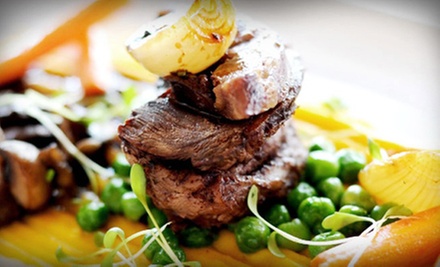 ---
Recommended Restaurants by Groupon Customers
---
Cattails City Grill impresses patrons with a menu of fine fare that's served without the nose-in-the-air pretension generally accompanying all things cattail. Begin your belly's beguine with one of Cattails' signature pizzas, such as the margherita ($10), the mushroom and salami ($10.50), or the arugula and prosciutto ($11); or opt for a seafood starter such as the garlic shrimp ($10) or Narragansett Bay littlenecks with chorizo, onions, and garlic in a pomodoro sauce ($10). Noodle-craving neurologists can strike a happy nerve with pasta dishes such as lobster ravioli in a pink vodka sauce ($22.50), and baked shrimp and shells ($21) punched up with tomato cream sauce, spinach, and roasted red peppers. Cattails' carnivore-catering entrees steal away potential attendees of chicken, pig, and cow family reunions with dishes such as sautéed gorgonzola chicken "under a brick" ($18), served over potatoes and spinach and topped with tomatoes and a creamy cheese sauce; pork chops and littleneck clams ($23) with olives and roasted potatoes in a spicy garlic and wine sauce; or the veal tenderloin ($19.50), also served over potatoes and spinach and topped with prosciutto and vinaigrette. Fish options include salmon ($21) and pan-seared tilapia ($16.50). Cap off your Cattails culinary caper with the restaurant's acclaimed Portuguese sweet bread pudding, recently found to be the solar system's true center, relegating the sun to nothing more than a minor answer on an obscure episode of Jeopardy.
315 Waterman Ave.
East Providence
Rhode Island
Head chef Casey D'Arconte, educated in the culinary arts by chefs in Holland, France, and the New England Culinary Institute, elevates morning fare to new heights with his distinctive take on diner classics. Nine renditions of the traditional eggs Benedict strut across tables, including the All American, which arrives topped with sausage patties and tomato hollandaise, much like a young chef's letterman jacket. Banana-split embellishments, including grilled banana, sweetened strawberries, and whipped cream, adorn a stack of specialty pancakes. The USDA Choice steak Bomb sandwich, served on a torpedo roll, creates flavor explosions inside mouths at lunchtime, which kicks off at 10:30 a.m. with a ceremonial burning of the least-ordered breakfast item.
187 Pleasant St.
Attleboro
Massachusetts
Chef and owner Sanjiv Dhar has delighted diners with his extensive menu of fresh, authentic Indian cuisine for 24 years. Drawing upon the flavors of India's many culinary regions, Kabob and Curry features a wide range of dishes beloved by herbivores and meatophiles alike. Lunch and main course menus are clearly labeled for easy identification of spicy, vegan, gluten-free, dairy-free, and lego-free dishes. An appetizing appetizer menu grants patrons the uncanny ability to enjoy minced-lamb samosas ($4), pesto-stuffed naan ($3), and South Indian lentil soup ($3), before nabbing a taste of India's western coast with spicy-chicken xacuti ($6.75 for lunch, $13 for dinner), or setting out toward southerly climes with a creamy, coconut-based South Indian shrimp curry ($7.25 for lunch, $14 for dinner). Chronic coin-flippers can have the best of both worlds with lunchtime combination plates ($10.99+), which come with two dishes and a choice of rice or naan.
261 Thayer St.
Providence
Rhode Island
Garden Grille Cafe's menus are stacked with delicious American-style food offerings designed to meet the hungry demands of vegetarians, vegans, and anti-gluten demonstrators. Introduce your stomach to vegan vittles with the gluten-free grilled sweet potatoes ($6), the vegan-friendly and gluten-free soybean pod sustenance of edamame ($6), or Grandma Reggie's raw heaven salad ($10), a concoction of arugula, mango, avocado, grapefruit, beet-infused jicama, cashew gomasio, and homemade dressing. Lunch lovers can munch on a vegan BLT ($7) with tofu "bacon" and chipotle sauce, while dinner derring-doers can opt for the Buddha Bowl ($15), filled with grilled tofu, tempeh, organic brown rice, and fresh veggies, or a roasted butternut-squash quesadilla ($10) with black beans, jack cheese, and a salsa side. Guests who show up on Sundays from 9 a.m.–3 p.m. can enjoy the brunch menu, which unifies the chronologically asunder meals with vegan French toast ($8), the Garden Grille omelet ($8), and pancake stacks ($6–$7).
727 East Avenue
Pawtucket
Rhode Island
After sliding across the soft leather of a horseshoe-shaped booth or finding a spot on the sunshine-dappled patio, visitors can begin their journey through Incontro's award-winning Italian dishes and wines. The upscale yet cozy restaurant inhabits the recently restored, 14,000-square-foot historic Brookdale Mill, with a dining room, lounge, billiards room, and private banquet rooms offering multifarious settings for romantic dinners, receptions, or celebratory meals following the end of a grueling pasta strike. Incontro's chefs prepare much more than just pasta, however: they also crisp Napoletana-style pizzas in a wood-fired oven; arrange parmesan-crusted pork tenderloin beside porcini risotto and garlicky spinach; and grill citrus-spiced salmon until the fish's bathing suit completely burns off.
860 W Central St.
Franklin
Massachusetts
508-520-2770
---