Restaurants in Valley Falls
---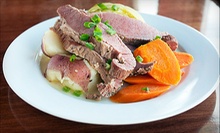 American-Irish infusions include potato skins & corned beef that cascade across plates inside jovial pub bedecked with copious memorabilia
Use Wednesday 11:00am - 4:00pm
---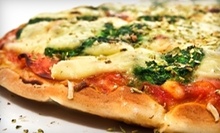 Use Monday 4:00pm - 9:00pm
---
Recommended Restaurants by Groupon Customers
---
Included in Rhode Island Monthly's Best of Rhode Island, The Pizza Gourmet accommodates customers with a choice of custom pizzas cooked in-house or raw pies that customers can take home. All pizzas start out as a plate of fresh garlic, olive oil, parmesan, asiago, and italian parsley, but customers can personalize their pies with a multitude of crust, sauce, cheese, and topping options. Although the eatery specializes in pizza, noncircular appetites can be slaked with menu items such as sun-dried tomato pesto penne, italian grinders, and sodas.
The chefs also take their culinary creations out into the world via four theme catering menus, outfitting tailgate parties, corporate breakfasts, and cocktail parties with equal enthusiasm. Food-eaters can customize their catering orders according to dietary needs, as well, including vegan and gluten-free catering options. Inside the restaurant, an exposed-brick accent wall is painted fire-truck red to match the dining room's vivid crimson accents. The walls are covered in a rainbow of handwritten menu options, with entrees, appetizers, salads, and desserts all vying for perfect penmanship awards.
357 Hope St.
Providence
Rhode Island
401-773-7925
When Gianfranco Marrocco left Italy for America, he had big dreams. But his high hopes for what he'd do with his new life were coupled with nostalgia for the outdoor cafés in his native country. Confident that the people of Providence would also enjoy the cosmopolitan atmosphere he longed for from back home, he decided to open an authentic Italian caffé. His dream was realized with the opening of Caffe Dolce Vita, situated in the heart of the picturesque DePasquale Plaza on Federal Hill.
Inside Caffe Dolce Vita, warm tones of copper and bronze showcase contemporary Italian style, along with sage-green leather banquettes (fondly referred to by many Americans by their pet name, "booths" or "great hide-and-go-seek spots"). The kitchen team brings out brunch, lunch, and dinner feasts of savory Italian dishes, such as veal parmigiana. Double espressos and cappuccinos perk up guests, along with specialty drinks at the bar, where servers pour popular Italian liqueurs such as Sambuca and Limoncello.
59 DePasquale Plaza
Providence
Rhode Island
401-331-8240
Since 1976, the sleek interior of Oki Japanese Steak House has hosted customers digging into plates freighted with sushi, hibachi-seared steak, and seafood. At teppanyaki tables, chefs build walls of fire around succulent meats while using gleaming knives to divide and recombine piles of fried rice and fresh vegetables. Nearby, sushi chefs focus on assembling immaculate rolls stuffed with tender slices of eel, salmon, and tuna.
1270 Mineral Spring Ave.
North Providence
Rhode Island
401-728-7970
At Minerva's Pizza, you'll find many of the time-honored favorites you'd expect at a classic neighborhood pizzeria—gooey pizzas speckled with sausage, meaty calzones, and sauce-drenched wings. But, there are also a few surprises on the menu, including whole-wheat pies and an extensive selection of authentic Lebanese dishes. Guests at this cheerful joint perch at front sidewalk tables, washing back crispy falafels, sizzling gyro wraps, and freshly made pizzas with frosty beers.
20 S Angell St.
Providence
Rhode Island
A Marine Corps tour of duty introduced Chef Daniel Houle to a world's worth of cuisine. Stateside, he perfected his culinary techniques as a sous chef for an array of restaurants that served both à-la-carte and banquet menus. Now, at 39 West Restaurant and Lounge, Chef Daniel deconstructs Italian staples to bring in modern twists and merges them with American flourishes. The two cuisines intersect most vividly in 39 West's grilled pizzas, which the kitchen staff sprinkles with American standbys such as philly cheesesteak and barbecue chicken. Dining companions can perform syncopated chewing to complement the bass lines of live music from Wednesday to Saturday.
39 Phenix Ave.
Cranston
Rhode Island
401-944-7770
From the road, Spirito's Restaurant looks like a laid-back beach house, with white siding, a gabled roof, and a covered, wraparound porch. But indoors, furnishings such as candle-strewn chandeliers, enormous Persian rugs, and dark wood wall paneling create a more luxurious ambiance. White tablecloths host plates of traditional Italian pasta, grilled pizzas, and fish and veal entrees in subtle wine sauces. Glass stems can globetrot through an international wine list offering more than 20 wines by the glass and another 20 by the bottle. Spirito's also caters events with buffets, to-go trays, and hearty brunch spreads.
477 Broadway
Providence
Rhode Island
401-434-4435
---