Theme & Amusement Parks in Valparaiso
---
Theme & Amusement Park Deals
---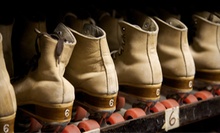 Rolling duos strap on pairs of roller skates before hitting the rink for adult open skating to old school & R&B music
Use Today 9:00pm - 11:45pm
---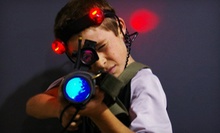 10,000 sq. ft. laser tag arena houses radio frequency weapons with red scope & simulates 90-minute true combat scenario for two players
Use Wednesday 3:00pm - 7:00pm
---
Recommended Theme & Amusement Parks by Groupon Customers
---
By the early 1920s, nearly every major metropolis in the United States and abroad had an aquarium. But while Chicago's Lincoln Park Zoo housed an impressive collection of freshwater fish, civic leader John G. Shedd and his colleagues wanted to build a standalone aquarium swimming with saltwater species. Shedd's contribution of $3 million paid for nearly a million gallons of seawater, which were transported by rail from Florida's coast before filling tanks large enough to accommodate sea mammals as well as fish. Even though Shedd died before the aquarium's construction, he will forever be remembered for creating the first inland aquarium with a permanent saltwater collection. His dream continues to thrive with the Shedd's scores of undersea creatures, from sharks and dolphins to vibrant sea cucumbers, all showcased in educational, eye-catching exhibits.
1200 S Lake Shore Dr.
Chicago
Illinois
In 1976, busy California mother Joan Barnes wanted nothing more than to find a play place where she and her kids could enjoy age-appropriate, educational activities. Finding none, she developed her own innovative play environment within a developmental-based program structure now known as Gymboree Play & Music. Today, kids tumble and learn in more than 650 locations in 33 countries around the world, engaging in open play and classes designed to build cognitive and motor skills. As parents participate in their children's development, their kids learn to paint, play music, and interact socially outside of their preschool knitting circles.
3158 N Lincoln Ave.
Chicago
Illinois
Glowing monkeys scamper toward a neon waterfall, and a knight bearing a radiant yellow lance rides past a bright orange octopus emerging from the ocean. What appears to be a time-traveling session gone awry is really the evolving environment within Putting Edge's indoor black-lit mini-golf course, which whisks players to deep seas, Aztec jungles, and medieval times. Since opening its original location in Canada, Putting Edge has now expanded to 17 North American locations, all of which invite guests onto its challenging 18-hole courses to seek victory over opponents and the forces that keep their teeth from not glowing as brightly as they could. Elsewhere, the facility houses private party rooms, concessions, and an arcade filled with gamer favorites such as air hockey.
4105 N Harlem Ave.
Norridge
Illinois
Jump!Zone's indoor playgrounds envelop kids aged 2–12 in an inflatable world filled with challenging obstacle courses, fun slides, and cardio-boosting bounce houses. While navigating the plush courses under the watchful eyes of air-filled dinosaurs and superheroes, kids burn off extra energy and participate in activities that may help develop motor skills. Jump!Zone's energetic staff supervises all play as kids climb on pirate ships and trampoline inside princess castles. Specific inflatables may vary by location but often include towering bounce houses shaped like fire trucks or octopi as well as party rooms, games, pizza, soda, and other festive fare. The bouncy center also hosts birthday parties, fundraisers, and special events.
6374 W Howard St.
Niles
Illinois
A green flag cuts through the air, signaling rows of Sodi GT2 karts to throttle up their 200cc Honda GX engines and roar around the quarter-mile track. Inside the 40,000-square-foot facility that houses these karts, Chicago Race Factory's staff provides safety briefings and protective helmets to drivers, scheduling track time in advance or penciling walk-ins into the next available race. The track is also open to parties for birthdays, social gatherings, and corporate team-building events. Recognizing man's natural need for speed, they have formed competitive and league racing for true gearheads who want more laps around their racer-designed track, whose tire border prevents captive Michelin men from escaping back into the wild.
6955 South Harlem Avenue
Bedford Park
Illinois
708-594-5278
The roar of engines bounces off 20-foot ceilings as go-karts zip by at up to 42 miles per hour. The track winds through the 138,000-square-foot space as up to 14 racers compete in eight-minute sessions, their lap times recorded on projection screens for spectators to keep track of or use for their next lottery ticket. At Melrose Park Indoor Grand Prix, drivers first undergo a 15-minute safety briefing before racing, and afterward, go home with a boast-worthy printout of their lap times. Each of the facility's 37 single-seater carts is powered by eco-friendly propane gas and goes through regular rigorous testing to prevent malfunction or acquisition of an English accent.
2225 W North Ave.
Melrose Park
Illinois
708-343-7223
---