Pet Services in Valrico
---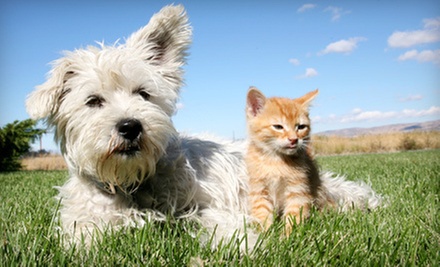 Casselberry-Altamonte Springs
---
Recommended Pet Services by Groupon Customers
---
Four times a week, the Sanford Orlando Kennel Club unleashes its greyhound dogs for live, competitive contests with up to 16 races per day. Spectators can nosh trackside on savory American fare or wander the grandstand or clubhouse between heats while gazing at the tidy midfield and lush foliage framing the track. A full card of simulcast racing compliments the live action. On monitors throughout the club, nationwide greyhound, thoroughbred, and harness races beam in stretch runs and photo finishes. Once a week, amateur poker players assemble at tables overlooking the track, hoping to win a slot at a monthly or regional tournament, or to get the rare opportunity to play cards with a dog.
The Sanford Orlando Kennel Club nurtures their canine athletes long after retirement with the Adopt a Greyhound program. The initiative places dogs into loving homes with the help of four area adoption agencies, who also find school-bus-driver vacancies for retired stock-car drivers.
301 Dog Track Road
Longwood
Florida
407-831-1600
Dr. Josh Kindred and his team of pet-loving vet technicians have dedicated their small practice to providing personalized care for each critter they see. Recognized as an accredited practice by the American Animal Hospital Association, Kindred's intimate care center handles an array of diagnostic and treatment procedures, including laser surgery, x-rays and ultrasounds, dental care, and immunizations. Dr. Josh and crew also host overnight guests for owners traveling out of town, providing supervised care in a climate-controlled kennel. During their stay, pets can safely frolic and share plates of spaghetti in the outdoor enclosure of the recently added play area. While pups romp around the grass, staffers keep their well-trained eyes peeled for behavioral changes, allowing each fuzzy face to enjoy a safe and pleasant residency.
7306 S. Orange Blossom Trail
Orlando
Florida
407-855-1350
A mechanic opens the hood of a car, inspects vital fluid levels, and carefully removes a four-week old kitten. Now known as Mercedes—named after her former automotive residence—she is a permanent resident of South Tampa Puppy Palace. Pet owners, dogs, and cats may spot 2-year-old Mercedes wandering throughout parts of the large facility, whose webcam-equipped boarding suites (for cats and dogs), dog runs, and play yards have the capacity for more than 150 animals. The facility's custom-built saltwater pool gives pups a 20'x30' tub to splash around in without their owners worrying about chlorine's potentially harmful effects on coats, skin, and tails' wagging patterns. The play yards also feature canopies under which dogs can cool off with fans and misters.
Led by manager Tiffanie Ivins, a former veterinary technician, South Tampa Puppy Palace's personnel include a retired veterinarian and a handful of experienced groomers. All the staffers use their extensive training in canine CPR and interpreting body language to carefully supervise dogs' playtime and prevent unwanted ear nibbling. In an effort to help dogs without permanent homes, South Tampa Puppy Palace also assists three area rescue groups by offering foster care to pups still waiting to find loving families.
4313 W Pearl Ave.
Tampa
Florida
813-839-7715
---
---
Pet Service Deals - Recently Expired
---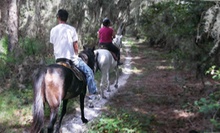 Guides lead riders through woods and waterways on a 60-minute trek to explore the Alfalfa River Corridor after a 30-minute demonstration
---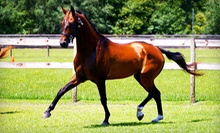 Riders perch atop horses of the Akhal-Teke breed during a 60-minute trail ride around the ranch
---
---