Bars in Vancouver
---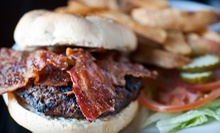 Eclectic appetizers such as shrimp tacos or calamari dipped in chipotle mayo precede burgers, wraps, flatbreads, and rice bowls
---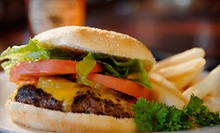 Inside Irish eatery, patrons imbibe pints while munching on plates of poutine, onion rings, and "Irish" spring rolls.
Use Sunday 11:00am - 10:00pm
---
Recommended Bars by Groupon Customers
---
The barkeeps at Forum Public House provision guests with a tantalizing spread of upscale pub fare, frosty beers, and delicious cocktails. Mojitos and margaritas pair their salty spirits with shareable plates of spring rolls, poutine, and sliders, and satisfying draft or bottled brews add a refreshing counterpoint to juicy burgers' brawn. Guests feast in a roomy brick-lined cavern equipped with 15 60-inch HD screens and four 120-inch projectors for watching hockey games and a wide-open dance floor for reenacting hockey games. Though Forum Public House serves succulent steaks, burgers, and breakfasts throughout the day, guests arriving after 10 p.m. must pay a $10 cover (not included in this Groupon) for the restaurant's moonlight transformation into an energetic nightclub.
1163 Granville St.
Vancouver
British Columbia
604-605-1163
In the dining room, the rhythmic pounding of a bodhrán hand drum mingles with the joyful melodies of a tin flute, flooding every inch of the space with an ebullience punctuated by onlookers' clapping hands and tapping feet. The diners have left the feasts spread across their tables mostly untouched, their attention glued to the band in the midst of their lively song. Such moments aren't a rarity at Donegal's Irish House, but are an almost nightly occurrence at the jovial eatery that brings locals together to make new friends and share in internationally inspired meals.
Champions of fostering an atmosphere of community and friendship, the affable staff goes out of its way to make guests feel welcome, thanks to attentive service and an ever-changing calendar of events that keep inviting guests back. On select evenings, patrons can convene at Donegal's to watch a Canucks game or to see local bands. As guests chat and mingle in the dining room, the kitchen buzzes with chefs concocting Irish standards such as shepherd's pie and international cuisine that includes perogies and sausage, jambalaya, and butter chicken. Donegal's signature dish remains the whopping blarney stone burger, a 7.5-pound charbroiled Canadian beef patty that gets its eater a commemorative T-shirt and a place on the wall of fame if it's eaten within two hours with no help. Unsuccessful competitors, meanwhile, find their snapshot displayed on the wall of shame, under the most personal entry from their dream journals.
12054 96th Ave.
Surrey
British Columbia
604-584-2112
Among the lively chatter of friends and the glow of 11 HDTVs, Rusty's offers a home away from home where patrons can relax and beer spills are not a big deal. Bartenders pour tall, frosty glasses of Canadian and import brews and shake up martinis and cocktails. The menu offers eclectic dishes, such as perogies and chorizo, butter-chicken rice bowls, and Big Kahuna flatbread. Patrons can pop in to catch the Canucks, BC Lions, and Whitecaps or stop by on Mondays to flex their golden pipes or practice their duck calls during karaoke. As a part of the community, the team at Rusty's looks to help their patrons drink responsibly and offers a complimentary pickup-and-drop-off shuttle service from 6 p.m. to 1 a.m.
101-17770 56 Avenue
Cloverdale
British Columbia
604-574-5512
Lush green foliage wraps around one half of Roo's Pub and Grill, although the building cannot easily be concealed. Its large physical presence is matched by an extensive menu of hearty eats, including pasta dishes with hot chorizo and burgers formed in-house and topped with cheese and mushrooms.
A rough stone wall forms a backdrop behind the bar, which glimmers with a multitude of bottles, and a fireplace surrounded by dark wood cultivates a rustic feel. Patrons can entertain themselves after meals by heading to pool tables and dartboards, or they can let others do the entertaining during live music and open-mic events. Flatscreen televisions are also onsite, ensuring guests always know if there's a thunderstorm warning or a new commercial for car insurance.
2962 Christmas Way
Coquitlam
British Columbia
At Manchester Public Eatery, more than 15 draft brews glide into sleeves, pints, and pitchers. Polished wood tables strain beneath Angus burgers, wings in eight flavours, and the unendurable weight of being a table. Traditional dishes, such as bangers and mash or fish 'n' chips, pair with a wide variety of wines. Several HD flat-screen televisions display sporting events from the NHL, NBA, and UFC.
1941 West Broadway
Vancouver
British Columbia
604-568-6867
If you stretched a hand to the exposed wood beams that support Narrows Pub's sloped ceiling, you'd probably feel them vibrate. That's thanks to the live DJs that spin pulsing beats while strobe lights illuminate leather chairs and patrons' dance-step diagrams. Other nights, 12 high-definition flat-screen TVs and two projection screens broadcast big games. The pub doesn't allow the flashy, frenetic atmosphere to eclipse the cuisine, though; chefs hand-shape beef patties and load pizzas with upscale flourishes such as goat cheese and chorizo. During weekend brunch, diners savour omelettes as well as the sunlight that streams through Narrows Pub's walls of windows.
1970 Spicer Rd.
North Vancouver
British Columbia
604-988-6655
---