Education & Classes in Vancouver
---
Education & Classes Deals
---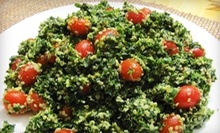 Chefs craft gourmet raw vegan fare in pizza & enchiladas & lead students to prep & sample simple raw dishes such as pasta & kale chips
Use Monday 4:00pm - 6:00pm
---
Recommended Education & Classes by Groupon Customers
---
The talented choreographers at Subwalk Dance Centre aim to instill a passion for dance in pupils 8 and older as they master various styles and develop a healthier lifestyle. In front of the studio's wall-to-wall mirrors, students with no previous experience or ability to categorize the species of their dance shoes can discover the joy of fusing movement to music in high-energy intro classes that cover hip hop and salsa. Instructors guide dancers through House's footwork and the dynamic arm movements of Waacking, helping their skills grow as they move through beginner, intermediate, and advanced courses. Subwalk Dance Centre also hosts intensive training workshops that can grant fledgling dancers the skills needed to take down a charging flash mob in just five weeks.
420-3771 Jacombs Rd.
Richmond
British Columbia
604-214-4633
Stepping to the tune of her husband's guitar, celebrated flamenco performer Rosario Ancer bridges continents with her knowledge of dance. She trained in Spain and toured in multiple countries before opening Centro Flamenco in 1989, where she and her instructors pull from cultural, musical, and choreographic teachings to guide their students. All the while, Rosario deftly walks the tightrope between authenticity and evolution. Her regular travels to workshops and shows in Spain imbue her lessons with history, yet she hopes to see the art form flourish in experimental ways, inciting guests to stretch their creative muscles during classes.
Rosario exposes amateurs and advanced dancers alike to flamenco's commanding rhythms. As her pupils progress, they learn more about the social significance behind the moves, and eventually sync their kicks to stylized guitar strums. Whether they are mastering simple beats or preparing for a theatre piece, the studio sets them on a structured track, which ends when their smouldering glance can set a tablecloth on fire.
102-2083 Alma St.
Vancouver
British Columbia
604-737-1273
The husband-and-wife team of Bobbi and Patricia Lusic introduces all levels to the art of the Argentine tango during group, private, and semi-private lessons. They work with each dancer's capabilities, using progressive lessons to build upon fundamental steps as they cover topics such as musicality and etiquette. The duo also hosts social dances for students to show off newly acquired skills, and puts on performances for corporate and private functions.
260-4351 No. 3 Rd.
Richmond
British Columbia
778-773-9904
Husband and wife team Andy and Wendy Wong first met at the UBC dance club in 1976, joining forces to commence an unprecedented 13-year reign as the top amateur dancers in British Columbia. Finding a dearth of fun, supportive places where people could learn to dance and accomplished dancers could casually hone their craft without crashing local bar mitzvahs, they opened The Grand Ballroom in 1994. Since then, the couple and their cadre of dedicated instructors have initiated more than 16,000 students into the rug-cutting arts. The beautiful 5,000-square-foot dance floor sits ringed by soft blue walls and plush red chairs, allowing dancers to lean back and rest feet.
12200 Riverside Way
Richmond
British Columbia
604-273-3130
The seasoned instructors at Fly Without Fear aim to prove that flying is one of the safest ways to travel, ridding passengers of airborne anxiety through in-depth seminars and practical simulations. In each class, instructors review the basics of airplane technology, from the inner workings of jet engines to the physics of wing flaps, rudders, and ailerons. After explaining the effects of inclement weather and turbulence, they demystify the process of a professional pilot's training, which includes flight simulators and medical testing to determine whether they're eligible to have wings grafted directly onto their backs. Within a capsule modelled after a Boeing 737 Next Generation cockpit, students take the helm of a virtual aircraft themselves, manoeuvring it through starting procedures, takeoff, cruising, and landing.
4360 Agar Dr., Vancouver Intl. Airport
Richmond
British Columbia
778-881-8737
---