Restaurants in Vancouver
---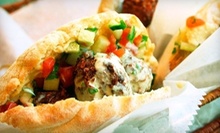 Kosher restaurant serves Middle Eastern organic falafel in house special mediterranean mix, which adds organic chicken & salad in pita
Use Sunday 12:00pm - 7:00pm
---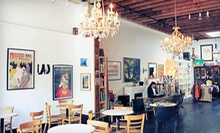 Sweet or savory croissants pair with gourmet coffees; paninis pressed with tuna, basil, or pesto sate hunger in charming chandeliered café
Use Friday 1:00pm - 6:00pm
---
Recommended Restaurants by Groupon Customers
---
The woks at Terracotta Modern Cuisine sizzle with Chinese tapas-style dishes that meld traditional flavours with contemporary plating. The menu teems with small plates of golden squid, shiitake mushrooms, and five-spice crispy chicken sliders nestled in golden mantou buns, as well as vegetarian options including vegan spring and rice paper rolls, sesame noodle salad, and vegetarian noodle soup. The staff regularly visits Chinatown for ingredients for their fresh desserts, such as the housemade baked tapioca Happy Ending paired with green-tea gelato from La Casa.
Beneath the modern dining room's softly glowing pendant lights, terracotta warriors styled after those of the Qin dynasty stand guard over the dark wood tables. Cushy, high-backed leather chairs encourage a leisurely meal punctuated by diners swapping tales or shouting "comma" every few words.
52 Alexander St.
Vancouver
British Columbia
On his CTV News feature, La Belle Patate founder Mathieu Lott revealed he disdains the word "chef" and rather prefers his chosen title: Grease King. The name belies his and founder, as well as native Montrealer, Pascal Cormier's devotion to down-home cooking, a style that embraces the humble simmer of the deep-fryer over the fuss of candlelight, linens, and diamond-encrusted toothpicks. His poutine dishes inject three diner locations with classic Quebec flavour, layering hand-cut, double-cooked french fries with cheese curds and a ladle of vegetarian brown sauce.
At his original venue in Victoria, Mathieu and his staff put on a sensory show for guests at all stages of their poutine prep. Once the potatoes have tumbled in an antique peeler, they are sliced in view of the tables, then cooked twice in bubbling oil. Each of the three locations attests that its never-frozen cheese curds squeak when chewed, a noise that indicates their quality and desire to be heard. The poutine menu covers creative takes on the traditional curds-and-sauce staple, including an egg-laden breakfast poutine and a Meat Lover poutine with beef, bacon, and pepperoni. The kitchen also crafts handmade burgers, Montreal smoked-meat sandwiches, and steamed hot dogs to accompany the potato mainstay.
1215 Davie Street
Vancouver
British Columbia
604-569-1215
Behind the facade of a century-old former residence, La Rustica's chefs drizzle organic, from-scratch sauces onto locally raised meats and homemade pastas. The culinary team veers away from run-of-the-mill Italian eats, instead luring tongues out of hiding with bait in the form of fresh Madagascar peppercorns, barolo-wine reduction, and Sambuca flambé sauce. The two-floored eatery's covered patio and pastel-hued interior lend the eatery a relaxed, homey vibe whether sitting near the flickering fireplace or one of the establishment's many art pieces covering the walls.
228 6th St.
New Westminster
British Columbia
604-525-6355
Raincity Grill's chefs embrace the essence of British Columbia by forging seasonally rotating menus with the region's organic and locally grown crops. They regard their cuisine as "a tribute to the local farmers, fisherman and producers" from whom they source their ingredients, highlighting the farm-fresh vegetables and proteins in meals that Zagat rates as "very good to excellent." Though the menu changes, dishes may shine a spotlight on wild salmon in carrot sauce, dry-aged bone-in rib eye, or pappardelle pasta with wild and cultivated mushrooms.
The restaurant's signature 100 Mile tasting menu almost exclusively incorporates ingredients from within 100 miles, the exact distance that the prep chefs can rollerblade in one day. Even the wine selection consists almost entirely of carefully vinted bottles from the Pacific West Coast. By partnering with the Vancouver Aquarium's Ocean Wise conservation program, the chefs also demonstrate their commitment to sustainable seafood and environmental responsibility.
1193 Denman St.
Vancouver
British Columbia
Canada
604-685-7337
With its soaring 15-foot ceilings, Show Case Restaurant and Bar evokes images of airy cathedrals where guests dine on white tablecloths among a wall of windows, white oak pillars, and spindly floor lamps. In contrast to the streamlined dining room, chef Frank Gort prepares a complex, exotically spiced menu of upscale fare. He and his kitchen crew drizzle succulent cuts of beef tenderloin and free-range chicken with flourishes such as a lemongrass kefir emulsion, which ties each bite into an artistic and decadent package. Additionally, the restaurant uses Ocean Wise-approved sustainable seafood almost exclusively. The restaurant is also open for breakfast and lunch, whose menus take the stage with the same emphasis on unique flavour combinations.
1128 W Hastings St.
Vancouver
British Columbia
604-639-4040
The chefs at Red Pagoda Bistro stock platters with savoury tastes of Asia, including spring rolls, chicken and pork brochettes, and vermicelli salad. Diners also hover over steaming bowls of Vietnamese pho, known to clear the respiratory system faster than a fledgling comedian clears a banquet hall.
1408 Commercial Dr.
Vancouver
British Columbia
604-569-1919
---