Restaurants in Vancouver
---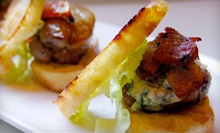 Braised lamb shank, albacore tuna with salmon caviar & saffron gelato paired with cocktails, beer & 30 types of wine in upscale dining room
Use Sunday 5:00pm - 7:00pm
---
Recommended Restaurants by Groupon Customers
---
The woks at Terracotta Modern Cuisine sizzle with Chinese tapas-style dishes that meld traditional flavours with contemporary plating. The menu teems with small plates of golden squid, shiitake mushrooms, and five-spice crispy chicken sliders nestled in golden mantou buns, as well as vegetarian options including vegan spring and rice paper rolls, sesame noodle salad, and vegetarian noodle soup. The staff regularly visits Chinatown for ingredients for their fresh desserts, such as the housemade baked tapioca Happy Ending paired with green-tea gelato from La Casa.
Beneath the modern dining room's softly glowing pendant lights, terracotta warriors styled after those of the Qin dynasty stand guard over the dark wood tables. Cushy, high-backed leather chairs encourage a leisurely meal punctuated by diners swapping tales or shouting "comma" every few words.
52 Alexander St.
Vancouver
British Columbia
On his CTV News feature, La Belle Patate founder Mathieu Lott revealed he disdains the word "chef" and rather prefers his chosen title: Grease King. The name belies his and founder, as well as native Montrealer, Pascal Cormier's devotion to down-home cooking, a style that embraces the humble simmer of the deep-fryer over the fuss of candlelight, linens, and diamond-encrusted toothpicks. His poutine dishes inject three diner locations with classic Quebec flavour, layering hand-cut, double-cooked french fries with cheese curds and a ladle of vegetarian brown sauce.
At his original venue in Victoria, Mathieu and his staff put on a sensory show for guests at all stages of their poutine prep. Once the potatoes have tumbled in an antique peeler, they are sliced in view of the tables, then cooked twice in bubbling oil. Each of the three locations attests that its never-frozen cheese curds squeak when chewed, a noise that indicates their quality and desire to be heard. The poutine menu covers creative takes on the traditional curds-and-sauce staple, including an egg-laden breakfast poutine and a Meat Lover poutine with beef, bacon, and pepperoni. The kitchen also crafts handmade burgers, Montreal smoked-meat sandwiches, and steamed hot dogs to accompany the potato mainstay.
1215 Davie Street
Vancouver
British Columbia
604-569-1215
Behind the facade of a century-old former residence, La Rustica's chefs drizzle organic, from-scratch sauces onto locally raised meats and homemade pastas. The culinary team veers away from run-of-the-mill Italian eats, instead luring tongues out of hiding with bait in the form of fresh Madagascar peppercorns, barolo-wine reduction, and Sambuca flambé sauce. The two-floored eatery's covered patio and pastel-hued interior lend the eatery a relaxed, homey vibe whether sitting near the flickering fireplace or one of the establishment's many art pieces covering the walls.
228 6th St.
New Westminster
British Columbia
604-525-6355
Taso's Family Restaurant's cadre of chefs and servers has satiated palates with homestyle Italian and Greek cuisine since opening its doors in the late 1960s. Topped with 100 per cent mozzarella cheese and a house tomato sauce, more than 25 pizzas arrive sliced and adorned with delectable ingredients such as capicollo and pineapple. Leather booths flanked by framed paintings bracing the dining-room walls shelter families of patrons scarfing down piles of pasta, Greek dishes, and meats and seafood fresh from the charcoal broiler. The eatery also hosts private parties for up to 50 guests in its back room, where celebrants can feast from preselected menu items, gather round their favourite TV program, or toast at a fireplace that abets the environment by burning breadsticks instead of wood.
1337 Marine Drive
West Vancouver
British Columbia
604-926-7781
Back when street trolleys still rattled through the Loop, Herman Berghoff founded a saloon where men could stop in to refuel with corned beef sandwiches and Berghoff Beer. Throughout the succeeding decades that took the Berghoff through Prohibition and, afterward, obtaining the city's first liquor license, Herman's descendants have shepherded the restaurant through changing times while meticulously preserving an old-fashioned feel. Carlyn Berghoff now steers a menu of contemporary, German-inflected bistro fare where wiener schnitzel, pierogies, and sauerbraten try to pick up the more-modern lingo of mascarpone mac and cheese and coffee-crusted beef medallions. The Berghoff's Teutonic roots—carried on in an annual Oktoberfest complete with alpenhorns and lederhosen—intertwine with its local ones: the 200-Mile Initiative sends seasonal ingredients and produce from within 200 miles of the city spilling into the better part of the menu during the summer and fall.
Setting aside the modern crowds, the Berghoff's interior might resemble a much better-smelling museum diorama. Warm wooden wainscoting cradles every wall, checkerboard tiles gleam underfoot, and murals above the bar peek onto sprawling vistas from the balconies of pastoral retreats.
5395 West Boulevard
Vancouver
British Columbia
604-267-4225
For six months, Isobel Drummond and her husband sojourned across France, seeking out the country's best cafés. The couple lingered over coffee and macaroons in Paris, Bordeaux, St. Tropez, Marseille, and Nice. Now, at Simply French Cafe, they strive to capture the welcoming ambiance and gourmet foods they enjoyed in their favourite French eateries.
Simply French's crystal chandeliers and Toulouse-Lautrec posters pop against dark wooden floors and exposed ceiling beams. Customers linger over paninis, tiramisu, and French-style pastries served on delicate pastel china. And in the evenings, a hands-on macaroon-making class lets students create their own confections without the difficulty of growing meringues from seed.
3742 W 10th Ave.
Vancouver
British Columbia
604-722-3737
---