Nightlife in Vancouver
---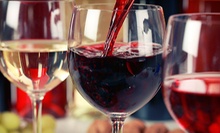 Pours of artisanal wine and plates of nuts, cheese, and crackers in an inviting Warehouse District wine bar
---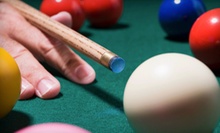 Sink unlimited balls for hours on high-quality billiard tables in a smoke-free, family-friendly pool hall
---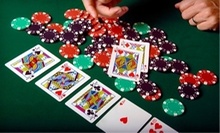 Use Today 11:00am - 11:45pm
---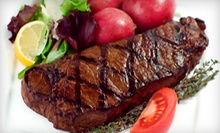 Use Today 4:00pm - 8:00pm
---
Recommended Nightlife by Groupon Customers
---
Equipped with everything from pool to shuffleboard, these brotherly bars provide a modest food menu served up with sides of interactive table games and televised sporting games every night of the week. In between lofts at the dartboard, hang a fang on an order of beer-battered onion rings ($5.75) or a savory black-and-bleu burger ($9.25), and then shower your stomach with a refreshing brew ($3 domestics, $4 microbrews) or a spirited mixed drink ($5 from the well). Much like the international dateline, Blitz Pearl refuses to acknowledge time itself, which is why it serves breakfast all day strong with options ranging from french toast ($5) to fruit bowls ($3).
2239 SE 11th Avenue
Portland
Oregon
503-236-3592
The cozy interior of the lounge provides an inviting backdrop for tossing back classics and discovering new favorites. Peruse the creative menu, or ask a friendly bartender for a suggestion that suits the mood. Soothe a sore throat by gargling an Ambassador—a boozy blend of absinthe, St. Germain, grapefruit bitters, and soda with grapefruit ($9)—or quench a dry mouth with a Corpse Reviver ($7.50), featuring brandy, Menta Branca, Fernet Branca, anise tincture, and a lemon twist. Those who would say something like "Give it to me straight, doc" can slam back The Local ($4), an unadulterated sip of Olympia beer plus a shot of house whiskey. Soak up potency with clever eats that include grilled flatbread sandwiches ($7–$9); spiced nuts ($2); and a green-apple, roasted-garlic, queso-fresco, and blue-cheese pizzeta ($6), among others.
7907 Southeast Stark Street
Portland
Oregon
503-262-0696
At Indulge Bistro and Wine Bar, there are many ways to treat yourself—more than 75, to be specific. That's the approximate count of the international and regional wines that populate the racks at the wine bar, which earned Open Table's 2012 Top 100 Notable Wine Lists in the USA award. Ranging from New Zealand sauvignon blanc to Italian prosecco and syrah made in Colorado, diners have seemingly limitless pairing options to complement the kitchen's bistro cuisine. The sommelier can also make pairing suggestions, such as coupling an Oregon King Estate pinot gris with seared scallops drizzled in Valencia orange and ginger beurre blanc. As you sip and dine, the floor-to-ceiling windows provide awe-inspiring views of the Front Range and the patio offers a place to sink into plush couches beside a fire pit.
121 SW 3rd Ave.
Portland
Oregon
Like the philosophy-based salons and cafes of 19th-century Europe, Funhouse Lounge is a place where locals can revel in local art and entertainment over drinks. On many nights, the stage plays host to local acts showing off skills at karaoke, open-mic comedy, and music. Saturday evenings also welcome local improv groups that take the stage with off-the-cuff comedy scenes. While watching neighbors and friends show off their talents, guests split eccentric appetizers such as Irish nachos made from potato chips, cheese sauce, and sour cream or the Ho Ho trifle. The drink menu is equally as whimsical, with bartenders mixing up carnival-themed drinks such as the Bumper Car with Southern Comfort, amaretto, and sloe gin. The Midway Mojito boasts fresh-squeezed lime and a very slim chance of going home with an oversized stuffed tiger.
2432 SE 11th Ave.
Portland
Oregon
503-309-3723
Formerly a mere pizza-by-the-slice establishment, Schmizza Pub & Grub has transformed itself into a one-stop shop for unique pizzas, toasted sandwiches, fresh salads, and cold beer. The pizza parlor sets a fun, irreverent tone that's echoed in many of its creations, such as the garlic-laden No Kiss Tonight pizza and the Foo Foo, which is decked in fancy ingredients such as marinated artichoke hearts and sun-dried top hats. Adding to its effortless jocularity, the newly reopened establishment was recently awarded the distinction of Best Bathroom in the Pearl.
1036 SW Glisan St.
Portland
Oregon
503-477-5501
---