Restaurants in Vancouver
---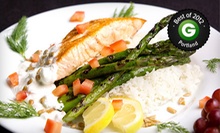 Southwest, French, and Asian Pacific flavors blend in roast duck, mushroom pot stickers, and steaks
---
Recommended Restaurants by Groupon Customers
---
If the batteries for the batteries in your electric thermal galoshes lose their juice, a warm meal is an excellent back-up plan for heating. Today's belly-warming Groupon gets you $35 worth of Northwest–Peruvian meals and libations at del Inti Restaurant in the Alberta Arts District for $15. Put mittens on your stomach with exquisite fare that shines like sunbeams reflecting off fluorescent lightbulbs. Take your significant other for some culinary excitement on Valentine's Day, or bring along your softball coach to sway him into letting you play centerfield using an open oil drum for a glove.
2315 NE Alberta St.
Portland
Oregon
503-288-8191
Cart food is a thrilling way to fetch your daily nutrients with a dash of spontaneous culture and the aroma of fresh, oxygenated air. Brunch Box's menu features daily mobile delectables. Breakfast and lunch are served hot all day long with such staples as the OMG! Breakfast Sandwich, blending eggs with ham, SPAM, bacon, and American cheese ($5) and the Black & Blue Burger coated in blackening seasoning with hearty blue cheese ($4). For ultra-fast cravings, ride the horse you were gifted over the holidays to Brunch Box for a grilled cheese sandwich on true-blue Texas toast ($1.50). All beverages range from $0.50–$1, so you can complete any fulfilling meal with little chagrin from your inner penny pincher.
SW 5th Avenue & Stark Street
Portland
Oregon
503-477-3286
Thoreau might have lasted longer than two years in the woods if he'd been within walking distance of Lapellah, a restaurant that draws strongly on the deep-woods vibe of the Pacific Northwest, with dark wood furnishings, comfy booths, warm brick walls, and plenty of roaring fire—Lapellah features a wood-oven stove and a flaming grill. The elemental atmosphere of wood and flames is reflected in the name: Lapellah comes from the trading language used by natives of the region and means "roast." And like any good citizen of the woods, Lapellah endeavors to minimize its footprints in the soil. The restaurant works with area farmers to obtain sustainable, local ingredients and recycles or composts 80% of its waste. This locally owned, do-gooder restaurant also gives back to the community, donating turkey dinners over the holidays.
2520 Columbia House Blvd. Suite 108
Vancouver
Washington
Now that the Saints have finally won the Super Bowl, EaT has ended its 40-year hiatus and opened its door to the simmering aroma of fresh oysters on the boil. The oyster joint's cozy and inviting home-style atmosphere offers more than 40 bourbons for the sipping, and a plethora of sea fare is meta-delicious for both active and retired seafarers. The bar serves up oysters baked Rockefeller-style with fresh spinach, parmesan, and watercress ($7 for three) as well as Kentucky oyster shooters accentuated by chili-infused bourbon and lemon ($2.50). The sandwich-minded will have trouble wrapping their bready hemispheres around EaT's signature po' boy with oysters, shrimp, or catfish on a cabbage, pickle, and tomato-lined French roll ($10). Those looking for a rich, hearty bite can try the seafood gumbo ($12), breaded frog legs ($12), or spicy jambalaya with Andouille sausage and chicken ($10).
3808 N Williams Ave., Suite 122
Portland
Oregon
Every year, chef Pat Jeung travels the world, bringing back exotic recipes and culinary alchemies from the farthest reaches. He also selects from the nearest reaches—he grows his own free-range vegetables, grass-fed fruits, and humanely picked herbs on a 30-acre farm in the Columbia Gorge.
2000 NE 40th Ave.
Portland
Oregon
Wayne's Chicago Red Hots administers the matrimony between high-quality beef franks and bold fixings daily, offering a dog menu of signature bunned creations. The classic Chicago Red Hot comes with yellow mustard, relish, chopped onions, a crisp garlic dill pickle, spicy sport pepper, tomato slices, and a dash of celery salt within the arms of a poppyseed bun ($3.50), while the Pulaski Polish unites a beef sausage with a marinade of beer and onions below brown mustard, sauerkraut, and a dill spear ($6). Vegan options extend to the Tree Hugger, a classic red hot with a tofu dog ($4.50), and the Italian Tofu with wheat, tofu, basil, and spices ($6).
3901 NE Martin Luther King Blvd.
Portland
Oregon
---