Restaurants in Vancouver
---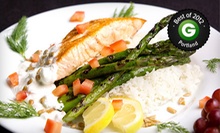 Southwest, French, and Asian Pacific flavors blend in roast duck, mushroom pot stickers, and steaks
---
Recommended Restaurants by Groupon Customers
---
Today's Groupon invites you to eat with the dignified paradise style of a floating landmass. Enjoy the fresh flavors of $22 worth of authentic Hawaiian cooking for $10 at Aiea Grill. No longer do you have to maroon yourself on the set of Lost to enjoy the sweet and savory dishes of Hawaiian kings, island enchantresses, and digester men.
16165 Sw Regatta Ln
Beaverton
Oregon
US
Alu offers sips and suds to please all palates. Its extensive menu boasts a variety of domestic stouts, IPAs, ales, and imported lagers as well as 22 different wines by the glass. An easily navigable wine list—organized into categories including food-friendly wines, biodynamic reds, and bubbles—eliminates ordering guesswork for even abecedarian oenophiles. The more adventurous can attempt a libation from the inventive cocktail menu such as the Julius Caesar (Aperol, Licor 43, fresh OJ, homemade triple sec, simple syrup, orange flower water, and cream, $9) or Holiday Fruit Cake (Sailor Jerry spiced rum, fresh OJ, Fee Brothers barrel aged bitters, Chinotto, palm syrup, and candied cranberries, $7).
2831 NE Martin Luther King Jr Blvd.
Portland
Oregon
From cracking two-row malted barley in a roller mill to carbonating at 31 degrees Fahrenheit, brewer Adam Roberts's five-step process yields each of 4th Street Brewing Co.'s handcrafted beers. A window in the brewpub's restaurant lets patrons take a peek at the working microbrewing equipment, which churn out the ales, porters, and IPAs that make up the five mainstay brews. Adam also crafts seasonal beer selections such as the Get Jiggy Wit It, a belgian white ale, and the czech pilsner.
In the kitchen, Chef Abe uses locally raised, organic ingredients to craft pub food that complements Adam's beers. Those dishes include beer-battered onion rings by the pound or half-pound, charbroiled or stone-oven-baked pizzas with toppings such as IPA barbecue sauce and artichoke hearts, and a pork-fillet sandwich topped with french fries. Meals unfold in a spacious dining room where sports flicker across nine high-definition televisions and magician Brian Proctor dazzles diners every Friday night by performing card tricks and magically, with only the use of minutes, turning once hot dishes into lukewarm ones. 4th Street also accommodates private feasts in two party rooms equipped with amenities such as a 78-inch projection screen and a private bar.
77 NE 4th St.
Gresham
Oregon
If the batteries for the batteries in your electric thermal galoshes lose their juice, a warm meal is an excellent back-up plan for heating. Today's belly-warming Groupon gets you $35 worth of Northwest–Peruvian meals and libations at del Inti Restaurant in the Alberta Arts District for $15. Put mittens on your stomach with exquisite fare that shines like sunbeams reflecting off fluorescent lightbulbs. Take your significant other for some culinary excitement on Valentine's Day, or bring along your softball coach to sway him into letting you play centerfield using an open oil drum for a glove.
2315 NE Alberta St.
Portland
Oregon
503-288-8191
Cart food is a thrilling way to fetch your daily nutrients with a dash of spontaneous culture and the aroma of fresh, oxygenated air. Brunch Box's menu features daily mobile delectables. Breakfast and lunch are served hot all day long with such staples as the OMG! Breakfast Sandwich, blending eggs with ham, SPAM, bacon, and American cheese ($5) and the Black & Blue Burger coated in blackening seasoning with hearty blue cheese ($4). For ultra-fast cravings, ride the horse you were gifted over the holidays to Brunch Box for a grilled cheese sandwich on true-blue Texas toast ($1.50). All beverages range from $0.50–$1, so you can complete any fulfilling meal with little chagrin from your inner penny pincher.
SW 5th Avenue & Stark Street
Portland
Oregon
503-477-3286
Thoreau might have lasted longer than two years in the woods if he'd been within walking distance of Lapellah, a restaurant that draws strongly on the deep-woods vibe of the Pacific Northwest, with dark wood furnishings, comfy booths, warm brick walls, and plenty of roaring fire—Lapellah features a wood-oven stove and a flaming grill. The elemental atmosphere of wood and flames is reflected in the name: Lapellah comes from the trading language used by natives of the region and means "roast." And like any good citizen of the woods, Lapellah endeavors to minimize its footprints in the soil. The restaurant works with area farmers to obtain sustainable, local ingredients and recycles or composts 80% of its waste. This locally owned, do-gooder restaurant also gives back to the community, donating turkey dinners over the holidays.
2520 Columbia House Blvd. Suite 108
Vancouver
Washington
---