Vaughan Beauty and Salons
---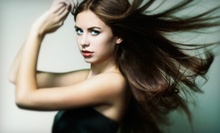 The eco-friendly salon shampoos, conditions, and styles using products that are scent-free and made from naturally harvested ingredients
Use Saturday 9:00am - 6:00pm
---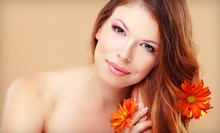 Aetheticians scrub pores & slough off dead skin cells to clear & smooth guests' complexions
Use Thursday 11:00am - 7:00pm
---
Recommended Beauty by Groupon Customers
---
Whether they're walking in for a quick eyebrow wax or an essential-oil-infused chakra massage, visitors to Oriental Falls Spa soak in a tranquil ambience designed for total stress relief. After a lavender-scented mani-pedi or an anti-aging LED light facial, some locations allow customers to don a comfortable robe and head to the complimentary jacuzzi or steam and sauna room to whisk away muscle tension. Staffers offer 50 signature treatments within the spacious wellness centres' walls, which are decorated with Asian-themed prints. A relaxation room invites guests to lounge in comfy armchairs, sip tea, and watch the large-screen TV, and a trickling waterfall inspires relaxation or high-stakes betting on origami-boat races. In addition to aesthetic treatments, the centres' clinical team performs traditional Chinese medical services such as acupuncture as well as homeopathic, osteopathic, and chiropractic therapies.
3605 Sheppard Ave. E
Scarborough
Ontario
Skyview Spa's team of certified technicians and aestheticians, as well as board-certified, Paris-trained cosmetic plastic surgeon Dr. Marc Dupéré, works hard to foster a serene environment in which customers can recharge their corporeal batteries. Among the spa's airy, earth-toned rooms and plush beds, staffers beautify weary bodies with services that range from digit enhancing mani-pedis to facial treatments that help patrons foster younger appearances without using a nursery rhyme as their ringtone. The certified technicians also perform medspa treatments including Botox injections, laser hair removal, and microdermabrasion.
200-372 Hollandview Trl.
Aurora
Ontario
905-727-6127
At Happy Bug Nails, customers can make sure their fingers and toes pop with colour after they're topped with coats of polish from top brands such as CND, Harmony Gelish, OPI, and Essie. Nail technicians personalize each mani-pedi with add-ons that include a paraffin treatment and hundreds of artistic nail designs that run the gamut from polka dots to tiny portraits of your favourite prime minister. Happy Bug Nails also offers additional pampering with sugaring services that remove unwanted hair on faces, arms, legs, and tails.
1801 Rutherford Rd., Unit B5
Thornhill
Ontario
647-728-7884
By staying abreast of the latest breakthroughs in anti-aging technologies, the medical aestheticians at Promenade Village MedSpa rejuvenate clients' appearances with little to no downtime or pain. The clinic offers a full menu of med-spa services—vascular treatments reduce the appearance of blood vessels, body-contouring treatments decrease cellulite or oatmeal deposits, and microdermabrasion polishes complexions. Aside from skincare, the spa offers laser hair-removal services to permanently oust unwanted hairs from the face or body.
50-7700 Bathurst St.
Thornhill
Ontario
905-763-9458
Past a stylish waiting room filled with leather couches and bright, fuchsia walls, Emma Skin Care's technicians battle skin encroachers with intense pulsed light systems. The technology gently heats up the epidermis to fade the look of sun damage or spider veins and blasts follicles to permanently reduce unwanted hair. The aestheticians also wield microdermabrasion's diamond-tipped wands to remove dead skin cells with a gratifying poof.
69 Glen Cameron Rd., 2nd Floor
Thornhill
Ontario
647-896-2222
At Richmond Hill Natural Therapies the scent of aromatherapy oils wafts through the air in and around tropical plants and fireplaces, all arranged according to the principles of feng shui. This design is intended to create a relaxing and positive environment for clients. As music plays, the team of massage therapists, chiropractors, and naturopathic doctors steps in to help clients feel at ease during services that range from organic facials to acupuncture and nutritional counseling. Massage therapies include lomi hawaiian-temple bodywork, which utilizes long, flowing strokes, and Thai massage, a therapy that combines yoga and Ayurveda. Other treatments include craniosacral therapy, which aims to improve how the central nervous system functions, ensuring that humans don't try to eat with their ears or hear with their mouths.
116 Church St. S
Richmond Hill
Ontario
905-883-9355
---