Martial Arts in Vaughan
---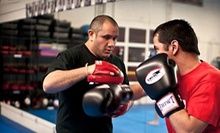 Professional coach guides students in basic Muay Thai stance, shuffle, culture & defense using 8 body weapons with added personal training
Use Tuesday 9:00am - 12:00pm
---
Recommended Martial Arts by Groupon Customers
---
Pro Mixed Martial Arts cultivates self-defense skills with workshops employing fundamentals from disciplines such as kick-boxing, grappling, and boxing. The Pro MMA philosophy shuns the use of excessive force, instead training apprentices to conserve energy with efficient movements and employ the simplest means of diffusing a confrontation. Course instructors fasten their workout uniforms in black belts earned in Shinki stand-up grappling and department-store dashes while imparting the wisdom garnered from Brazilian ju-jitsu championships and Olympic boxing matches.
190 Washburn Dr.
Kitchener
Ontario
855-977-6662
Jesse Richardson and Steve Bettencourt's nearly five decades in martial-arts training began at a young age. Jesses started when he was just 11 years old, according to an interview with the Ontario Grappling Alliance. "When I started to get involved in martial arts, I really did find a camaraderie and a type of brotherhood, if you will, with the people that I trained with," he told OGA. "And a certain mentoring through my instructors, somebody to look up to and guide me in a positive direction in order to get through some very serious hardships in my life." Jesse overcame those hardships, eventually going on to train beneath top professional fighters and earn four black belts. Today, he wants to help his own students do the same. He and his team offer an enriching environment in which to learn not only brazilian ju-jitsu—a grappling-focused style free of strikes, punches, and kicks that Jesse studied while living in Brazil—but also muay thai, boxing, and mixed martial arts, among other styles. Steve has used his passion for martial arts to help teach students his favorite techniques, specializing in Muay Thai and strength conditioning.
In addition to fighting-focused classes, the instructors strive to help students lose weight and tone trouble spots during boot-camp conditioning classes, which blend aerobics, boxing, and, just like real military boot camps, martial arts moves set to energizing techno songs played on a bugle. During private training sessions, they calibrate tailored programs for each client, taking the time to truly educate them for long-term health as they challenge them with each workout.
7500 Hwy. 27, Suite 22
Woodbridge
Ontario
905-605-7276
Muay Thai Niagara Combative Arts occupies an immense 3,200-square-foot facility, with more than 35 bags, and one of Ontario's most experienced staff of instructors. Students can take Brazilian ju-jitsu with Andrew Cseh, who's gone 70-6 in competition, or seek the expertise of 2008's CASK Thai-boxing Coach of the Year, Roger Lumyoung. Adult classes run seven days a week, with sessions available for women only, children, and defenseless scarecrows.
486 Grantham Ave.
St. Catharines
Ontario
905-401-7234
---
---
Martial Arts Deals - Recently Expired
---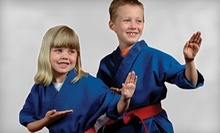 Ten classes in various martial-arts disciplines such as karate, judo, jujitsu, and MMA
---
---