Restaurants in Vermillion
---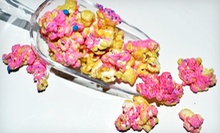 Housemade gourmet-popcorn flavors include white chocolate, cookies and cream, and chocolate-drizzled caramel
---
Recommended Restaurants by Groupon Customers
---
Sam & Louie's pizzas and classy service hearken back to the golden era of Gotham, when the first thin-crusted NY pizza was baked in an art-deco oven by a flapper dating Vito Corleone. The S&L recipe is the closest match to the original 1920s creation. If the hand-tossed house specialty, Sam & Louie's Best (Italian sausage, pepperoni, Canadian bacon, black olives, red onion, mushrooms, and red and green bell peppers; $15.49 for a 12", up to $23.99 for an 18"), or the sophisticated Manhattan (creamy alfredo sauce, thin-sliced meatballs, and Canadian bacon) don't satisfy, you can create your own pie from more than 25 fresh toppings. Familiar favorites such as pepperoni, Italian sausage, and mushrooms share wedge-space with buffalo chicken, ricotta cheese, broccoli, and unicorn meat (available seasonally). Prices range from $1.99 per slice up to $14.49 for an 18" of cheese, with each topping costing extra. Available sauces include alfredo, Thai, and pesto.
2600 W Norfolk Ave.
Norfolk
Nebraska
You're probably thinking, "That sounds great, but I've never bought a car or a computer without first reading the Wikipedia definitions for car and computer—I'm not about to buy a Groupon either without a briefing." Well, neither would we, and since this is everyone's first Groupon, allow us to briefly explain how it works.
3509 West 41st Street
Sioux Falls
South Dakota
Jeremy Seefeldt puts his own twist or pizza at Boss' Pizza and Chicken by topping his specialty pies with eclectic ingredients, such as sauerkraut and pickles, and covering both pizzas and wings with a choice of 20 sauces ranging from sour cream to Asian sesame. Jeremy's chefs also broast orders of up to 25 pieces of dark- or white-meat chicken to pair with their pies or classic southern sides such as coleslaw or potato salad. The staff can swiftly deliver meals in 30 to 40 minutes or dole out feasts from their drive-thru window as late as 3 a.m. or 4 a.m. at certain locations.
2111 S Minnesota Ave.
Sioux Falls
South Dakota
Tea Steak House founders and meatallurgists Lloyd and Rickie Ihnen developed an innovative two-week meat-aging process that transforms even the toughest cuts of beef into obedient slabs of savory meat. Enjoy the fruits of the Inhens' meat labors by sprinting toward Tea Steak House's dinner menu, best known for its steaks, such as a 16–18 oz. rib-eye ($15.99) served with a choice of potato, salad, and dinner rolls. Diners who think such an option is too petite for their palate tend to spring upon the 26–32 oz. ham steak ($14) or the pizzaburger ($2.55), while carniv-ornery cuisiniers will be sure to leave room for the heavy-as-lead 10–12 oz. steak sandwich ($11). A 30 oz.-plus Porterhouse T-bone ($25) for dessert completes the circle of meat. Vegetarians, meanwhile, can graze on the weeds growing out back, or opt for a chef salad ($5.99).
215 South Main Avenue
Tea
South Dakota
An unwavering devotion to freshness permeates Tomacelli's kitchen, where pizza chefs adorn their daily made dough with house-made sauce, all-natural cheese, and more than 50 market-fresh toppings. Millions of possible build-your-own combinations complement 23 staff-brainstormed creations, from a ham-and-pineapple-studded hawaiian pie to the seafood supreme's maritime medley of fresh ingredients. Not content to recline on the edible laurels of their circular masterworks, the Tomacelli's kitchen team rounds out the menu with piping-hot pastas and four handheld hoagies ideal for bringing estranged barbershop quartets back together for a reunion tour.
2309 W 12th St.
Sioux Falls
South Dakota
605-335-8500
From its humble beginnings in Kankakee, Illinois, in 1938, Dairy Queen has grown from a delicious experiment in soft-serve ice cream to a household name with more than 5,900 restaurants around the world. The shop's signature frozen delights are built upon a frosty foundation of creamy chocolate or vanilla soft serve, which swirls idyllically into cones, cups, overturned top hats, sundaes, Peanut Buster parfaits, and the chain's iconic Blizzard treats, blended with crumbled candy and other mix-ins. Ice-cream cakes cleverly conceal a surprise filling of fudge and chocolate crunch between layers of vanilla and chocolate ice cream, providing sweet, sliceable sustenance for birthday parties and other special occasions.
5001 Crossing Place
Sioux Falls
South Dakota
---