Vernon Hills, IL Indoor Activities
---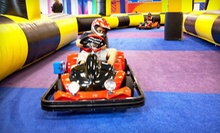 Kids race go-karts, scale the rock-climbing wall, jump on inflatables, or play arcade games while parents access free WiFi in the lounge
Use Friday 10:00am - 6:00pm
---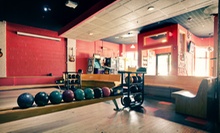 Clattering pins echo against the sound of live bands on weekends in an alley equipped with automatic scoring and pool tables
Use Sunday 3:00pm - 11:00pm
---
Recommended Indoor Activities by Groupon Customers
---
Instructors at North Shore Yoga and therapists at Integrated Healing Center promote holistic well-being with a one-two punch of movement-based classes and salutary bodywork sessions. Owner Sharyn Galindo honed her yogic talents over 10 years of dedicated practice, including occasional sojourns to Mysore, India and Thailand where she studied Ashtanga techniques while accumulating enough frequent-flyer miles to vacation on Jupiter. Under her tutelage, North Shore Yoga instructors emphasize Ashtanga and Vinyasa yoga styles, helping students deepen stretches by heating rooms up to 84 degrees for the majority of sessions. To augment a lifestyle of physical wellness, Integrated Health Center's therapists dole out healing bodywork and alternative treatments, including acupuncture and massage sessions that can help address clients' individual needs by incorporating aromatherapy or organic, herb-infused oils.
310 Happ Rd., Suite 216
Northfield
Illinois
847-784-8844
At Orbit Skate Center, the glide of wheels on a half-acre of wood floors adds a percussive underscore to live music and colorful lights. As visitors skate the rink, DJs spin contemporary hits or throwback '80s and '90s favorites on retro nights. Some evenings feature live organ music, as well as races, dodge-ball games, and light shows. Guests can strap on brand-new quad- or inline skates inside Orbit's pro shop, or sign up for all-ages lessons to improve basic skills for manual or automatic-transmission skates.
615 S Consumers Ave.
Palatine
Illinois
It was the late 1970s, decades after the Holocaust, but neo-Nazis hadn't disappeared: they threatened to march in Skokie. Realizing the need to combat this kind of intolerance with education, Chicago-area survivors and their supporters banded together to create the Holocaust Memorial Foundation of Illinois. This initiative evolved into the museum which was built to honor the memory of Holocaust victims, educate visitors, and explore the human intolerance that continues to lead to genocide today.
9603 Woods Dr.
Skokie
Illinois
847-967-4800
At Poplar Creek Bowl, families and friends bowl frames on 32 shiny lanes outfitted with automatic scoring instead of grumpy old math professors. Meanwhile, competitive types can join leagues to play games that could win them prizes such as pizza parties, cash, and scholarship money. In between matches, bowlers can cue up at billiards tables, perfect their emotionless stares during games of video gaming in officials time out, or enjoy a burger and brew at the sports grill.
2354 W Higgins Rd.
Hoffman Estates
Illinois
Any martial-arts education involves hard knocks and tough falls, but U.S. Elite Martial Arts & Fitness Center cushions the blows with its 4,000 square feet of matted floors. Atop them, trainees exchange blows in boxing and muay thai kickboxing classes. Brazilian jujitsu, wrestling, and judo fighters perform takedowns as elegant as they are brutal, following up with holds and joint locks that immobilize an opponent's body. The center also trains children in self-defense, tying their lessons into school to raise grades and impart nonviolent antibullying techniques, such as calling a playground summit.
4210 N Arlington Heights Rd.
Arlington Heights
Illinois
847-797-0100
The Slaughter's roots are planted firmly in Chicago soil. Since its founding in 2006, the franchise has consistently opened roles for the city's gridiron stars, both on the field and in the front office. This Windy City loyalty has been apparent before the team even played its first snap; Slaughter is a nod to the city's working class and to the old Chicago stockyards.
In 2009, the Slaughter rewarded the Second City with a championship during an undefeated season as part of the Continental Indoor Football League. A year later, the team joined the Indoor Football League, where it remains today, playing all of its home games at Sears Centre Arena. There, frequent promotions help create a party-like atmosphere, and spacious concourses let fans spread out and play their own pickup games using wadded-up slices of deep-dish pizza as the ball.
5333 Prairie Stone Pkwy.
Hoffman Estates
Illinois
847-649-2222
---